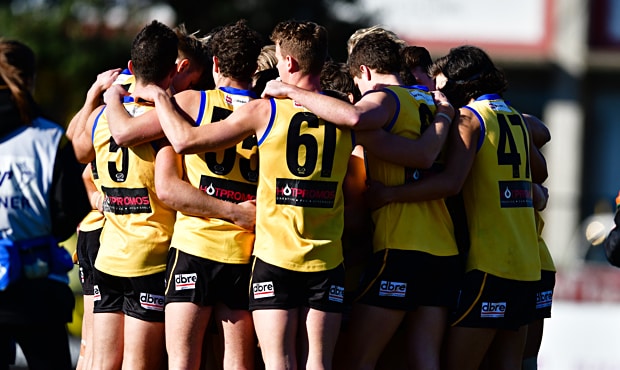 Season 2018 produced another mixed bag for Sandringham, with 'inconsistent' the most frequent adjective describing the first year of Aaron Hamill's tenure at Trevor Barker Beach Oval.
The Zebras produced four wins up until the mid-season bye in Round 12, but a mounting injury list in the second half of the season at both St Kilda and Sandringham took its toll, and Hamill's men added just one more win to their tally before the year was out.
With several Saints on rotation through the team each week and first-year players thrust into different roles against stronger VFL sides, the Zebras struggled to perform consistently, but they'll be buoyed by the development of young talent that should hold them in good stead.
READ: VFL Season Review (Rounds 1-12)
Round 13 vs Port Melbourne - WIN (55 points)
In Sandringham's best win of 2018, the Zebras stunned the 'Borough to lead at every change at Port Melbourne, assisted by a dominant performance from St Kilda ruckman Tom Hickey with 59 hit-outs. Forward Josh Bruce finished with three majors, while versatile tall Rowan Marshall took nine crucial marks.
Best players: Tom Hickey, Sam Gilbert, Josh Bruce
Elevated: Logan Austin, Sam Gilbert, Nathan Wright
Round 14 vs Coburg - DRAW
Aaron Hamill's team against the winless Coburg ended in a draw with the Lions, despite the Zebras dominating the first three quarters. Sandringham conceded six goals in the final term, while Blake Acres impressed with a game-high 31 disposals and eight tackles.
Best players: Blake Acres, Rowan Marshall, Jack Lonie
Elevated: Tom Hickey, Jack Lonie, Rowan Marshall
Round 15 vs Geelong - LOSS (27 points)
Despite a six-goal opening term, Sandringham lost their way after quarter time to concede ten goals to the visiting Cats. Nathan Freeman collected 25 disposals on his return from injury, while first-year youngster Ben Paton impressed with two goals and 20 disposals along with a team-high 14 tackles.
Best players: Ben Paton, Brandon White, Darragh Joyce
Elevated: Nil
Round 16 vs Richmond - LOSS (66 points)
The VFL ladder-leaders were at their devastating best against Sandringham, as the Zebras conceded nine goals and didn't register a major until the second term. Blake Acres was once again the standout with 36 disposals and seven tackles, while draftee Nick Coffield finished with 30 disposals.
Best players: Blake Acres, Oscar Clavarino, Nick Coffield
Elevated: Blake Acres, Nick Coffield
Round 17 vs Box Hill Hawks - LOSS (31 points)
Sandringham was no match for the Chris Newman-coached Box Hill, with the visiting Hawks three or more goals ahead for most of the contest. The Zebras started slowly and weren't able to catch the Hawks, despite a 35-disposal game from Nathan Freeman that led to his long-awaited debut.
Best players: Bailey Rice, Ben Paton, Hugh Goddard
Elevated: Nathan Freeman (AFL debut)
Round 18 - BYE
Elevated: Ben Long, Ben Paton (AFL debut), Lewis Pierce
Round 19 vs Casey Demons - LOSS (21 points)
Perhaps Sandringham's most frustrating result of the season came in Round 19. The Zebras held the high-flying Casey at bay for the majority of the game, before a three-goal Demons blitz proved the difference in the final term. Hugh Goddard was outstanding patrolling the back half to finish with 14 marks, while midfielders Luke Dunstan, Darren Minchington and Mav Weller all featured among the best.
Best players: Hugh Goddard, Luke Dunstan, Mav Weller
Elevated: Hugh Goddard, Logan Austin
Round 20 vs Northern Blues - LOSS (34 points)
Sandringham was no match for the Carlton-aligned Northern Blues at Preston, managing only two majors in the first half, albeit in very difficult conditions at Cramer St. Ed Phillips and Luke Dunstan pressed their names for AFL recalls, while 21 disposals and six tackles from Mav Weller kept the pressure on.
Best players: Ed Phillips, Luke Dunstan, Mav Weller
Elevated: Nil
Round 21 vs Collingwood - LOSS (63 points)
Sandringham matched Collingwood away from home for the first half only to get blown away in the second, with the Magpies piling on eight final-term majors for victory. Luke Dunstan was outstanding with 34 disposals, and youngster Nick Coffield gave Saints fans hope for 2019 with a 28-disposal performance.
Best players: Luke Dunstan
Elevated: Nil
With the St Kilda-Sandringham alignment expected to continue into 2019, Aaron Hamill will be looking for a strong pre-season to find the consistency that was too often missing this season.
Despite finishing with just five wins, Hamill would've been pleased with the development of several Saints – Ben Paton, Nick Coffield, Hunter Clark, Ed Phillips, Bailey Rice, Brandon White, Nathan Freeman and Irishman Darragh Joyce – all of whom were rewarded with AFL selection across 2018.