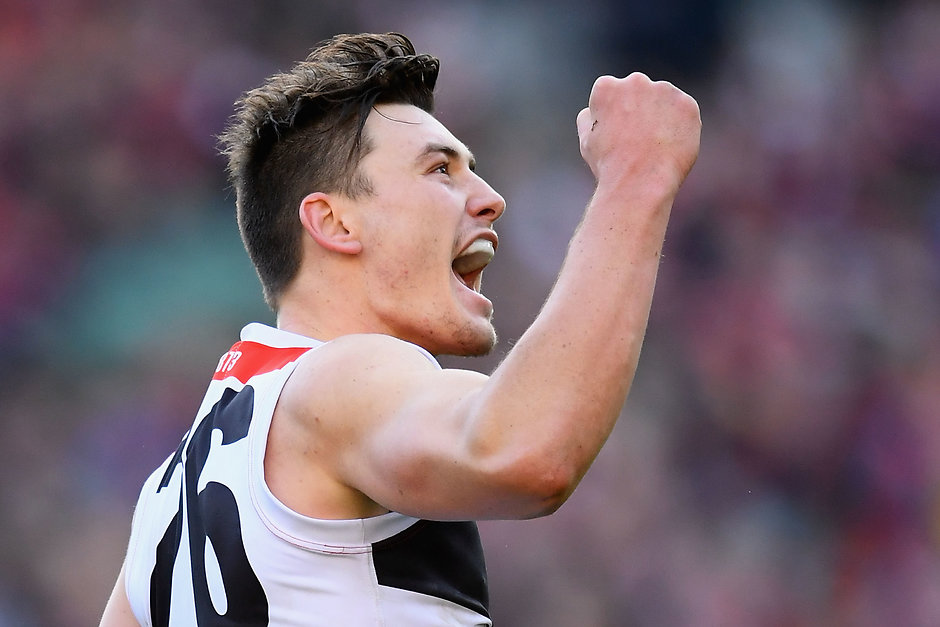 They're great opportunities just to sit down with a player and talk about what you might want.
Alan Richardson
Emerging St Kilda youngsters Josh Battle and Brandon White were more than just casual observers in the opening weekend of finals action.
The pair joined coach Alan Richardson for a date at the footy on Friday and Saturday night to soak up the atmosphere and get a lesson in finals football.
Battle spent Thursday night eyeing off the stylings of Hawk Jack Gunston, while White had Geelong's Zach Tuohy in his sights at Friday night's blockbuster.
READ: Trevor Barker Award: The contenders
Senior Coach Alan Richardson, who accompanied both players on the fact-finding missions, told AFL360 it was a great learning opportunity.
"It's a great opportunity to sit down and have a chat, not so much about their year, but the position that they're going to play moving forward," Richardson said.
"For Josh, we had a look at Gunston. It ended up being a really stifled game, so he didn't quite run the way we were wanting him to, unfortunately."
Battle enjoyed a purple patch of form in the middle of 2018, before a collision in Round 20 saw him ruled out of the rest of the year due to concussion symptoms.
Like Battle, 2018 saw promising progression for White, who managed to play six AFL games in his third year at the club.
"Brandon is a defender for us and Tuohy's balance of defending his man and run is impressive. He was a good one to watch," Richardson said.
"They're great opportunities just to sit down with a player and talk about what you might want, and what their pre-season might look like."
READ: Saints add to coaching group
Richardson also addressed rumours surrounding a potential quest by Geelong to lure three-time Trevor Barker Award-winner Jack Steven to the Cattery.
"We're really comfortable that Jack's not only staying with us, but will be a really important part of driving what we're doing," Richardson said.
"As a leader that cares about what we're doing and was frustrated at the year we had on the back of a couple of years heading the right way … he just wanted to know (in his exit interview) what (the future) looks like," Richardson said.
"That had nothing to do with 'Give us a bit more information so I can make a decision about whether I'm staying'.
"This was 'Can you give us a bit more detail on what it looks like going forward – I'm in and I'm going to drive it'."