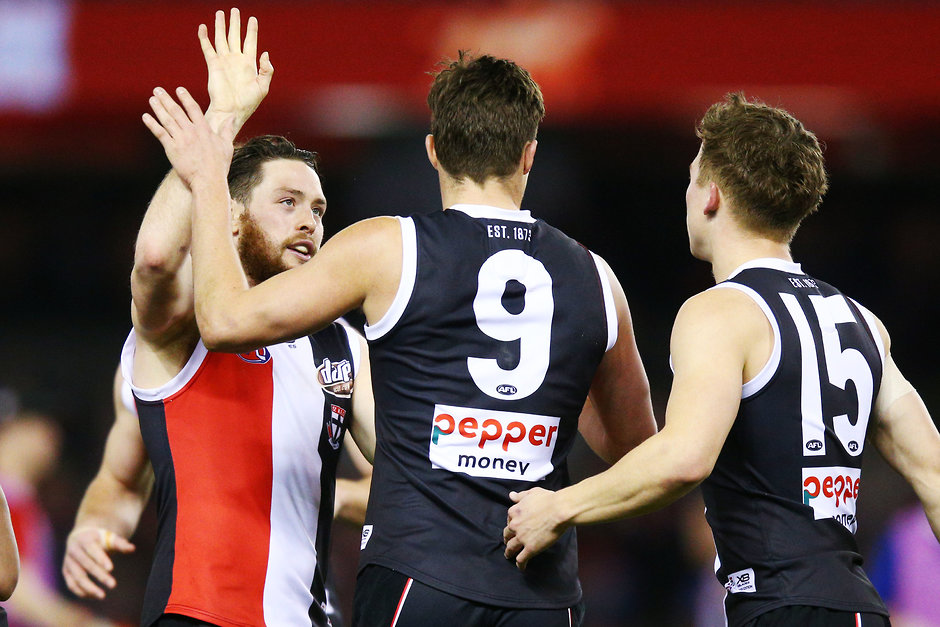 List changes: Sam Gilbert, Nathan Freeman, Hugh Goddard, Darren Minchington, Nathan Wright and Ray Connellan have been delisted, while Koby Stevens has retired.
READ: Contenders for the 2018 Trevor Barker Award
DEFENDERS
Key defenders: Logan Austin, Nathan Brown, Jake Carlisle, Oscar Clavarino
General defenders: Nick Coffield, Jarryn Geary, Darragh Joyce, Daniel McKenzie, Bailey Rice, Dylan Roberton, Shane Savage, Jimmy Webster, Brandon White
Summary: The list is loaded with mid-sized defenders. Coffield will eventually move into the midfield but the rest seem likely to play out their careers as backmen. Brown is still doing his job well but turns 30 in December, with Austin on hand to replace him.
MIDFIELDERS
Midfielders: David Armitage, Hunter Clark, Luke Dunstan, Doulton Langlands, Ed Phillips, Seb Ross, Jack Sinclair, Jack Steele, Jack Steven
Ruckmen: Tom Hickey, Billy Longer, Lewis Pierce
Summary: Clark split his time up forward and down back this season but will probably graduate to a midfield role next year.
FORWARDS
Midfielder/forwards: Blake Acres, Jack Billings, Jade Gresham, Ben Long, Jack Newnes, Ben Paton
General forwards: Jack Lonie, Mav Weller
Key forwards: Josh Battle, Josh Bruce, Rowan Marshall, Paddy McCartin, Tim Membrey.


CONCLUSION
Star onballers with pace and foot skills are the most pressing concern. Help is needed for Steven, Ross and Steele. Once Gresham becomes fitter, he could move in there full-time, although he's so dangerous it's hard to move him away from attack. Furthermore, the forward set-up was sub-par. Some of that was because of injury, but a reliable target up there would help immensely. - Dinny Navaratnam
The views in this article are those of the author and not necessarily those of the AFL or its clubs