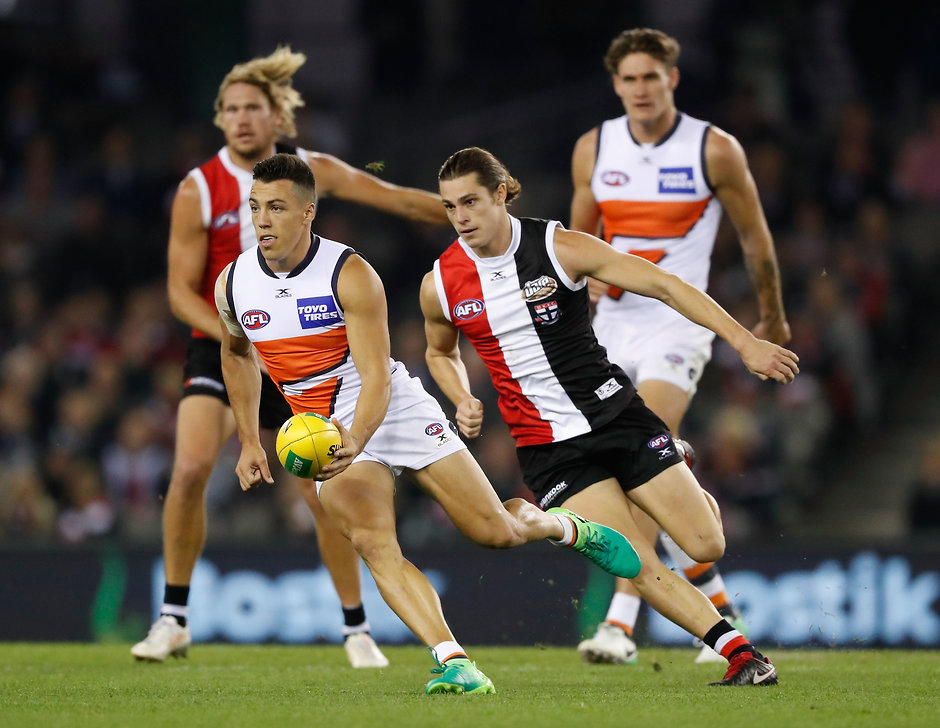 We think he's an elite, seriously good midfielder that can make our club better.
Simon Lethlean
St Kilda's General Manager of Football Simon Lethlean today confirmed the club has met with star Giant Dylan Shiel.
The 25-year-old remains contracted with GWS until the end of 2019, but the lure of his hometown could see Shiel return south in the off-season.
"We think he's an elite, seriously good midfielder that can make our club better," Lethlean told NAB AFL Trade Radio.
"It's been reported that we met with Dylan – we did.
"He's a really impressive professional who we think will make a significant impact."
WATCH: Draft watch
But with three rival Melbourne clubs also in the hunt for Shiel's signature, the Saints pulled out all the stops in their meeting with the young star.
"He wants to contend, he wants to be paid well and he wants to be a club person wherever he turns up next, for the rest of his life," Lethlean said.
"We think we did a good job presenting the club in its best light and asking him how he can make the club better and what we can do for him and (partner) Georgie as St Kilda people for the rest of their lives.
"I think he's having a good think about that, but he's obviously got other clubs doing equally good presentations.
"If he wants to live in Bayside where he grew up, then so be it, that'd be great for us."
LINK: Official Saints Trade & Draft Hub
The Saints even called on the services of club legend Nick Riewoldt to help make the case for a move to Moorabbin.
"For a legend of the club who wants to help the club get better, to be available to put his view across about the club and what it might mean to win a second premiership at St Kilda Football Club I think was pretty important, and thanks to Nick for wanting to be involved," Lethlean said.
He added that St Kilda's well-publicised 'war chest' was ready to be utilised to attract elite talent.
"We've got as good a TPP (total player payments) as any club in the competition, so we can pay him a good rate to get him down," he said.
"We think our environment is one where he will thrive and be one of the pros who shows our players how to go about it."

Dan Hannebery has nominated St Kilda as his preferred destination
And with three-time All-Australian Swan Dan Hannebery set to join the Saints pending a successful trade, the midfield stocks at Moorabbin could skyrocket.
"We're really confident that Dan's going to play for a long time at the Saints if we get the deal done," Lethlean said.
"We wanted an elite mid; we think that's Dan."
READ: Hannebery requests Moorabbin move
Melbourne's Dean Kent has also been linked to a trade with St Kilda, with Lethlean confirming the forward's intentions this morning.
"We've been really targeted this year in our recruiting plans," he explained.
"We wanted some forward speed and power and pressure, and we think that's Dean Kent.
"Adding an elite midfielder in Dan (Hannebery) and a forward pressure specialist in (Dean) Kent is two players who we think will make us better, and pick 4 is going to be significant, so three changes is not a bad start."