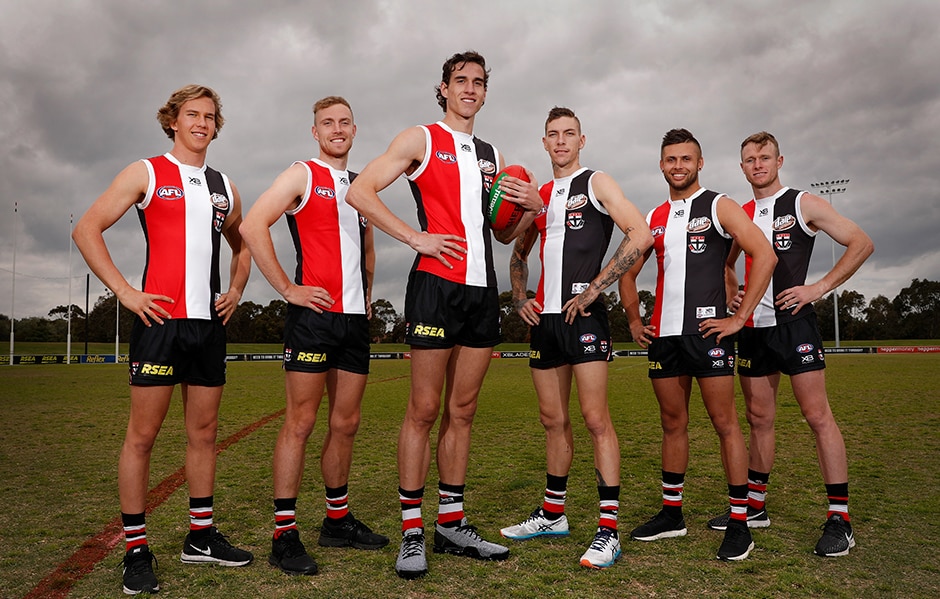 For it to become a reality shows that no matter how old you are, you can always achieve your dreams and strive for better things.
Robert Young
FOR ST Kilda draftee Matthew Parker, the lightbulb moment came a few years ago, at a time he was playing for the Melville Rams in the West Australian Amateur Football League.
"I was sitting at home one day and then thought to myself 'Where am I going to be in 10 years? I don't want to be this person. I want to make a name of myself'," Parker told reporters.
"I want other people to look up to me and be an inspiration to people, but (the biggest) motivation is my partner (Shardah) and my little boy (Matthew jnr). They just took me to new heights."
Over the past two seasons, the former labourer played 27 WAFL games for South Fremantle and is well on the way to making that name for himself.
READ: Matt Parker's dream draft
The 187cm forward has speed, can take a grab and knows how to kick goals, and the 22-year-old was became a Saint with pick No.47 in the NAB AFL Draft.
Parker's story is a far cry from those of the club's first two selections, under-18s pair Max King and Jack Bytel, who were always going to have their dream realised.
Another of St Kilda's mature-age quartet was Robert Young, who arrived from North Adelaide as a 23-year-old after not even attending the South Australia State Combine.
"It's always been a dream of mine since I was a kid. For it to become a reality shows that no matter how old you are, you can always achieve your dreams and strive for better things," Young said.
An indigenous welfare officer at Playford International College, he found out about being recruited while at a cricket carnival.
"(I was) flicking through on my phone and watching the kids play cricket, and I saw my name popped up," Young said.
"My phone went in the air and tears came down. The kids were jumping on me.
"It was so exciting and everyone was pretty happy for me because they've seen all the hard yards I've done over the last couple of years."
The No.67 selection's fierce defensive pressure will be felt by the opposition. He was joined by a fellow member of the Roosters, intercepting defender Callum Wilkie, who came in as a rookie.
An accountant up until a week ago, Wilkie was doing tax returns when he found out he had a new job.
The 22-year-old's employers were banking on the Friday of the draft being his last day at work, even if the man himself wasn't so sure.
"I had a few interviews during work hours, so I had to go tell them about that. They didn't know too much about football so they just assumed an interview meant I'm pretty much going," Wilkie said.
"They were expecting Friday to be my last day. If I went in on Monday, it would've been awkward."
WATCH: Callum Wilkie's press conference
From Essendon's VFL side came electric speedster Nick Hind.
A plumber before being drafted at pick No.54, Hind had his apprentice pick up his work van last Tuesday. The 24-year-old wingman, who hails from Clunes, a small town almost two hours north-west of Melbourne, has also had to bide his time.
"My father still owns a pub down there (in Clunes) so he's lapping it up at the moment. They (community) were pretty stoked," Hinds said.
"They've had a couple of tough years as a footy club down there, so it's a good story for them."
The Saints' draftees all took a different path to the top level but the common theme was never giving up, as Young explained.
For him, it was important football didn't become all-consuming.
"I always kept my eyes on the prize. I knew that if I didn't get picked up when I was 18, the dream was never over," Young said.
"I took footy as if I wasn't going to get drafted, that I'd always think about my outside world, what would it look like and what would I want to do with my life.
"For me, it was working with young Aboriginal kids and mentoring them, which is a big passion of mine. I didn't really worry about footy. I just took it step by step and I made sure that my goals outside of footy were my first priority, and then footy would just float in, if I was going to get drafted."
The views in this article are those of the author and not necessarily those of the AFL or its clubs