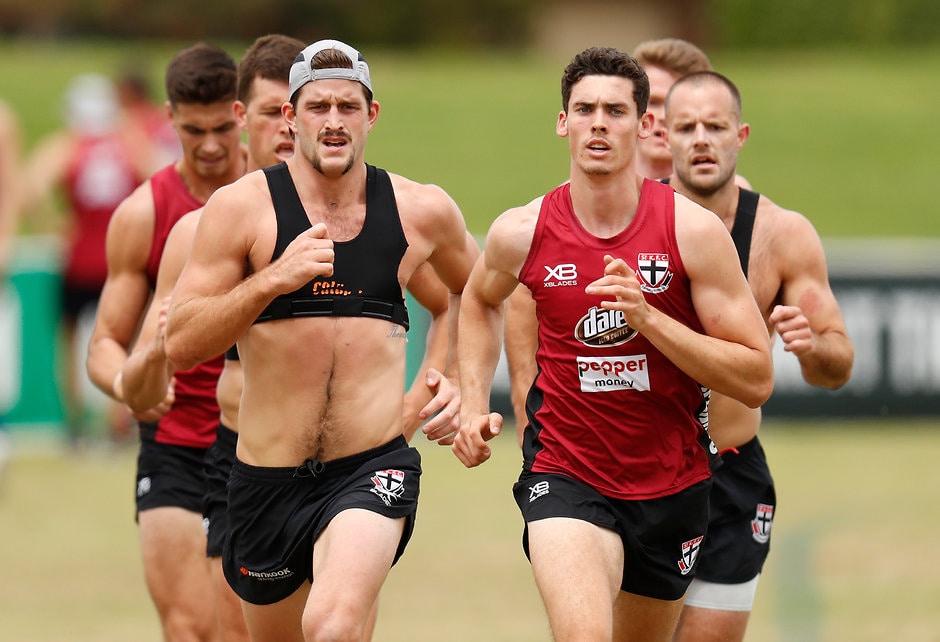 I tried to take as much out of [Sam] as I could and he gave me heaps back
Oscar Clavarino on Sam Gilbert
Young defender Oscar Clavarino is ticking every box as he hunts an AFL debut.
It can take some players years to understand the attention to detail required at AFL level.
But not so Oscar Clavarino.
The second-year defender - likened to Richmond's Dylan Grimes for his size and speed - is making sure every minute counts as St Kilda continues its arduous pre-season.
"So far it's been really good, it was good to get back early in that stage where it was just the first to fourth-year players," Clavarino said.
"Having a bit of time where it was limited numbers, it sort of felt like there was a little bit of attention on you, so I felt I got heaps out of that."

WATCH: Oscar's draft dream is realised

With the senior players back and pre-season training well and truly underway at RSEA Park, everyone is doing their own part in building a successful 2019.
For the driven defender, it's about fine-tuning his craft by doing the little things right.
Whether it be spending a bit more time on the park or being more meticulous in recovery sessions, Clavarino is determined to improve his game by incrementally building upon his sturdy foundations.
And learning from some of the most seasoned Saints is just one way he's taking his game to new levels.
In developing his defensive nous, Clavarino has had no shortage of educators, with former Saint, Sam Gilbert, one of several players integral in transforming the Vic Country co-captain into a future champion.
Cut from the same cloth regarding their rebounding skills and surprising agility given their height, the two formed a solid partnership last season as the reins were passed on.
"I tried to take as much out of [Sam] as I could and he gave me heaps back," Clavarino said.
"He was a great mentor for me last year along with playing alongside him."
Gilbert's recent signing with Sandringham will likely see the duo pair up again throughout the 2019 Peter Jackson VFL Season as Clavarino continues to vie for his AFL debut.
In more familiar colours has been stalwart defender Nathan Brown, whose knowledge and experience have been vital in elevating Clavarino's output both in the gym and on the field.
"I sort of try and buddy up with him a little bit now in learning the defensive craft and that kind of thing," Clavarino said.
"He's got a lot going on in his head and it's good to pick little things out each session and hopefully put them into my game."
The results have been evident, with Clavarino's weight gain from his dedicated gym work putting him one step closer to making his debut.



Oscar Clavarino has left nothing on the track this pre-season

While that first game in the red, white and black is still elusive for the 19-year-old, Clavarino is content that his hard work in the pre-season will amount to rewards in 2019.
"Certainly getting that first game will be up the top," Clavarino said.
"But it's the little extra session that you might do in the gym or another little bit of extra recovery that just keeps you going."
"For me, it's just about having that consistency."