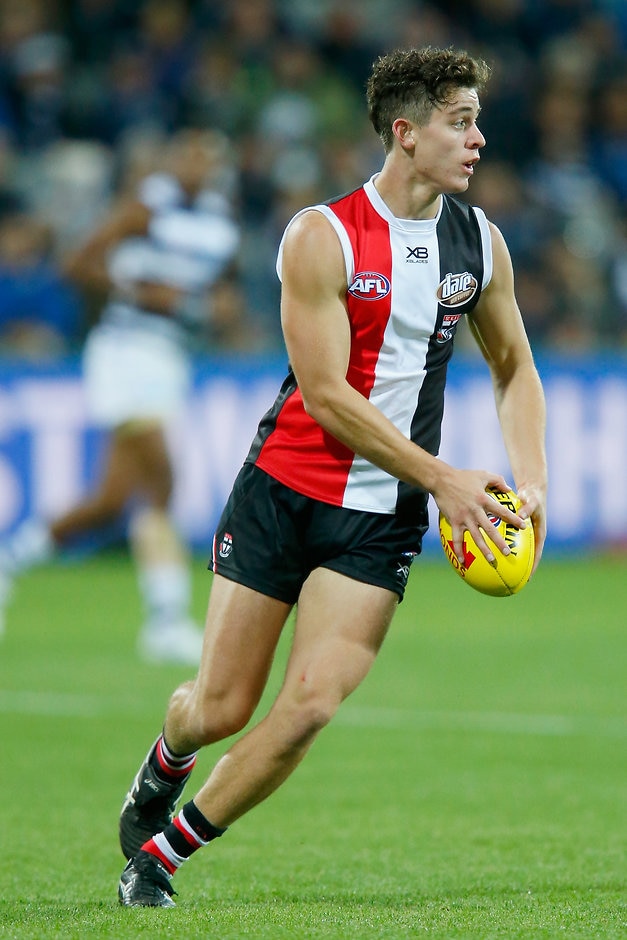 A stronger, fitter and wiser Nick Coffield feels ready to reap the rewards of a "rollercoaster" debut season as St Kilda attempts to bounce back from a disappointing year.
Coffield, 19, and housemate Hunter Clark arrived at the Saints as top-10 draft picks ahead of a season they planned to make the finals for the first time since 2011.
Instead, St Kilda slipped from 11 wins last year to four in 2018 – and Coffield played only 10 games, including just two after round 12.

READ: Coffield extends contract
"You learn pretty quickly it's a rollercoaster," Coffield said at the Saints' Christmas at RSEA Park event on Saturday.
"My first half of the year was pretty different to the second half; not playing many games towards the back end of the season.
"You've got to take it in your stride, pick up stuff along the way and not get too down, because you've got a long career hopefully, if all goes well, but you've got to stay mature and move on."
Coffield is noticeably bigger physically than the teenager who was "thrown around" at times on the field last season in his transition to senior football.
He is also shadowing teammate and noted runner Jack Newnes and has already noticed the benefits, as well as continuing to pick the brain of midfielders Jack Steven, Seb Ross and Jack Steele.


Nick Coffield celebrates after kicking his first goal in AFL football.

Triple All Australian Dan Hannebery's arrival from the Swans is also having an impact on Coffield's approach.
"'Hanners' is a really special player and his communication is huge, so he's helped out a lot with such a young group and he's been awesome so far," Coffield said.
"(Hannebery is) probably a step up from everything we thought was good last year – he just takes it to another level – so it's good to get an insight into what it's like to be at (a successful club).
"He was at Sydney before this and that's obviously the standard they set, so now it's up to us to not just follow him, but get a few numbers around him, so he's not the only one talking."
Much has changed from this time last year at St Kilda, with Brett Ratten, Brendon Lade and Jake Batchelor among Alan Richardson's new coaches, plus Hannebery and Dean Kent as playing reinforcements.
As well as being back at Moorabbin after seven years based at Seaford, Coffield is confident the changes will result in a revitalised Saints in 2019.
"I reckon there will be a lot of improvement," he said.
"Last year wasn't ideal, but we're doing everything we can and working as hard as we can, so I'd be surprised if we had a season like we did last (season), but the feeling at the club is we're trending in the right direction."
Tyson Milne (son of Stephen) and Jackson Voss (son of Brett) trained at the Saints this week as part of the club's father-son program.
Milne showed some of his father's nous in front of goal with a couple of clever snaps in match simulation towards the end of the training session.