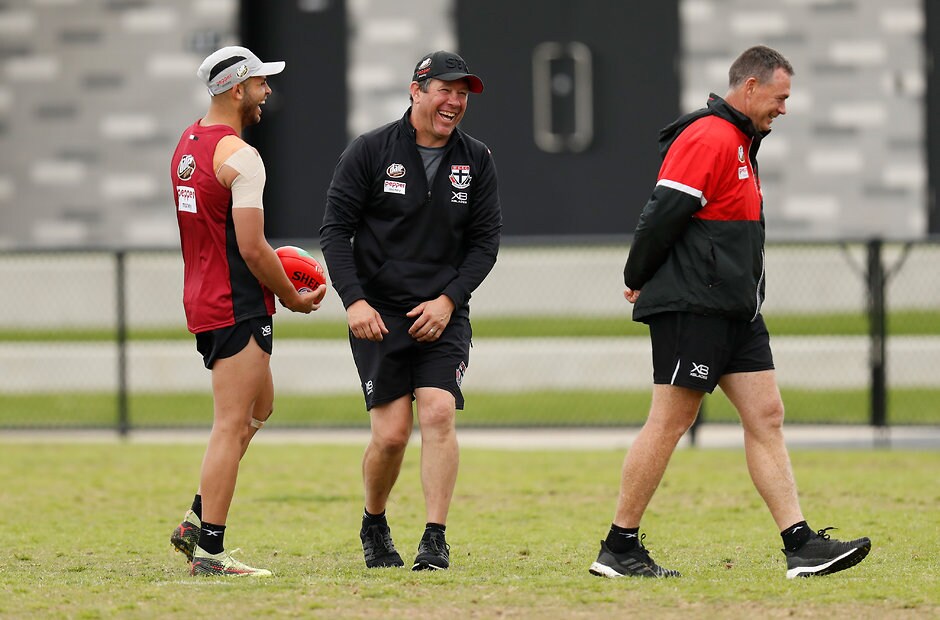 Three premierships as Hawthorn's senior assistant coach are more than enough to measure Brett Ratten's success at the highest level.
His career was just as decorated on the field for the Blues, with two All Australian honours, three John Nicholls Medals, two seasons as captain and a premiership to boot.

Become a member by 20 Dec and you could watch Round 1 from a corporate box, including a pre-match visit from Brett Ratten

Now, Ratten is intent on adding to his illustrious list of achievements by turning the Saints' climb up the ladder into a reality in 2019.
"They've got what it takes. They're a young group, but they're willing to learn, and when you put yourself in that space, anything's possible," Ratten said.
"Their determination and pride is extremely high and they want to do well, so that's the growth we've got at this footy club with some of those younger players accelerating their careers quicker than the norm."
READ: Ratten 'excited' by Saints
Players such as Hunter Clark, Nick Coffield, Jade Gresham and Ben Long, among several others, propelled themselves into the limelight following impressive 2018 displays in a largely disappointing season.
But even despite the Saints' limited on-field success, Ratten has found a silver lining in the turbulent year.
"Sometimes when you actually have a year like we did [in 2018], some of those experiences for those boys are so valuable," he said.
"Yes, it's not where we wanted to finish, but we might look back in two, three years' time and say, 'that period for those players was so valuable, because we got extra games into them and helped really fast-forward their careers'."

Ratten addresses the forward group at training.
Similarly, training in the new year is set to accelerate, as the regimen shifts from controlled and technique-based work to a more heated brand of football.
"There's no doubt after Christmas it will be a lot more combative work, a lot of contest work, and we'll start ramping up the gameplay and game scenarios," Ratten explained.
"They're going to be doing it under fatigue, under pressure and that's the hard bit – can you execute it for that length of time?"
Ratten's close work with the midfielders and forwards has seen a strong focus in team chemistry, with the understanding between players and the way they operate crucial in attaining on-field success.
"The successful teams are about tight teams – whether it's in-season, off-season, during the week or on the weekend, they're all tight-knit groups," he said.
READ: Number 12 lives on at St Kilda
Alongside new personnel in Brendon Lade, Billy Slater and Graeme Allan – as well as recruits Dan Hannebery and Dean Kent – Ratten has been formative in enhancing St Kilda's football program.
But mimicry is not on the agenda, with the new panel drawing upon each other's experiences and successes to augment the Saints' standing values.
"We've got a few people from different clubs and their view on it, so it's more about the IP [Intellectual Property] and what we can put to the program that supports what we're doing here," Ratten said.
"You might not get everything through, but it's about bringing that knowledge out and seeing what's important for us."
"The more we can understand each other, the greater success we could have."