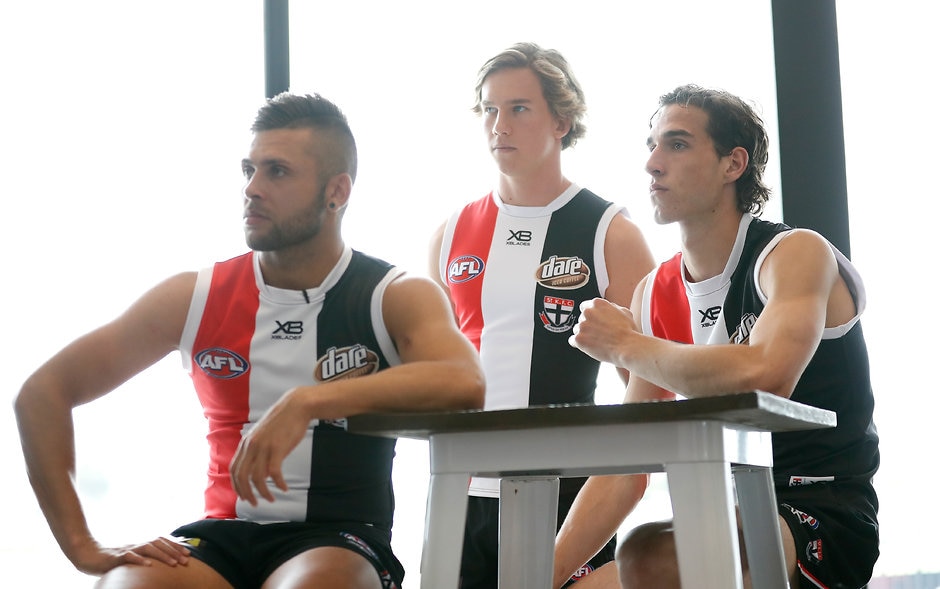 It's been a busy off-season at RSEA Park, with several changes made as the club looks ahead to 2019.

Here's a timeline of what you might have missed.
Ratten, Lade and Allan arrive at the Saints

27 August (Ratten), 28 August (Lade), 26 October (Allan)
St Kilda's busy off-season period began as soon as Round 23 came to a close, with the Saints acquiring the services of Brett Ratten and Brendon Lade from Hawthorn and Port Adelaide respectively.

This comes on top of the club appointing a new Head of List Management, James Gallagher, on 2 August.
In October, Graeme 'Gubby' Allan made the move to RSEA Park, joining in an advisory role to strengthen St Kilda's football program.
We're excited to announce the addition of Brett Ratten to our coaching department.https://t.co/5J4z1xSycl

— St Kilda FC (@stkildafc) August 30, 2018
Key Saints depart
5 September (Gilbert), 10 October (Hickey), 17 October (Weller)
Stalwart defender Sam Gilbert closed out his career after 208 games for St Kilda, while Tom Hickey found a new home at West Coast and Maverick Weller moved to Richmond following his delisting.
Nathan Freeman, Hugh Goddard, Darren Minchington, Nathan Wright and Ray Connellan were similarly delisted from the club at the end of the season.
Jack Steven wins fourth Trevor Barker Award
19 September
Jack Steven joined Robert Harvey and Bill Cubbins in becoming a four-time recipient of the Trevor Barker Award.
The star midfielder polled 191 votes, pulling ahead of Seb Ross (175) and Jack Steele (134) to claim the respected title.
Steven now sits behind Nick Riewoldt, with the superstar holding onto the club record of six Trevor Barker Awards.
Slater sides with Saints
10 October
St Kilda had already secured the services of Brett Ratten and Brendon Lade, but were set to add another high-profile member to their football program with the signing of Billy Slater.


The former NRL champion played 319 games for the Melbourne Storm and represented Australia on 30 occasions across his revered career.
Slater's credentials and exceptional team-building skills saw him land a position at the Saints, with the rugby star taking an active role in the Saints' leadership and development programs.
Hannebery and Kent don the red, white and black
12 October
A quiet trade period was not on the cards for St Kilda in 2018, with Dan Hannebery and Dean Kent committing to the red, white and black in the off-season.
Hannebery's decorated résumé boasts three All-Australians, a premiership and 208 games with the Swans; his class earning him a five-year deal with the Saints.
While Kent's accolades aren't as lengthy as his counterpart, his damaging speed, physicality and toughness seen across his 63 games for Melbourne will be a valuable asset for St Kilda in 2019.
Young Saints re-sign
15 October (Paton and Clavarino), 16 October (Joyce and Langlands), 18 October (Lonie), 24 October (Longer and Pierce)
The faith in several key youngsters was repaid during the off-season, with St Kilda locking away their services to build towards a prosperous 2019.
Ben Paton and Oscar Clavarino impressed to earn two-year contract extensions, while Darragh Joyce, Doulton Langlands, Billy Longer and Lewis Pierce extended their stays by one year.
The recommitment of Jack Lonie for a further two years was celebrated among the St Kilda faithful, particularly given his electric finish to the season – 11 goals from five matches – which showed what he is capable of.
Gears gets married
16 October
While RSEA Park was abuzz with new signings and activity, in Portugal, there was excitement of a different kind.
St Kilda skipper Jarryn Geary tied the knot with his partner, Emma, with the city of Porto host to the couple's wedding.
Several teammates were in attendance at Jarryn and Emma's special day, and not surprisingly, scrubbed up quite nicely!
Saints secure China deal
25 October
The international flavour carried over from Jarryn and Emma's wedding, with the Saints signing a three-year deal to play one game a season in China.
St Kilda replaced Gold Coast in the Shanghai Showdown, with the agreement a landmark event for the club in terms of opportunity and revenue.
Port Adelaide will await St Kilda at Jiangwan Stadium, with the momentous match set to take place on Sunday, 2 June.
Marshall elevated to senior list
26 October
After toiling away as part of St Kilda's rookie list, Rowan Marshall was elevated to senior status after an impressive showing in 2018.
The 23-year-old played 12 matches for the year, with his dominant displays both up forward and in the ruck highlighting his promise as a future star of the red, white and black.
A special start to pre-season
11 November - 26 November
To kick off St Kilda's arduous pre-season, Ben Long led a company of third-and-fourth-year players up to the Northern Territory and his home in the Tiwi Islands.
The five-day expedition wasn't the only time the Saints hit the road, with players, coaches and staff dedicating their time to support community partner, Wallara, late last month at Sages Cottage Farm.
The King arrives... and another Jack
22 November
With all eyes on St Kilda at the 2018 National Draft, the Saints selected Max King with their highly valued Pick No. 4.
Despite missing most of the year with a knee injury, Alan Richardson and his coaching panel had faith in selecting the 18-year-old, with the 202cm powerhouse joining the club he had supported since he was a child.


A lifelong Sainter achieves his dream.#AFLDraft pic.twitter.com/mZsgZZgUM2

— St Kilda FC (@stkildafc) November 22, 2018
After securing Max King, the Saints acquired several key talents in the second day of the 2018 National Draft, bolstering their midfield stocks with a mix of young and mature-age players.
Jack Bytel, Nick Hind, Matthew Parker and Robbie Young all joined the senior ranks, while Callum Wilkie and Sam Alabakis signed on as rookies, with the latter listed as a Category B recruit.
Jumper numbers revealed
17 December
New year, new numbers.
Pick No. 4 Max King was bestowed the legendary No. 12 from his hero, Nick Riewoldt, symbolic of his status as a future potential star for the Saints.
Recruits Dan Hannebery and Dean Kent received No. 10 and 25 respectively, while the new draftees each received their own new guernseys to establish their own legacies.
Several existing players also changed their numbers, with Nick Coffield moving to No. 1, Rowan Marshall to No. 19 and Ben Paton to No. 33.
Andrew Bassat assumes Presidency
26 October
A lifelong suooirter and co-founder of Seek, Andrew Bassat was officially welcomed as St Kilda's new President at the club's AGM.
He takes the role from Peter Summers, the man who provided stability for St Kilda and was responsible for orchestrating the Saints move back to RSEA Park at Moorabbin.