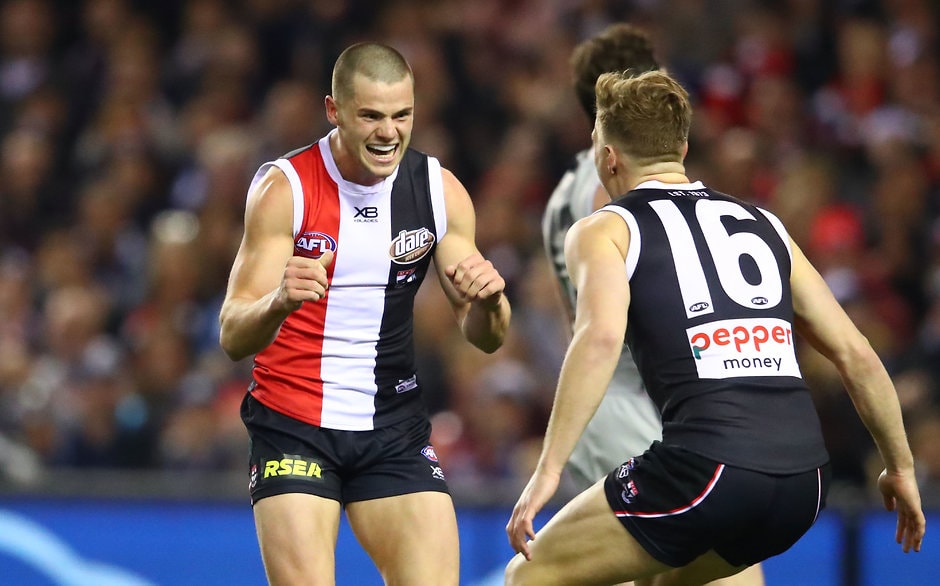 It's all about bridging that gap
Jack Sinclair
An impeccable kick, impressive speed and footy smarts beyond his years.
Jack Sinclair's traits bear all the hallmarks of a future mainstay of St Kilda's midfield, but complacency isn't on the agenda as Round 1 fast approaches.
This pre-season, Sinclair has been setting the benchmark alongside new recruit Dan Hannebery, who similarly resumed training with the first to fourth-year players weeks ahead of schedule.

MEMBERSHIP: March in with the Saints in 2019
And it's these emerging leadership qualities that have the 24-year-old held in such high regard among the club's younger personnel.
"I'm going into my fifth year now and in terms of that young group, I'm the oldest player and I've played the most games, so I feel like naturally I have to lead the charge there," Sinclair told saints.com.au.
"Those guys probably look up to me more than I realise, so I've come back in good nick – I was training with a few of the guys over the off-season and have tried to set the standard with that."
In his time away from RSEA Park, Sinclair has been fixed on increasing his engine and running capabilities; a rigorous task he has undertaken with endurance beast Daniel McKenzie.
"Training with someone like Dan is always the best way to go about it in the off-season – he'll get you out of bed early and get your running and weights done," Sinclair said.
"We played together at Oakleigh and have always been pretty competitive with our running. He's probably a bit better than me now, but some days I get him, so it's a good little competition to have and it makes us get better and fitter."
McKenzie is formidable competition for Sinclair, with the former renowned for his elite tank and workload on the training track.
The 22-year-old blitzed the 3km time trial in November of last year, before coming in behind the first-placed Ed Phillips in last month's run.

Jack Sinclair celebrates after Round 15's win over the Dees

READ: Phillips clinches hot 3km
His ethic and output have since been echoed by Sinclair, who hasn't missed a training session in almost three years.
But unfortunately, such dedication didn't translate to on-field consistency in Season 2018, as Sinclair was eventually omitted from the senior side before the Saints' clash with Melbourne – the first game he had missed since Round 6, 2017.
The sting of being dropped for two matches spurred impressive performances against Collingwood and West Coast, before the youngster closed out the season with lesser impact.
Now, Sinclair is intent on mirroring the form which made him such an asset to St Kilda's midfield and doing so on a far more regular basis.
"For me, it's about being more consistent in my performance week to week," Sinclair said.
"I had probably a couple of my best games last year, but then some ones that weren't so great."
And in Sinclair's approach to Season 2019, consistency is front of mind.
"Getting that consistency is in everything you do really. It starts with training and preparation and the lead-up to games, because ultimately you want to do it for the two hours on the weekend, and the only way you can do that is if you train consistently," Sinclair said.
"It's all about bridging that gap and certainly as a whole team we need to do that as well."