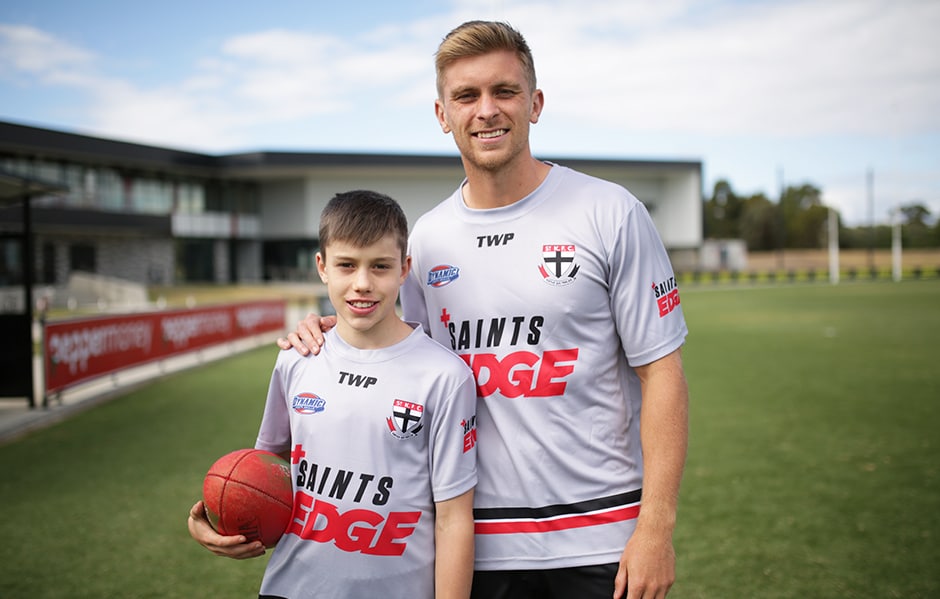 WHAT?
Saints Edge is a brand new program offering a one-of-a-kind football development experience in an elite AFL club environment.
St Kilda is the only AFL club to offer such an exclusive training program, and Saints Edge participants will enjoy unprecedented access to state-of-the-art facilities and coaches for an all-inclusive cost of $1,100.
WHERE?
Training sessions will be held at the Saints' state-of-the-art facilities – RSEA Park in Moorabbin and Linen House Centre in Seaford.
Experience pool recovery sessions, game reviews in the players' theatre, physical testing and high-tech video analysis; it's the perfect recipe for any footballer's development.
WHO?
Saints Edge is open to players of all abilities (both boys and girls) from the ages of under-11 up to under-14s.
Your child will work directly with Saints' AFL players and coaches, supported by qualified Level 2 AFL coaches from Dynamic Footy Skills.
HOW MUCH?
The Saints Edge all-inclusive fee of $1,100 can be paid up front in full.
Alternatively, select the 'Easypay' option at checkout, where you'll sign up to a 5-month plan of $220 per month starting in March.
WHEN?
Saints Edge is a development program run over the school holidays, with two training days scheduled in each holiday period throughout the season.
SQUAD

DATE

TIME

VENUE

ALL SQUADS

(Testing and Intro Day)

Monday, 8 April

9am-4pm

RSEA Park, Moorabbin

SQUAD A

Wednesday, 10 April

8.30am-12.30pm

Linen House Centre, Seaford

Wednesday, 17 April

9am-4pm

RSEA Park, Moorabbin

SQUAD B

Thursday, 11 April

9am-4pm

RSEA Park, Moorabbin

Thursday, 18 April

8.30am-12.30pm

Linen House Centre, Seaford

ALL SQUADS

(Match-day experience)

Saturday, 22 June

4.35pm

Marvel Stadium

SQUAD A

Thursday, 4 July

9am-4pm

RSEA Park, Moorabbin

Thursday, 11 July

8.30am-12.30pm

Linen House Centre, Seaford

SQUAD B

Wednesday, 3 July

8.30am-12.30pm

Linen House Centre, Seaford

Wednesday, 10 July

9am-4pm

RSEA Park, Moorabbin

ALL SQUADS

Wednesday, 25 Sept

9am-4pm

RSEA Park, Moorabbin

Wednesday, 1 Oct

9am-4pm

RSEA Park, Moorabbin