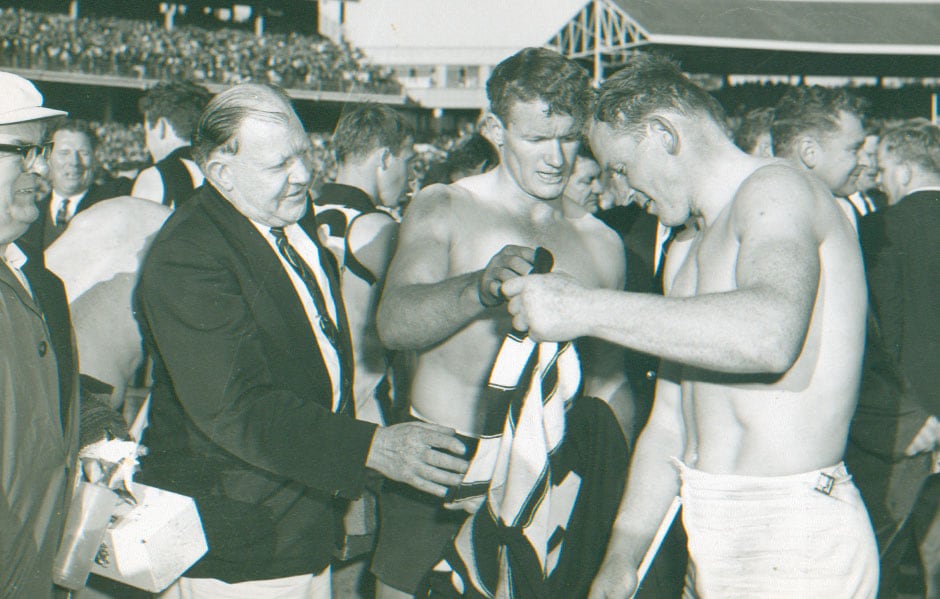 Clive Mackinnon was on hand at St Kilda Football Club's greatest triumph, and actually tried to change the one jarring moment in the 1966 Grand Final.
Clive passed away on May 29 at the age of 89.
His love of St Kilda began as a child watching the team at the Junction Oval.
So, it was only appropriate that on the day of the club's greatest triumph he was on hand in his adult working role as a leading photographer for The Age.
As skipper Darrel Baldock began taking off his jumper to swap with Des Tuddenham, Clive implored him "Don't do it Darrel, don't do it!", fully aware that a few minutes later Baldock would be receiving the premiership cup and that instant would be recorded for all time.
On This Day: Lights out at Waverley
Baldock would say forever more that he regretted being photographed in the Collingwood jumper, but Mackinnon dutifully recorded the lead-up to the cup presentation and the subsequent triumphant lap.
It was Clive's eye for history and love of the Saints that led him to salvage negatives of unpublished photos of that famous premiership.
He knew Rodger Head, back pocket in that famous team, who told us of the treasure trove in Clive's safe keeping. Clive printed two sets of the photos – one album to be kept by him and one presented to the Club at the initial Hall of Fame dinner in 2001. He had at least one print of every player in that team and each one would be signed by the player involved.
In 2016 the photos were reproduced in the magnificent Icon series book – Celebrating 50 Years 1966 to 2016.
The year of 1966 was the first time that a team had done a lap of honour after a premiership win , and players are equally divided over whether it was Allan Jeans or chairman of selectors Des Nisbet who suggested that the players display the trophy to their fans – "they've waited long enough" - by carrying it around the ground. Clive and his mates Geoff Bull and Neville Bowler took the shots that immortalised the day.
Clive captured many of the iconic moments in sport during his career with the Age and the News Limited papers. His shot of Alex Jesaulenko's mark in the 1970 Grand Final was an epic moment, but his famous depiction of English Model Jean Shrimpton wearing a mini skirt at the 1965 Victoria Derby at Flemington gained world-wide attention.
Those people lucky enough to visit his home were able to marvel at his work.
Above all else the warm-hearted Clive Mackinnon was one of nature's gentlemen whose work will forever have a special place in the club's history.