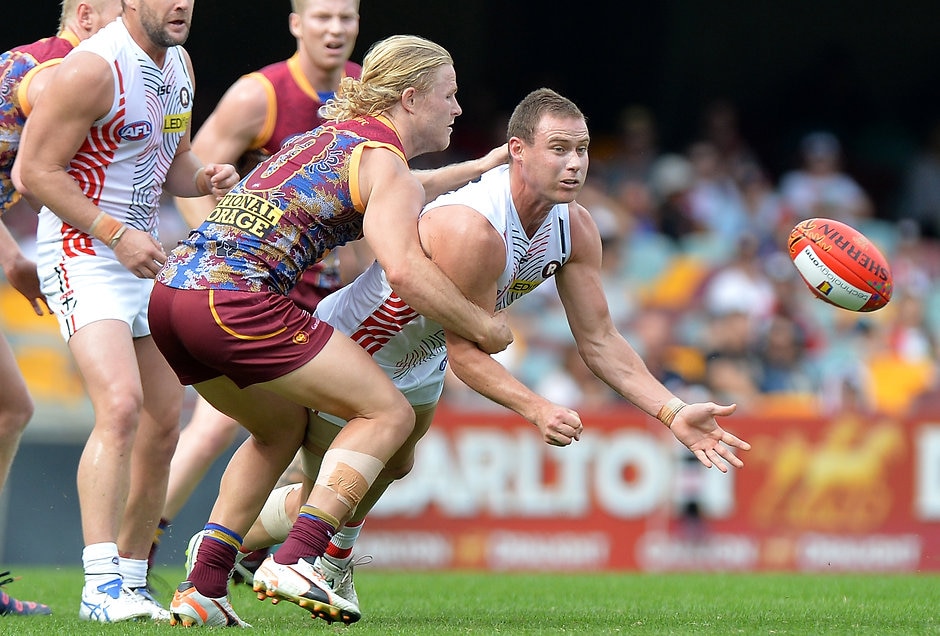 Foxtel is delighted to be the exclusive television broadcaster of all 27 matches of the 2016 NAB Challenge live on Fox Footy
Foxtel's Ben Buckley
ST KILDA midfielder David Armitage will play his first AFL game in his hometown as part of next year's NAB Challenge.
The prolific left-footer was born and raised in Mackay, Queensland and will return to the city for the Saints' clash with Brisbane on Sunday March 6, 2016.
The game will be St Kilda's second NAB Challenge match and will be held at Harrup Park Country Club, beginning at 3.40pm.
Armitage, who finished second in this year's Trevor Barker Award behind Jack Steven, spent his childhood in Mackay and played for the Eastern Swans in the AFL Mackay competition, before relocating to Brisbane when he was 16.
Mackay has a population of just over 75,000 people and is located 970km north of Brisbane.
In other fixture news, St Kilda will open its NAB Challenge campaign against North Melbourne at Norm Minns Oval in Wangaratta two weeks before the trip to Queensland.
It will be St Kilda's return to Wangaratta after a scheduled NAB Challenge match against Essendon was abandoned in 2012 after the Bombers failed to arrive.
The Saints third match, to be played on Sunday March 13 beginning at 4.10pm, is against Melbourne at Etihad Stadium.
In a continuation of the initiative introduced for the 2015 NAB Challenge, AFL club members with game access will be entitled to attend next year's NAB Challenge matches free of charge, subject to availability.
"The NAB Challenge continues to take our game across the country to regional and suburban grounds that don't normally host AFL football during our regular premiership season," AFL Executive Simon Lethlean said.
"The support of NAB, by taking our games in the pre-season away from the major metropolitan venues, enables our game to strengthen its roots in the community.
"The NAB Challenge is the first occasion the young players chosen in next month's NAB AFL Draft will have to showcase their wares for their new teams and the AFL is also greatly appreciative of the support of Foxtel and the Fox Footy Channel, who will be broadcasting every game live."
The 2016 NAB Challenge will be the first time that all matches in non-traditional regional locations have been broadcast live by Fox Footy, after 21 matches were broadcast in 2015, Foxtel Executive Director Sports and Content Partnerships Ben Buckley said.
"We are bringing our subscribers more matches of the pre-season competition than ever before and Foxtel is delighted to be the exclusive television broadcaster of all 27 matches of the 2016 NAB Challenge live on Fox Footy," Mr Buckley said.
Mr Lethlean said every match across the opening three weeks would be played at regional or suburban venues, while the fourth and final week would see matches staged at metropolitan AFL venues to optimise team preparations ahead of the Premiership Season.
Six matches will be played across each of the first three weekends of games - giving all clubs one bye - with every club playing on the final weekend, Mr Lethleansaid.
"This structure will again be in place for the 2016 NAB Challenge as it accommodates the needs of our clubs in terms of managing player workloads and planning their preparations during a very important month before the premiership season gets underway," he said.
(function(d, s, id) { var js, fjs = d.getElementsByTagName(s)[0]; if (d.getElementById(id)) return; js = d.createElement(s); js.id = id; js.src = "//connect.facebook.net/en_GB/sdk.js#xfbml=1&version=v2.5&appId=66316020565"; fjs.parentNode.insertBefore(js, fjs); }(document, 'script', 'facebook-jssdk'));