After being starved of opportunity across two years in western Sydney, St Kilda midfielder Jack Steele stamped himself as a player of the future in 2017, says Senior Assistant Coach Adam Kingsley.
The 21-year-old shone across 20 games in his first season at Linen House Centre, averaging 22.0 disposals, 10.5 contested possessions (No. 1 at St Kilda), 7.9 tackles (No. 1), 63.8 pressure points (No. 3 in the AFL) and 3.8 clearances.
Kingsley, who oversees the Saints' engine room, said the former Greater Western Sydney midfielder now feels comfortable at AFL level and is poised to take another step forward next season.
"'Steeley' showed real signs that he's going to be a very good player," Kingsley told saints.com.au.
"He's becoming comfortable at the level and he's now viewing himself as an AFL player, given the opportunities he had this year.
"He's got outstanding contest ability, which is an important aspect of the game; he's clean under extreme pressure; he disposes of the ball really well with his kick; he's a big body so he can compete well with the bigger bodies."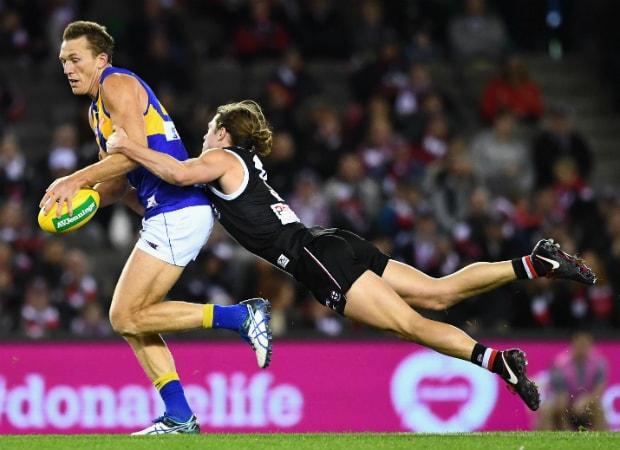 After arriving at the club with his foot in a moon boot last November, unable to put his foot down and participate in full training until after the Christmas break, Steele will arrive on the starting grid fully fit this time around, ready to put a comprehensive pre-season in the bank ahead of 2018.
"I think having a full pre-season this year will be enormous for him," Kingsley said.
"He didn't turn up fit last year because he couldn't with the injury, so he's going to have a good off-season and prepare himself to attack the pre-season.
"I think he will hit the ground running from day one this year which will benefit him and us enormously. I see him becoming an outstanding player."
2017 Statistics Snapshot
Games: 20
Disposals: 22.0
Contested possessions: 10.5
Tackles: 7.9
Pressure points: 63.8