Midfield recruit Koby Stevens overcame a frustrating start to the season to add a harder edge to St Kilda's engine room this season, says Saints Senior Assistant Coach Adam Kingsley.
The former Western Bulldogs and West Coast midfielder missed the first couple of games of the season as he recovered from food poisoning, before working his way into the senior side through the VFL.
He earned a spot in Round 6 and missed a week due to suspension a fortnight later, before finishing with 15 senior games to his name in his first season at Linen House Centre.
The 26-year-old was used in a few different roles, including as a negating midfielder at times and finished the year averaging 21.7 disposals, 44.4 pressure points, 5.2 tackles, 4.9 marks and 3.1 clearances.
"Koby added some real toughness and aggression around the ball for us, which we saw in most of the games he played for us," Kingsley told saints.com.au.
"He played a negating role for us at times, with his role on Rory Sloane in Adelaide one of his best efforts for the year; he kept Sloane to 14 possessions that night and although we didn't win that game, he was a really strong contributor.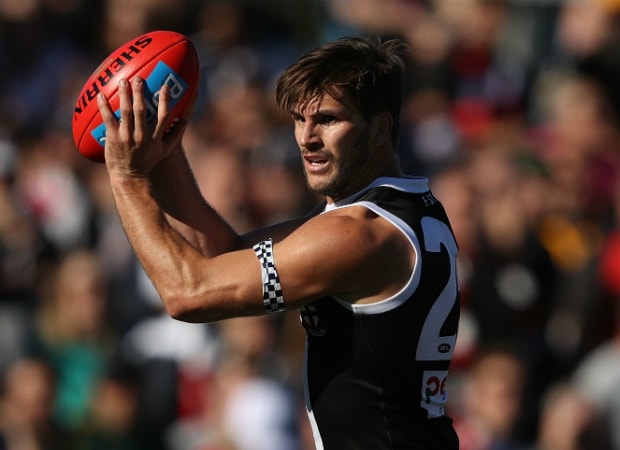 "The blueprint had shown that if you're able to take Sloane out of the game, you're more likely to win, but unfortunately we didn't get the other aspects done that night.
"While he didn't play as much footy as he would have liked, he showed some impressive signs for us this year. I think he'll be even better next season."
After managing to play only 12 games in each of his final two years at Whitten Oval, Stevens battled with groin issues again in 2017, but Kingsley is confident he will benefit from another summer working alongside the Saints' high performance department.
"He was in and out of the side a little bit on the back of injury, so that was a disappointing aspect of his year," Kingsley said.
"But I think with the work our physios have done to get Nathan Freeman up and running and playing consecutive games, Koby will benefit with exposure to that in his second year here."
2017 Statistics Snapshot
Games: 15
Disposals: 21.7
Pressure points: 44.4
Tackles: 5.2
Clearances: 3.1