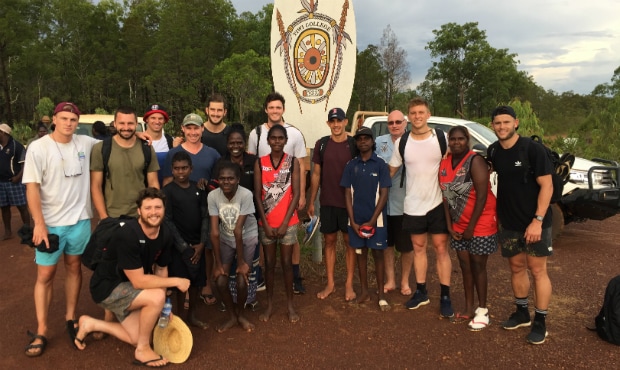 It was unbelievable; one of the best camps I've ever been on.
Mav Weller
With no Nick Riewoldt or Leigh Montagna around anymore, St Kilda's leaders did something a little bit different at the start of the pre-season.
Along with Senior Coach Alan Richardson, Director of Coaching & Development Danny Sexton and Player Welfare Manager Tony Brown, the leaders travelled to the Northern Territory with livewire forward Ben Long in the first week of the pre-season.
While the remainder of the list trained at Linen House Centre, the leadership group spent time in Darwin and the Tiwi Islands, putting plans in place for the summer ahead and beyond.
St Kilda leader Mav Weller said the opportunity to get away at the start of the pre-season, in the first phase of life after Riewoldt and Montagna, was priceless.
"It was unbelievable; one of the best camps I've ever been on," Weller told saints.com.au on Tuesday.
"We spent a day over at Tiwi Island with some relatives of Benny's and learnt about the culture which was awesome.
"It was just good to get away with the group and have discussions about what we want to put in place for the pre-season and for the season beyond.
"Obviously it's bit of a different dynamic now without 'Joey' and 'Rooey'.
"We just wanted to plug a few holes with that and maybe change up a few things and how to fast-track the younger guys to feel comfortable at AFL level and doing our bit so we can win more games."
After an off-season of transformation, Weller has returned to the club this pre-season in vastly different shape.
The once bulky battering ram has stripped eight kilograms off his frame as he looks to become more mobile in 2018.