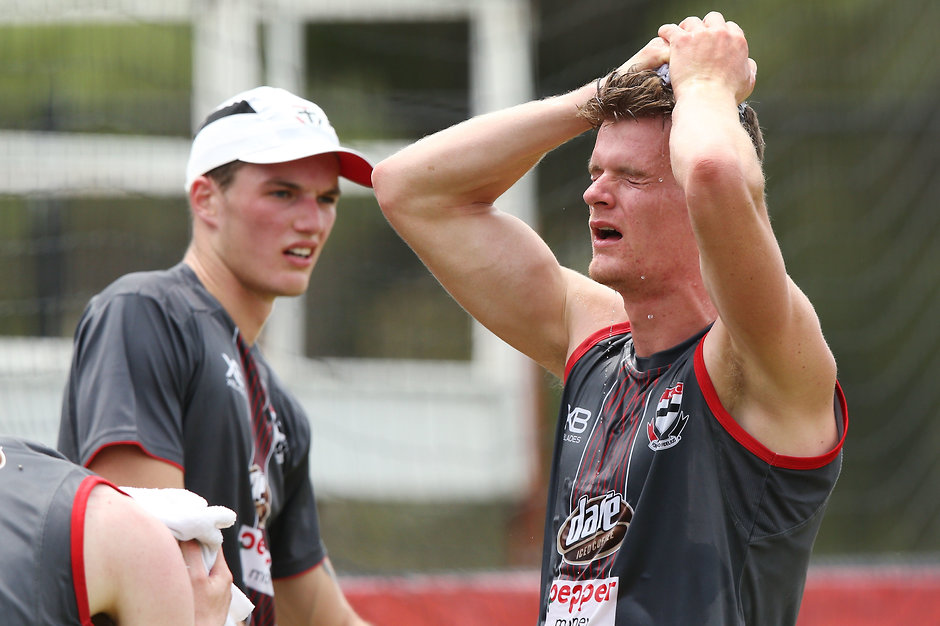 Darragh has really come into his own this pre-season.
Ray Connellan
Irish recruit Darragh Joyce is 'flying' in his second pre-season at St Kilda, according to compatriot Ray Connellan.
The pair landed at Linen House Centre last October and spent their first season learning the game at Sandringham.
While Connellan's attributes fit the mould of most Gaelic converts – think Zac Tuohy, Pearce Hanley and even Tadgh Kennelly – Joyce is a former hurling star who is being groomed in a more difficult key defensive post.
"Darragh has come back in unreal shape," Connellan told saints.com.au on Wednesday.
"He's flying in the running, especially compared to last year; he has really come into his own this pre-season.
"It will be exciting to see how well he can do this year."
Connellan spent two months back in his homeland during the off-season break before returning to Melbourne for another long, hot summer in Seaford.
"It was great to get back and chill out with my family and friends," he said.
"I didn't go anywhere, I just stayed at home.
"I've got mates in college at Dublin and then on the other coast in Galway. So I was just travelling between the two."
After living with a host family in Black Rock for the first 12 months, Connellan has recently moved in with young key defender Hugh Goddard.
"I've only been in there for a couple of days and I've lasted so far," he said.
"Me and Hughie get on really well. We've both got similar personalities and are easy going, so I'm really happy with the move."