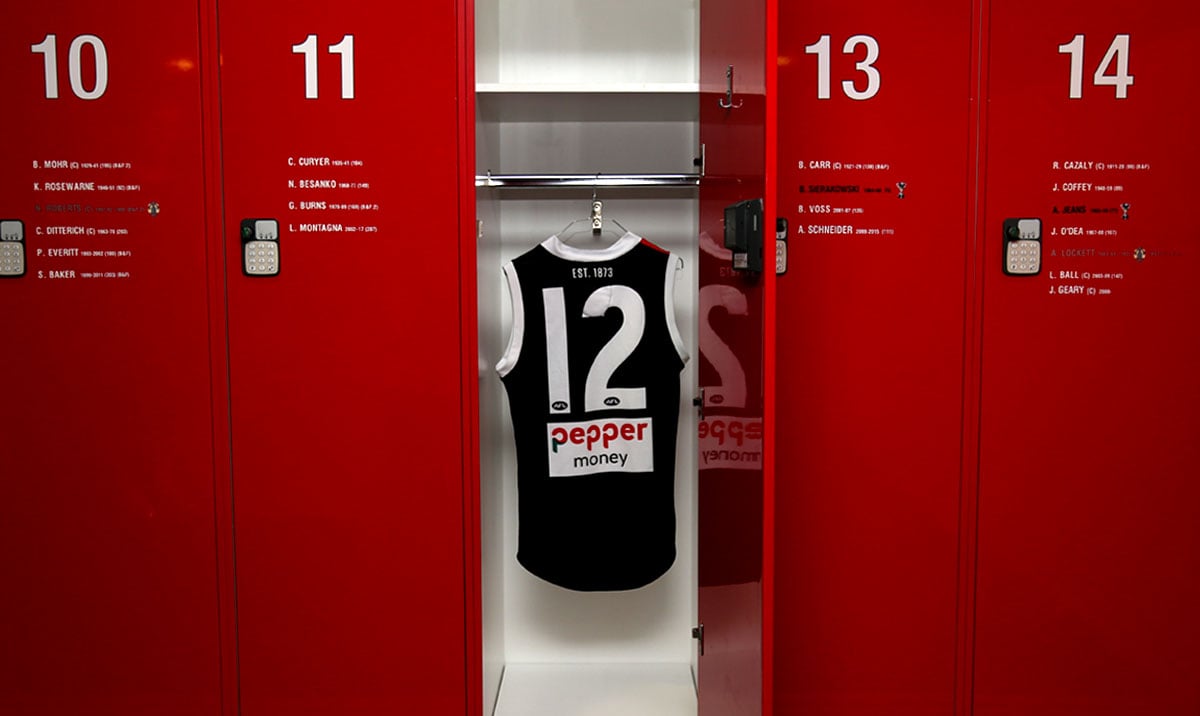 We believe that temporarily retiring the number 12 is the right call
St Kilda CEO Matt Finnis
The St Kilda Football Club has opted to temporarily retire the number 12, worn by retired champion Nick Riewoldt, for at least the 2018 season.

After seeing Riewoldt through 336 games and twelve years as captain, Saints CEO Matt Finnis said it would be the first time in more than 25 years the number 12 would not be in the St Kilda line-up.
"We believe, and I know it's a view shared by many St Kilda supporters, that temporarily retiring the number 12 is the right call and honours the legacy Nick has created over past seventeen years," Finnis said.
"We know that it will be strange for many to see a Saints team without it, but I have no doubt that the day will come where we see the number 12 being proudly represented in the red, white and black again."
Six new Saints were today presented with their new numbers with champion Leigh Montagna on hand to pass on his number 11 to new draftee Hunter Clark, while Sean Dempster presented number 24 to cousin and Saints recruit, Logan Austin.
"It's a huge honour to be given Joey's number," Clark said.
"I've grown up watching him play and if I can have a career half as good as his I'd be happy."
Austin said it was an incredible feeling to be able to continue his family's legacy in the number 24.
"Sean has been a massive role model to me growing up and it really means a lot to be able to take on his number as I start my career at the Saints."
Numbers were also presented to new St Kilda additions Nick Coffield (33), Oscar Clavarino (38), Ben Paton (45) and Doulton Langlands (46).
The full St Kilda playing list and numbers for 2018 is as follows:
1 – Tom Hickey
2 – Jake Carlisle
3 – Jack Steven
4 – Jade Gresham
5 – Shane savage
6 – Seb Ross
7 – Luke Dunstan
8 – Blake Acres
9 – Jack Steele
10 – Nathan Freeman
11 – Hunter Clark
13 – Jack Lonie
14 – Jarryn Geary
15 – Jack Billings
16 – Jack Newnes
17 – Dylan Roberton
18 – Billy Longer
19 – Sam Gilbert
20 – David Armitage
21 – Ben Long
22 – Nathan Brown
23 – Hugh Goddard
24 – Logan Austin
25 – Koby Stevens
26 – Josh Battle
27 – Josh Bruce
28 – Tim Membrey
29 – Jimmy Webster
30 – Ed Phillips
31 – Brandon White
32 – Paddy McCartin
33 – Nick Coffield
34 – Nathan Wright
35 – Jack Sinclair
36 – Daniel McKenzie
37 – Bailey Rice
38 – Oscar Clavarino
39 – Darragh Joyce
40 – Ray Connellan
41 – Darren Minchington
42 – Lewis Pierce
43 – Rowan Marshall
44 – Maverick Weller
45 – Ben Paton
46 – Doulton Langlands
47 – Barclay Miller