Four of our Multicultural Ambassadors toured the facilities at RSEA Park on Monday ahead of our dedicated Multicultural Round clash against Collingwood on Saturday night.

Reyzl Zylberman remembers being the only girl playing football in the schoolyard with the boys.

As a young Jewish girl in Melbourne, there simply wasn't the opportunity for her to play football for a club, yet she knew many boys who played for the local Jewish club, AJAX FC.

In the fallout from the Second World War, many European Jews settled in the bayside area of Melbourne, particularly St Kilda.

The name 'St Kilda' came to signify a place of possibilities for these people, and also became the suburb in which they built their new lives, joining local Jewish organisations and speaking Yiddish on the streets.

Reyzl was recognised as the 2017 Multicultural Ambassador of the Year for her work in establishing and coordinating the Jewish Schools Cup, which last year saw six squads of girls' and boy's teams representing five Jewish Melbourne schools participate in the tournament.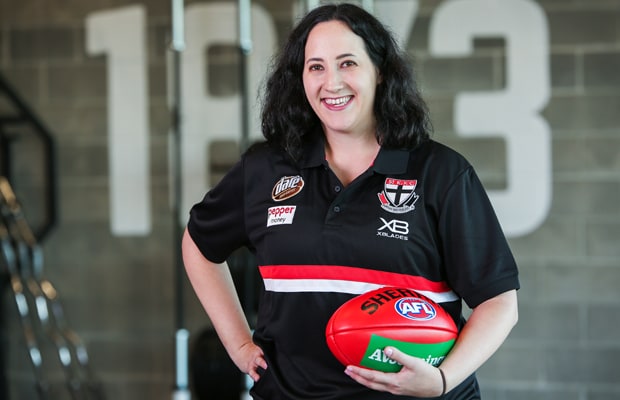 Inspired by her own lack of opportunity as a young girl, Reyzl assisted in establishing a Jewish youth girls' team through AJAX FC.

"A huge part of having the AJAX girls' team is showing these young girls that there are Jewish women playing football, and I know for me that was a big reason why I took up football as an adult," Reyzl said.

"It's awesome that at the Saints we've got Amy Silver playing for the VFLW side … as they say, if you can see it, you can be it."

As well as her work with the new AJAX FC girls' team, Reyzl has made the game more accessible for Jewish girls in Orthodox Jewish schools.

"A big barrier for our Orthodox girls was that they couldn't be playing in front of men, so we tried to eliminate that barrier," she told saints.com.au.

"For the first time, one of our schools was actually able to teach their girls how to play which is pretty huge."

Outside of her work as a Multicultural Ambassador, Reyzl teaches Jewish Studies and Yiddish Language at a local school.

"My students always joke that it's their Jewish Studies and Yiddish teacher that gets them to play football," she said.

Reyzl named the 2017 AFL Victoria Community Ambassador of the Year

Sarah Loh arrived in Australia in 1977 from Malaysia aged 6.

Now the CEO of the South Metro Junior Football League, Sarah's football journey began innocuously, when she saw a young boy with the Number 1 on his back in 1977, St Kilda legend Trevor Barker, and also loved the colours red, white and black, so she decided to follow St Kilda.

With the growing population of the Chinese community in South-East Melbourne, Sarah feels there's a big opportunity to make the game more accessible to these people, who would otherwise have no exposure.

"Traditionally with the Chinese community, football's not the chosen sport. Kids feel connected through heroes that they can look up to, but they also have to be from that nationality," Sarah said.

Michael Palma is a long-time Saints fan with Italian heritage.

A proud East Bentleigh boy, Michael's heavily involved with Parkmore Junior Football Club and has been a Multicultural Ambassador for nearly eight years.

"Football can be a little bit daunting for people of non-Anglo-Saxon backgrounds, and we often find the parents especially can be a little standoffish, but once we make them feel welcome, they become a huge part of our club," Michael said.

"The best way to connect kids to football is their friends. Once they actually come and have a kick, they love it."
Akshay Trivedi hadn't heard of Australian Rules football until a couple of years ago.

Akshay moved to Australia to study a Masters in Sports Management, where he's acquiring the skills and knowledge to grow Australian football both locally and internationally.

"I wanted to get involved with the Saints to get more of the Indian community involved with footy," he said.

"In most of India, cricket is a religion, so most people follow cricket, but definitely footy could be a good game for Indians to follow or to play."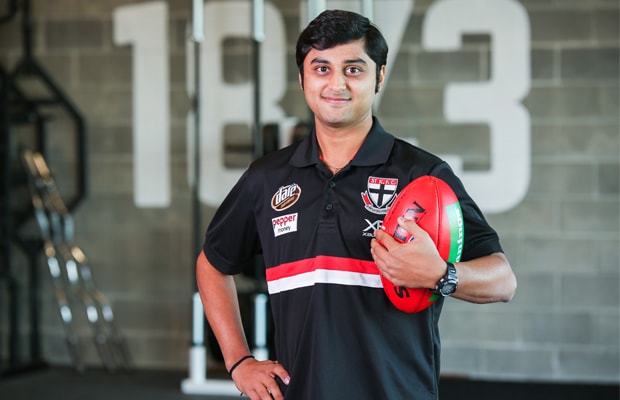 Akshay jumped at the chance to become a Multicultural Ambassador at St Kilda, at what he labelled "one of the clubs that most promotes diversity in sport".

"Australia's genuinely a multicultural country, so it seemed important from a sports perspective that if we can get kids from these different cultures involved in the sport, it would be a win-win situation for both the clubs and the communities."