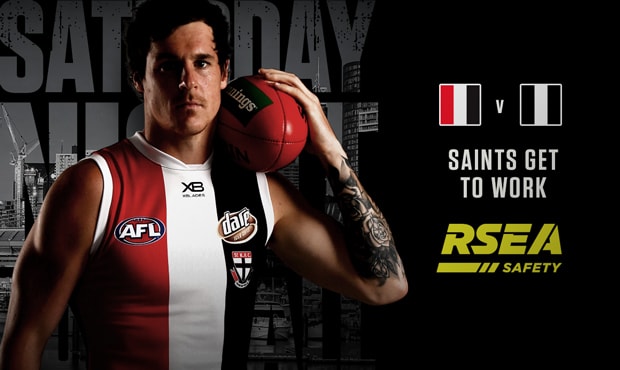 St Kilda v Collingwood
Saturday May 19 Etihad Stadium
Gates open: 5.30pm Match starts: 7.25pm Broadcast guide: click here.
Team announcement: TBA.


Thanks to RSEA Safety, Saints are getting to work. If you have any questions on game day, one of our friendly staff members in their hi-vis vests will be there to help!
Have you got your halo on? On your walk through from the station, keep an eye out for the squad of Owens who will be handing out your free #HalosOn Headband. Be in your seat before the first bounce and get your halo on as you listen to the sounds of Beyoncé throughout the stadium.
WELCOME back, uCube! In Round 7, we saw the introduction of UCube - a Woolworths AFL Playgournd sensory play area for kids. A space immersed in the action, uCube promotes learning through play, a new and experiential place for children and families to enjoy a day out at the footy and celebrate their club. To learn more and book in a session, click here.
Need to Drink it Through? Dare Iced Coffee can help! Grab your Dare Iced Coffee poster on your way into the stadium and keep it handy for our quarter time activation. Just by being in your seat and answering the questions on the big screen you have the chance to win a team signed guernsey and $200 eftpos card.
Are you coming with a special someone? Be in your seat at three quarter time to play Kiss Cam!
Saints Say Thanks, thanks to RSEA Safety! At three quarter time, thanks to RSEA Safety, our Saints Say Thanks segment is now a whole lot bigger. With up to $2,000 worth of prizes up for grabs at each home game, make sure you're in your seat to win.
AVJennings Spot the Ball is back! Tell us which square the ball is in and you could win $500 thanks to AVJennings. Check out the image and submit your answer HERE!
SAINTS CLUB HUB, OUTSIDE GATE 5
Visit the Saints Club Hub located outside Gate 5 for all your membership sales and enquiries (including ticket collections). This Saturday, the Membership Support Team will be available from 5.30pm until quarter time.
SAINTS SOCIAL CLUB IN THE VICTORY ROOM – LEVEL 1 BEHIND AISLE 15
We will continue to offer exciting events and activations in the Victory Room, including great dining options, a pop-up merchandise store, appearances from our current and past players, a kids zone and much more. It's a great opportunity for Saints members to share and experience all things St Kilda related with likeminded fans.
The Saints Social Club in the Victory Room is open to members when gates open on game day and remains open for 90 minutes after the conclusion of the match.
The Social Club is the perfect way to beat the rush to the car park or the station; drop in, enjoy a drink and meet players after the game for a chat, photo and signing opportunity.
SAINTS CLUB – ACCESS VIA GATE 6, LEVEL D*
All Level 2 members can access the exclusive Saints Club found in the Accolade and Laureate rooms. With doors opening an hour and a half prior to the game, it gives you plenty of time to relax and purchase food and drink from the bistro. The 'first goal' kicking competition and lucky door competition will be running with your chance to win amazing prizes! The dedicated kids area located near aisle 36 in the Accolade room will be open, so your kids can enjoy the footy while enjoying all the activities. We will still have player appearances at half time.
*Level D behind aisle 30. If accessing from Level 2, access points are at the end of each aisle between aisle 31 and 36. Access into the Laureate room can be made via aisles 28, 29 and 30.
NEW Gear! Available at Gate 5 and inside Gates 4, 5 and 7 from 5:30pm onwards.
Got your tickets to the Satruday night clash? Tickets available here.
R4, 2017, St Kilda 9.15 (69) d Collingwood 7.13 (55) at Etihad Stadium
R3, 2016, St Kilda 18.11 (119) d Collingwood 14.6 (90) at the MCG
R3, 2015, Collingwood 21.14 (140) d St Kilda 10.6 (66) at the MCG
R11, 2014, Collingwood 21.14 (140) d St Kilda 8.6 (54) at Etihad Stadium
R6, 2013, Collingwood 15.13 (103) d St Kilda 11.11 (77) at Etihad Stadium
Train
Southern Cross Station is located adjacent to Etihad Stadium. It is a short walk across the Bourke Street pedestrian footbridge.
For up to date public transport information in Victoria including timetables, service disruption information or ticketing visit ptv.vic.gov.au or download the PTV App.
When you're heading toward Etihad Stadium, make sure you turn right and head for Gate 4 so you can stop by Saints Alley
Please ensure you check how public transport will be impacted by Run for the Kids by clicking here.
Car
Game day parking at the Etihad Stadium: undercover car parks are available for $30.00. The car park can be accessed via Bourke Street. Please note Etihad Stadium Carpark has a maximum clearance of 2.10 metres.