Born March 7, 1950
265 games, 49 goals
187cm
83.5kgs


What Gary Colling lacked in natural talent, he made up for in sheer perseverance and ferocious endeavour.

The Frankston product was a tough and uncompromising footballer who gave St Kilda tremendously loyal service in a career spanning 14 years and 265 games.

Colling was handed the captaincy in 1978, and although the choice was a controversial one at the time, his team-first mentality and aggressive mindset proved to be a uniting force.

Colling's involvement with the Saints didn't stop after he retired in 1981 as he then went on to coach the under 19s, the reserves and hold down a full-time administration job at the club.

Colling was a revered tagger and defender throughout the 1970s and his style of play embodied a never-say-die attitude that complemented the class and polish of Trevor Barker. He was named best team player on three occasions.
How did you get to the Saints?

I started off at Frankston Peninsula. We had a brilliant coach, Pud Cameron, who had been in about a dozen grand finals. It was a very strong junior club. His game style made it so much easier for me to fit into VFL football, because we were a reasonably small side, and I was the centre half forward, and quick movement of the football was what he promoted.
Zoning had not come in for Frankston at that stage. I was the last person to go before zoning. The late Graeme Richmond and Paddy Guinane actually came to Mum and Dad's house, and Graeme Richmond had $1000, and I remember him standing at the mantelpiece saying to my mum and dad, "This guy will be the greatest full-back this club is ever had."
I was trying to get Mum and Dad's attention, as if to say, "Obviously he hasn't seen me play, because I've never played in the backline in my life."
They said for every five minutes that you take to make up your mind, I'm taking $100 away. So you can imagine mum and dad and myself seeing this great wad of money and he's peeling notes off and sticking them in his pocket.
So I ended up playing with Stuart Trott, Travis Payze and Kel Moore. We used to walk home from training, blind turning around lamp poles, kicking the ball across the road. It was just a great culture. Pud was tough and fair, and a really good mentor to us.
Look, I always wanted to go to St Kilda. My junior club had Saints players that could give me a lift so it was perfect. I didn't have to worry about getting my own way to training.
On grand final day (1966) I was caddying at Long Island Golf Club - I was the head caddie - and I was in tears on about hole number 17. The players had the transistors to their ears, and I heard that Collingwood had lost. Little did I know!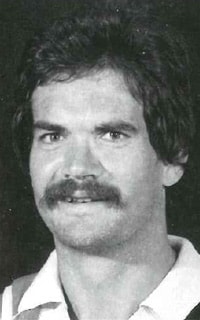 Tell us about your first pre-season?

I went to St Kilda in pre-season '68. I was still at school, at Karingal High School.
I really didn't believe that I was ever going to be good enough. I was a mad surfer, and my two mates and I had always planned to go around Australia surfing.
Even when they asked me to come to St Kilda and start pre-season, I was thinking that I would much prefer to be going off round Australia with my mates. My mate Graham had a blue and white '66 Ford Falcon.
When I went there, the guy who really caught my eye was a guy called Ian Stewart. I never saw the best of Doc (Baldock) because he would always have the blokes on him. To me, Stewie was the real gun player. My first year was Doc's last year.
RELATED: Where are they now? Stewart Loewe
What about your first game?
Myself, Jimmy O'Dea and Johnny Evans were the only three recruits from that year who made it. It was a fairly old side. I played one reserves game, against South Melbourne, and then I was straight into the seniors. I had just turned 18.
I played against Melbourne, on Brian Dixon. Jeansy said that Melbourne had about four ways of kicking a goal, and they all revolved around Brian Dixon. He said to me, "Look, Laddy (which he said for the next 10 years for me), don't let him get a kick, just do your job." So at one stage I ended up playing on Hassa Mann on the half forward flank.
My football earnings for the year equated to a second-hand car, and I played 16 or 17 games, including finals. We smashed Geelong in round 18 and played them again in the first semi-final, and it was virtually a reverse. We got absolutely toweled up.
What are your fondest memories of your time at the club?

First of all, as a young 17-year-old kid, playing with Baldock, Stewart, Smith and Ditterich and Verdun Howell – all the absolute legends. There was only a couple of us young kids who broke into what was a very old and experienced side at the time. It was a great thrill.
I was privileged in a lot of ways to play with some absolute legends and heroes. Every year I rocked up to pre-season training and packed myself because I thought I wouldn't get a game. In those days something like 120 blokes would rock up at the start of summer and I'd fend for myself.
Most football clubs have great people, but they were sensational blokes at St Kilda, and they just welcomed us in. They were all like older brothers.
Cowboy would just say "Right, any ball in my area, just let me get it and all you other blokes can fight for it."
I remember playing on Darryl Griffiths in a practice game and he said "Son, I'll get all the kicks in front of the grandstand and you can have whatever you like on the outer." I thought absolutely no way – I will fight tooth and nail. Well, as it turned out, I got every kick on the outer and he got all the kicks next to the grandstand.
I taught Russell Greene to drive in my Volkswagen. He and Steven Icke used to go to the teachers college down in Frankston. I picked them up at the end of term in 1977, and they had already had a few drinks. We stopped at a phone booth and I said, "Ickey, you can't go to training like that, mate, ring Barass." And I said to Greenie that he couldn't go to training, but he said he was all right.
So we went to training – I warned all the blokes about Greeney. Smithy was the coach. So Greenie hadn't touched the footy – everyone kept shoving him to the back of the line. He got through training and Smithy (coach Ross Smith) didn't notice.
Russell was going to be the next captain - he was just a wide-eyed kid. He would say to us: "What's it like playing on the MCG? What's it like to play on so-and-so? What's it like to do this?" He would wind us up, probably taking the piss out of us, knowing Greeney.
RELATED: Riewoldt goes ahead of Colling
What did you do after you retired?

Yeah I captain/coached Mornington and won a flag there. I came back and coached the reserves at St Kilda then coached TAC Cup for five years. I was lucky enough to coach blokes like Chris Judd and Luke Ball. I think we had about seven blokes drafted in the first year drafted so that was an interesting experience. Then I spent some time coaching Caulfield Old Boys.
When I was footy manager, I told the Saints I had the best kid I had ever seen - Dermott Brereton - and they said oh yeah we know about him. So there were a lot of good players at St Kilda had a handle on, who would have been good St Kilda players, but they were zoned to Hawthorn. I remember going to Ballarat to do footy clinics, and the talent amongst the high school kids up there was woeful.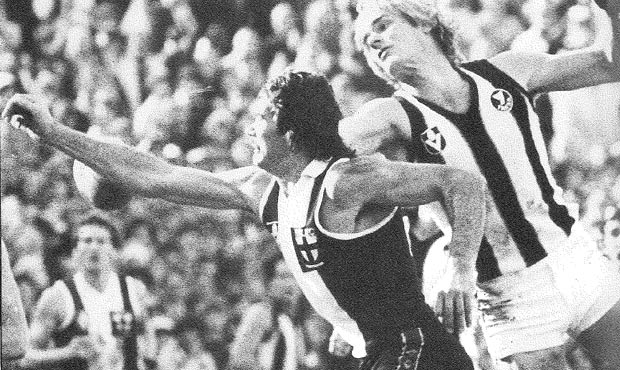 Which current day player would you compare yourself to?

Oh gee, I don't know – Blakey?
(Long pause)
Jeez, who is a good tagger going around?
Ryan Crowley?

Yeah, Ryan Crowley! I mean I wasn't as angry as him, but that was my job. Jeansy would just say "go and play on so and so, they are a good player, so don't let them get a kick."
RELATED: Where are they now? Lindsay Fox
Do you have any stories about former opponents?

Yeah, Peter Bedford. Every time I went to the urinal at the 200-club, he would say "You are the dirtiest prick I've ever played against." And I'd reply "No, you are the dirtiest prick I've ever played against."
South Melbourne wasn't that good but they had Bedford, who is of course a Brownlow medallist, and a few others. But if you played on the left hand side he'd belt you with his right hand in the groin and if you played on the right hand side, he'd belt you with his left hand in the groin.
If he was standing behind you, he'd belt you in your head. But I mean, in those days I was like a Ryan Crowley and I'd annoy the hell out of them.
Anyway, Bedford spat on me one day and Ross Smith ran past him and say "Oh Peter, that's unlike us Brownlow medallists." Smithy being as perfect as he was!
What are your thoughts on the modern day game?

Well back in my day it was more man-on-man. If you had an opponent, you stayed on him. It has changed a lot in terms of possessions, but we did have some blokes who could certainly kick.
The game style most of the time was to kick it up to a pack and the best man would normally win so I suppose that's been taken out. Nowadays you just have to be smart and use it well.
I don't think even Hawthorn used to do that in the 80s. Look, the guys' skills now days are just silky smooth and when you look at the size of the guys, they are a hell of a lot smaller than what we were. This is because they are designed to run these days.
I love watching Essendon. And I love watching Geelong, because everyone knows their game style, and they just keep persisting and persisting and persisting. I admire Ross (Lyon), and as a coach it is always difficult because you go in and you had to work with the cattle you've got.
I hate the way umpires have to umpire to a standard. To see umpires be able to call free kicks on a natural instinct and to see a bloke who's got absolutely no prior opportunity nailed. Common sense would say that you have got to allow the guys some prior opportunity.
I hate not having the reserves on grand final day, and having some crappy entertainment. I honestly believe that if you asked most people whether they listen to it, they wouldn't.
I think the tribal aspect is still there. You can go to Etihad Stadium and be so close and hear the actual whacks of the ruckmen crashing into each other - it is a bit gladiatorial in a lot of ways.
Who is your favourite current St Kilda player and why?

Lenny.
I didn't think he was all that flash at first. I was assistant manager at the time he was recruited and Johnny Beveridge and I thought Sydney might pick him up because they had three picks in the first eight in the draft. If there was one knock on him, it was pace, but don't get me wrong, we were very pleased that he slipped through to us. He had and still has that beautiful snake weave. I love him.
RELATED: Past greats gather to welcome in a new season
What are you doing now?

I am a teacher at Mentone Grammar teaching Maths and Science. Round one was the first Saturday in 50 years that I haven't been involved in footy. I've been coaching Red Hill for the last couple of years but yeah, since I was 14, winter has been taken up playing or coaching footy.