Part 2
Modelling Life
 There are certain aspects of being a footballer that come more naturally to some than others, like photoshoots.
Last week, myself and Jess "Sedge" Sedunary were asked, I think because we are the better looking of the team (joke), to participate in a photoshoot for some AFLW content.
I was a little bit disappointed that I had to do that shoot with Sedge to be honest, mainly because she is more chiselled and ripped than athletes participating at the CrossFit games.
Compared to her, I look like a toothpick.
Luckily to my advantage they weren't side by side photos, they were actions shots.
The photographers of course got Sedge to get the pipes out and do a handball shot and then I got the running kick photo because my legs probably account for 90% of my body weight so at least they make me look somewhat like an AFLW footballer.
All went well except for the fact that Sedge tried to outdo me for some of the photos and hadn't warmed her aging body up appropriately (rookie error, I had done multiple push ups before the shoot to get a nice pump on) and ended up with a sore calf.
Please note: this did attract another fine for poor Sedgey because really, who injures themselves during a midweek photoshoot?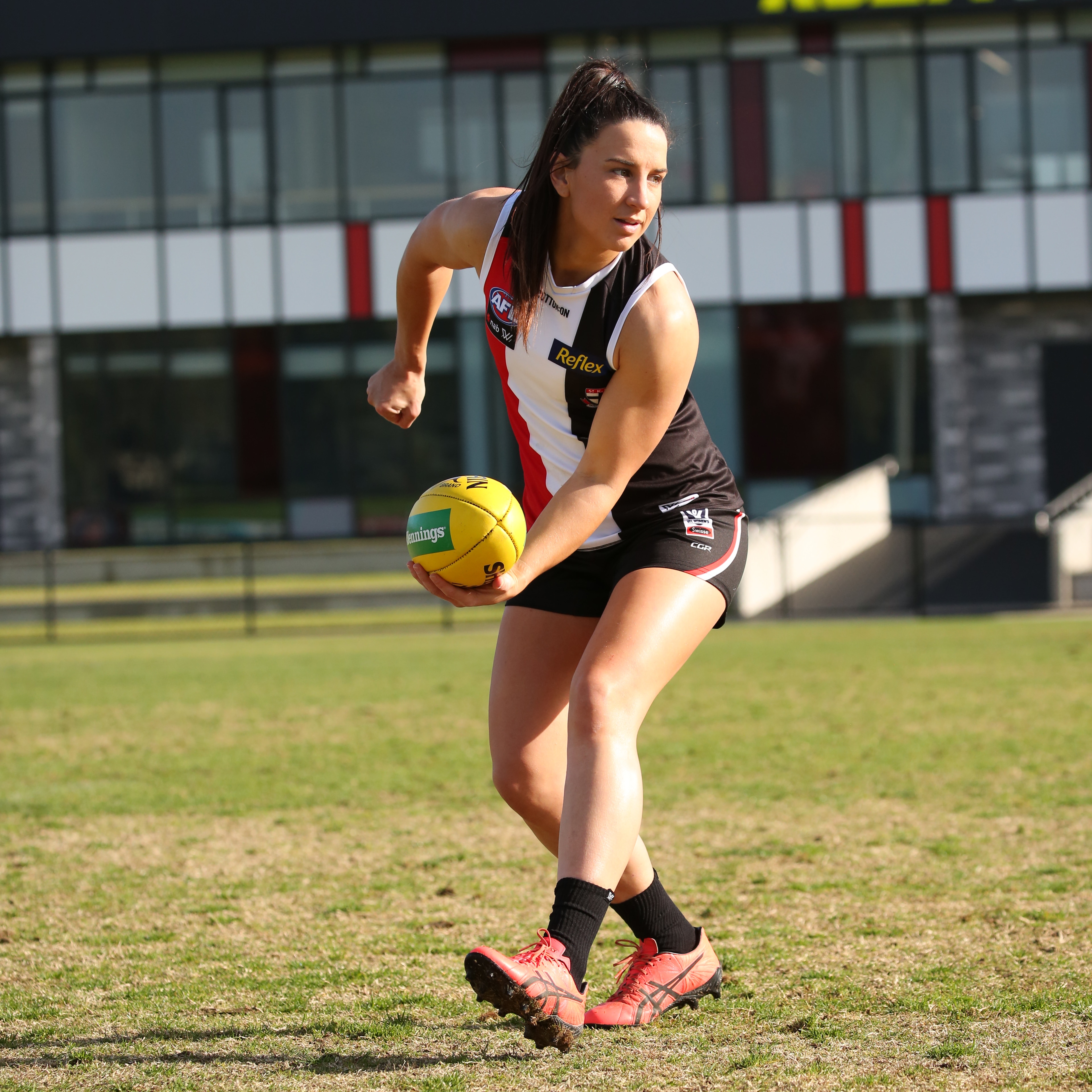 Game Time – Pride Round
It was finally my favourite day of the week, Game Day!
My first game with the Southern Saints aligned with the Pride Cup which has been running in the VFL/VFLW since 2016.
Before the match I was lucky enough to speak on a panel about the importance of the round and the importance of creating an inclusive environment at football clubs.
St. Kilda CEO Matt Finnis spoke about how important the round was for the club and how they will continue to support the LGBTIQ community.
I felt extremely proud listening to Matt. For St. Kilda to have the courage to be the first AFL Club ever to introduce a pride round in 2016 even before marriage equality was passed, was a huge leap of faith.
After the formalities, it was time to prepare for the game. I was definitely feeling the nerves. I hadn't played a game of football since the last round of AFLW in late March.    
I laced up the boots, put on my long sleeve jersey (which apparently was not called for as it was about 15 degrees) and got out there and had a run around.
We played extremely well as a team and were able to get the win over Casey Demons by 29 points cementing second position on the VFLW ladder.
Post-match I was the recipient of a Gatorade shower. I hadn't had one of those in a long while and I definitely hadn't missed it. Big shout out to Sedge who went the full bottle straight over the head. She hasn't played the long game however as she still has her first game ahead of her.
Part of the First
After being at the club for both work and training for a week now, there is one common theme around women's football here and that is the feeling of excitement.
The entire club is so excited to have a women's team and to have the Saints colours return to the spiritual home of the club, Moorabbin.
This ground has such a rich heritage and we now have the opportunity to continue to forge unforgettable memories into the hearts of club members who have never been able to see women running around in the red, white and black.
Being part of the first group of players to do this for the club gives me such a sense of pride and purpose.
This team is for the diehard women who have always loved the Saints.
It is for the young girls who support the Saints but haven't had a team of their own to cheer on for the first three seasons.
But not only that, it is for the young boys and grown men who now see it as 'normal' for women to run around playing a sport that has been traditionally male for well over 150 years.