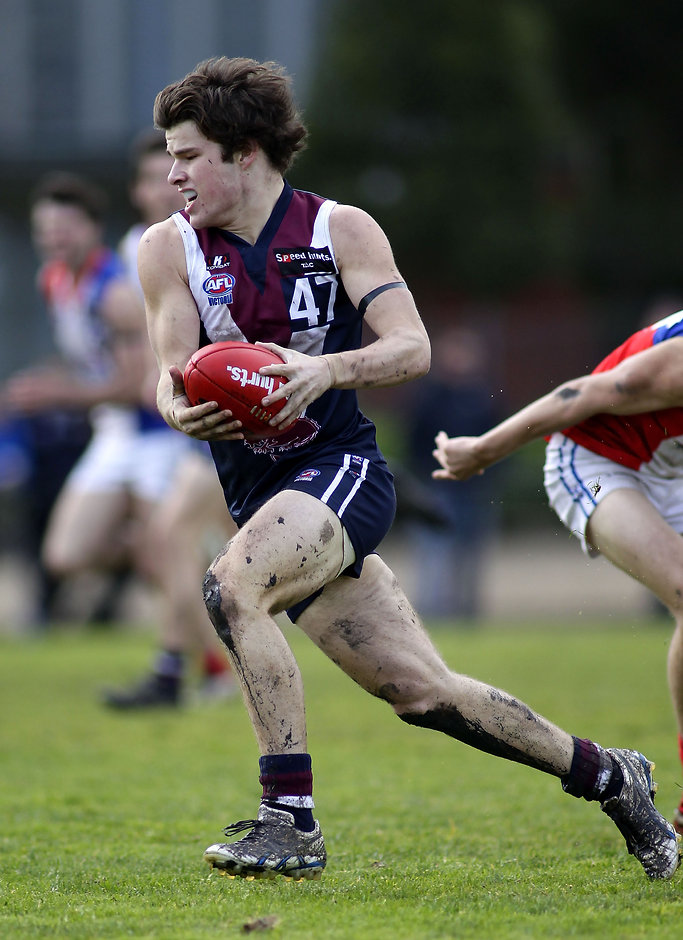 You like to think you're up there with the best of the boys.
Nathan Freeman in 2013
NATHAN Freeman was an elite junior player who provided spark, leadership and pure class whether he was playing for Cheltenham Panthers, Dingley Dingos, Haileybury College, Sandringham Dragons or Vic Metro.
Freeman's greatest attribute is his raw speed. It's what attracted recruiters and scouts in the first place and it is what will be his x-factor at St Kilda.
At the 2013 Draft Combine, an 18-year-old Freeman came second in the 20m sprint with a time of 2.82 seconds (the fourth fastest in the history of the Combine) and won the repeat sprints test. His pace is not to the detriment of his endurance, having clocked 14.10 on the beep test later in the 2013 Combine.
Freeman inherited the speed gene from his dad David, who was a 100-metre hurdle schoolboy champion. He also inherited his toughness from David, who is a 2nd Dan Black Belt in kick boxing and karate.
The middle of three boys, Freeman's older brother Marcus (22) played in Dingley's Southern Football League premiership last month, while younger brother Mitchell (17) plays for Cheltenham.
Growing up, the midfielder simply loved playing footy. He had an unquenchable appetite to find the Sherrin, run with it and kicks goals. It's what made him stand out above his teammates. Physically, he was strong-bodied but not overly tall. Like all good midfielders, it was the strength of his core and legs that allowed him to wriggle free of tackles.
At the start of 2012, a bottom-aged Freeman set himself to play for Vic Metro at the under-18 championships.
RELATED: Freeman's hamstrings no concern, says Bains
After round two he received a call from Metro's talent manager Anton Grbac to ask if he wanted to come and train with the squad. He said 'yes', but knew that if selected he would not be able to play in the carnival later that season as his family had already locked in a two-week holiday in the USA to celebrate his grandfather's 70th birthday. It was an agonising decision, but eventually Freeman chose family over footy.
He was jealous watching Dragons teammates Josh Kelly (GWS) and Christian Salem (Melbourne) play for Metro, but not playing also motivated him to make the most of his 2013 season.
"You like to think you're up there with the best of the boys but I was stoked for them to get that opportunity to show their talent at an earlier stage and do well in most cases," Freeman said at the time.
By the time the 2013 National Championships came around, Freeman was one of the first selected players for Vic Metro in a team that also included Jack Billings. He carried a slight ankle injury into the carnival but still averaged 20 disposals per outing.
Throughout the last year of his junior career, Freeman accumulated a mouth-watering highlights reel. He was fast, strong and knew how to utilise his pace. But there was also substance to his play. He would win his own ball and was a highly effective clearance player. It was probably his improved defensive capabilities that push him into top 10 calculations in the National Draft.
tough to leave some great mates and people but excited to crack in with @stkildafc! #cantwait

— Nathan Freeman (@nathfreeman9) October 23, 2015
St Kilda had picks 3, 18 and 19 that year and was happy to take Billings behind Tom Boyd (GWS, now Western Bulldogs) and Kelly (GWS) with its first pick.
The Saints rated Freeman highly having watched his progress over two years and would have been surprised had he slipped to the late teens.
So it proved, with Collingwood snapping the teenager up with pick 10, while Luke Dunstan (pick 18) and Blake Acres (19) rounded out a successful National Draft for St Kilda.
Freeman endured a frustrating 2014 campaign after ripping his hamstring in Collingwood's first NAB Challenge game against Geelong. He didn't return for another four months and played just one VFL game for the season.
Last season was not much better, although Freeman managed four VFL matches and showed glimpses of his trademark dash.
Keen for a fresh start, he requested a trade to St Kilda in September and on October 20, the boy from Dingley officially became a Saint.
"Our medical department has spent quite a bit of time with him prior to us committing to Nathan," Chief Operating Officer Ameet Bains said at the time.
"He will be on a modified program based on the amount of football he's missed over the past two seasons. Based on the advice we have from our own doctors, they expect him to be ready for round one."
Emotionally, Freeman is ready to make an impact. Of the top 15 picks in the 2013 intake, he is the only one yet to debut.
Physically, St Kilda's medical department is supremely confident he will withstand the rigours of a full pre-season and it will not only be Freeman that is the beneficiary of the Saints doctors and physios, it will also be the fans.
Great to welcome @nathfreeman9 to @stkildafc. Adds beautifully to quality young list. #BeStKilda

— Jamie Cox (@jamiecox1969) October 20, 2015
Welcome @nathfreeman9. Look forward to working with you in 2016 and beyond. #BeStKilda

— Alan Richardson (@AlanRichardson) October 20, 2015
Well done @Ameet_Bains and co and welcome to the Saints @nathfreeman9. #BeStKilda

— Matt Finnis (@Matt_Finnis) October 20, 2015
Good to have you on board @nathfreeman9 #GoSaints

— Blake Acres (@AcresBlake) October 20, 2015
Welcome @nathfreeman9 also exciting times at the saints #jet

— Maverick Weller (@Maverickweller) October 21, 2015
(function(d, s, id) { var js, fjs = d.getElementsByTagName(s)[0]; if (d.getElementById(id)) return; js = d.createElement(s); js.id = id; js.src = "//connect.facebook.net/en_GB/sdk.js#xfbml=1&version=v2.5&appId=66316020565"; fjs.parentNode.insertBefore(js, fjs); }(document, 'script', 'facebook-jssdk'));