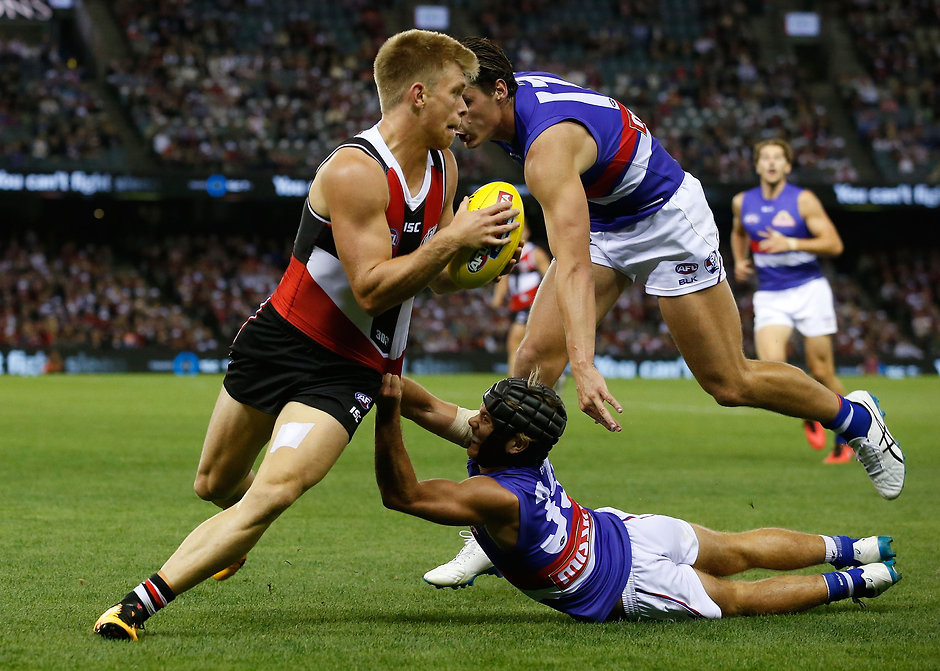 He was an absolute pro the way he worked through his rehab. For a young bloke to not get too negatively influenced by what happened was so impressive.
Alan Richardson
He might have done this last year. He might not have. But what he is doing this year is what many thought Seb Ross could do last year. That was before a long-term hamstring tear curtailed what had been an impressive pre-season up until that point. In a cruel twist of fate, a summer of progress was brought underdone when his hamstring ripped bending over to collect a ball out of a stoppage in a NAB Challenge game in Morwell.
With champion midfielder Lenny Hayes in the early stages of retirement, Ross was viewed as one player who could fill the enormous void left by the triple Trevor Barker Award winner. That hope was put on hold. But in the latter part of 2015, as St Kilda's season gradually spiralled downwards, Ross finished with a full head of steam, sending an ominous warning of what was to come in 2016.
Now, with an unblemished pre-season and the longest consecutive games streak of his career behind him, Ross has emerged as an integral component in St Kilda's engine room. After 13 rounds, the 23-year-old will feature prominently in the best and fairest voting, such has been the quality of his performances to date.
St Kilda Coach Alan Richardson concedes that what we are now seeing on a weekly basis from the North Ballarat product may have happened last year. It may not have. But what Ross did control during his absence from the game is what impressed Richardson most. He didn't sulk and drop his head; he got on with the task at hand.
"You don't really know (if he would have performed like this last year), but he'd had such a positive pre-season – both in terms of his physical preparation and his footy work – he just looked like one of those guys that had given himself every opportunity to have a strong year, a really strong year," Richardson told saints.com.au ahead of Ross' 50th game against Geelong on Saturday night.
"He was an absolute pro the way he worked through his rehab. For a young bloke to not get too negatively influenced by what happened was so impressive. He just thought righto, all I can control now is my recovery and my rehab and he just got it done. He came back in and was pretty positive for us in the second half of the year. It wasn't to the level he's doing now.
"It looks like what we're seeing now potentially could have happened 12 months earlier, but that's footy. If you have a long career you're going to have to deal with injuries and issues like form and even things away from footy that you'll need to be able to cope with and move on. That's what he's done."
Continuity has played a role in the spike in Ross' performance this season, as has another summer in his legs, with an improved endurance base laying the platform for a leap in numbers. His disposal count has significantly risen (from 18.2 in 2015 to 26.6 this year), as has his uncontested ball (from 11.7 to 18.7) and his inside 50 tally (from 2.6 to 4.7).
"He's got his running capacity to a level where he's able to do some really good work for us on the outside, both offensively and defensively. Some of his recovery run is really good to support his defence," Richardson said.
And when Ross gets the ball, the coach's mind is at ease. He is confident in Ross' ability to make the right decision under pressure. "When he gets the ball I just feel comfortable," Richardson said. "I just know that we're going to hang on to the footy and he's going to put us into a position where he's going to put us into a position to go forward and score.
"The technical side of his game has improved, so his ability to execute under pressure and find a teammate, he's become a really creative footballer with the ball in his hands - he sets people up."
Limited Edition History Book: Celebrating 50 Years 1966-2016 The Archives Edition
Almost everyone associated with St Kilda has affection for Ross. He goes about his craft in a manner supporters adore. He's tough and hard-working, with minimal fuss and no desire for outside attention.
Inside the four walls of Linen House Centre, Richardson suggests love is carved from trust. And Ross is loved by his teammates because they know he will work for the greater good, both in the heat of battle and in the manner he prepares for each weekend in winter.
"That term 'love' that we use in footy is generally based on trust; I can trust my teammate in contest, I can trust that he's going to play his role in stoppage, I can trust that he's going to work back and help us in defence. We trust him, we've got a lot of players we trust and he's one of them," he said.
"When his teammates look around and see Seb as one of the last to leave the gym or one of the last to leave the training track, doing a bit more quick hands work with Adam Kingsley or in the basketball court working on his kicking with Lindsay Gilbee. That is another area that builds trust."
While Jack Newnes and Maverick Weller hold official leadership titles at the Saints, Ross, like that emerging pair, is part of the next wave of leaders at the club who are helping to drive St Kilda back towards finals football.
"His leadership has continued to grow this year, because he is a real pro in terms of how he prepares, he demands that of others. He's got a pretty good balance of supporting his teammates and challenging his teammates. He's coming through in a real positive way in that space," Richardson said.
Experience this Saturday's game in the comfort of the Premier Lounge