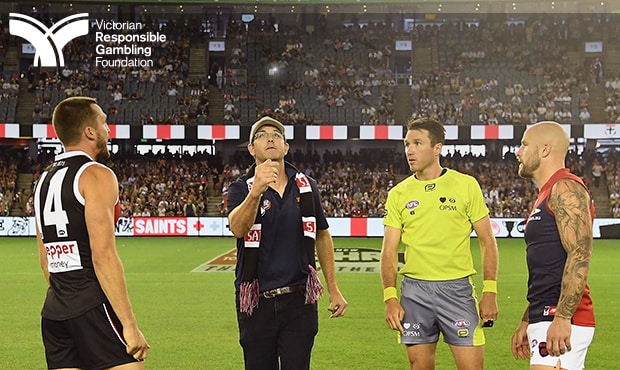 Would you like to meet Saints' captain Jarryn Geary and toss the coin in Round 20?

We've partnered with the Victorian Responsible Gambling Foundation because we love the game, not the odds. The amount of gambling advertising in the marketplace would make it seem like sports betting is just a normal part of sport. By making it seem normal the risks are often not considers, so we want our fans to get back to focusing on their love of the game.
Show us how much you Love the Game by answering our short quiz below. All entries go in the draw to WIN a LOVE THE GAME prize pack for Round 20 which includes tossing the coin on the turf at Etihad Stadium!
Prize includes:
· 2 x tickets to St Kilda v West Coast Eagles at Etihad Stadium on Sunday 6 August
· Toss the coin on the turf before the bounce
· Saints prize pack full of merchandise!
(function(e,t,n,s){var o,c,r;e.SMCX=e.SMCX||[],t.getElementById(s)||(o=t.getElementsByTagName(n),c=o[o.length-1],r=t.createElement(n),r.type="text/javascript",r.async=!0,r.id=s,r.src=["https:"===location.protocol?"https://":"http://","widget.surveymonkey.com/collect/website/js/tkxsip33zedGXA3UpOr23bTvePKrC4fYx0vVyO4Hx2k2nvxBsnebt7Sj9c0oHJT4.js"].join(""),c.parentNode.insertBefore(r,c))})(window,document,"script","smcx-sdk");
If you're under 18 years of age, please enter this competition with an adult.
The Victorian Responsible Gambling Foundation works with community and sports clubs to minimise harm from gambling in Victoria. We partner with the Victorian Responsible Gambling Foundation to decrease our exposure of fans, members and the general community to sports betting promotion through their Love the Game, not the odds campaign.
This season we're encouraging all Saints fans to love what's great about the game, without betting.
For more information visit lovethegame.vic.gov.au
View Competition Terms and Conditions here