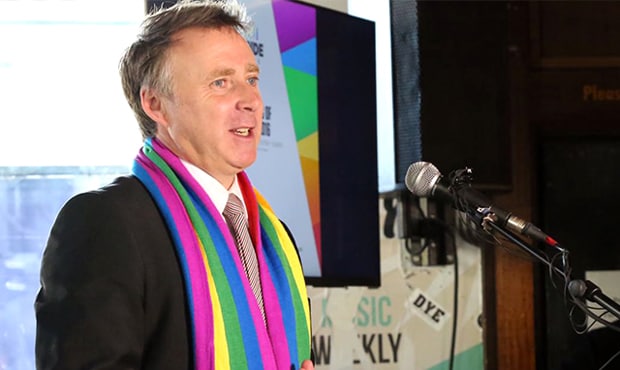 St Kilda CEO Matt Finnis today reaffirmed the club's commitment to diversity, equality and inclusion in launching the second annual AFL Pride Game.
Finnis was joined by the Minister of Equality and Mental Health Martin Foley, VicHealth CEO Jerril Rechter and footballers Sam Gilbert (St Kilda) and Emma Kearney (AFLW) at the Prince of Wales Hotel in St Kilda to release the research results from a Latrobe University Study into the impact of the 2016 AFL Pride Game.
The case study shows that developing and staging the 2016 Pride Game was an overwhelmingly positive experience for both the Saints and LGBTIQ communities, resulting in small but significant attitudinal changes. These included an increase in the level of awareness by non-LGBTIQ attendees of the damaging health impacts of discrimination, and a stronger feeling of inclusion for LGBTIQ attendees.
The survey of more than 3,700 footy fans found:
Nearly three out of five participants had experienced homophobia or transphobia at an AFL game
Before Pride Game more than 50 percent of LGBTIQ fans thought AFL games are not inclusive or welcoming
More than 90 percent of LGBTIQ fans found Pride Game safe, inclusive and welcoming
More than 67 percent of straight fans said they were likely to intervene if they heard homophobic comments after the Pride Game.
Minister Foley said: "The annual pride game is another great milestone for our LGBTIQ community to be proud of - sending the message far and wide that equality is not negotiable.


"I congratulate the St Kilda Football Club, Sydney Swans and the AFL for showing great leadership and look forward to watching the game."
VicHealth CEO Jerril Rechter said the Pride Game was an important step in making the AFL more inclusive towards LGBTIQ supporters, players and officials.
"We know that feeling excluded and discriminated against is a key driver of poor mental health and wellbeing in the LGTBIQ community. We also know that rates of suicide attempts of same-sex attracted Australians are nearly 14 times higher than their heterosexual peers. That's just unacceptable," Ms Rechter said.
"The Pride Game sends a message to young and not so young LGBTIQ people that they are welcome and safe in this sport. That diversity is cause for celebration, not disrespect or exclusion."
After hosting the first ever Pride Game at the elite level last year, the Saints will once again join the Sydney Swans in celebrating Pride at Saturday night's clash at the SCG.
The Prince of Wales Hotel in ST Kilda will welcome Saints fans, members of the LGTBIQ community and anyone wanting to be involved, with a special live screening of the match on Saturday night.
"As a club we are proud to continue to promote the message that everyone is welcome in football," Finnis said.
"We are committed to creating an environment at AFL matches where the LGBTIQ Community feel safe in attending, free to be themselves and ultimately feel a sense of belonging.
"The Pride Game was born out of similar initiatives at community football level and is ultimately designed to influence a change of attitudes and behaviours within the sporting environment, with an emphasis on fostering inclusion."
Finnis said the club was delighted to extend an important partnership with VicHealth for a further 18 months to continue to promote this important message.
"Through the Pride Game and other initiatives, we are striving to tackle homophobia and transphobia, and other barriers that prohibit members of the LGTBI community feeling welcome in the sporting environment," he said.
"We all know how important being active is to both mental wellbeing and physical health and also know that language used in and around sport can lead to members of the LGBTI community feeling excluded and unwelcome."
The St Kilda Football Club today also released its Lessons of Pride, a publication designed to assist other sporting groups, clubs and organisations in holding their own events to celebrate inclusion and diversity.
The document outlines the learnings of the St Kilda Football Club under the headings of:
Know your purpose
Look, listen, learn
Involve your people
Allowing time for change
The importance of allies and partners
The ripple effects
The power of story telling
Note to editors:
Homophobia and sport
Homophobia has an extremely serious impact on mental wellbeing. A growing body of research has shown that sport is not a welcoming place for lesbian, gay, bisexual, transgender, intersex and queer (LGBTIQ) people.
Many LGBTIQ people who do play sport report the need to be 'in the closet' in order to do so.
The mental health impact of this kind of discrimination and exclusion include higher rates of depression, anxiety, drug and alcohol abuse and attempted suicide.
Rates of suicide attempts of same-sex attracted Australians are nearly 14 times higher than their heterosexual peers.