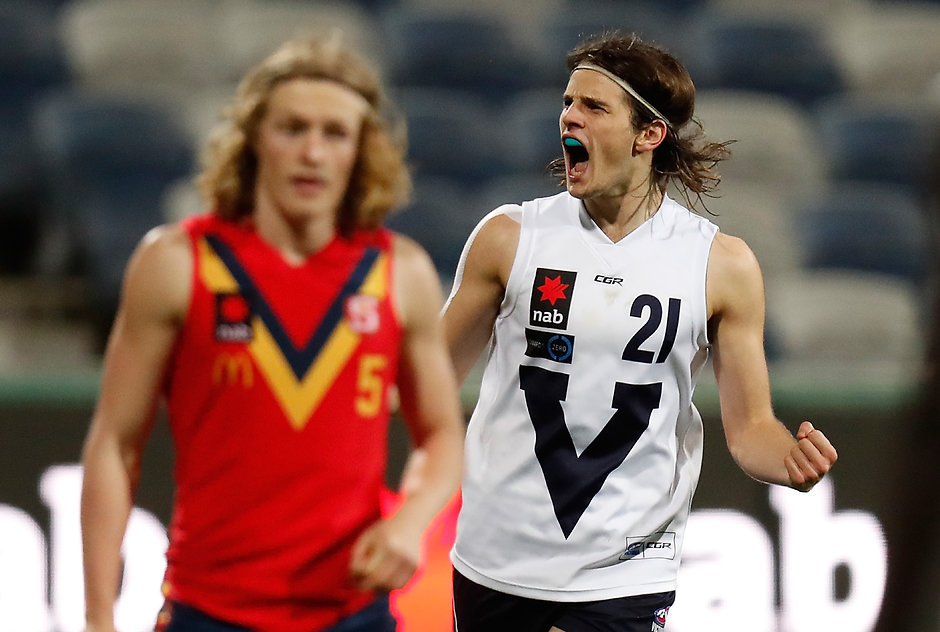 After a big build-up, the 2017 NAB AFL Draft is only one sleep away.
saints.com.au has compiled some of the selections made in phantom drafts around town.
Callum Twomey - AFL Media
7. HUNTER CLARK
St Kilda can't go wrong with Clark, who is a super all-round prospect. He can play as an attacking half-back, which he did well before this season, and as he showed in 2017 he is a very good inside midfielder. The Dandenong Stingray is courageous and composed, he kicks well on both feet, and can push forward to hit the scoreboard. He averaged 26 disposals this season. Clark doesn't crave attention and is laidback, but there's a steely resolve to him that will underpin his career. If the Saints want to add to their midfield, Clark is the best option here.
If not him? The Saints will have to see if anybody from the top group falls through. Will they look at Jaidyn Stephenson here? He may be a chance. As is Adam Cerra and Aaron Naughton, who the Saints have shown interest in.
8. NICK COFFIELD
The Saints have done plenty of work on Coffield throughout the year and would be able to pair him up with Clark to bring in two rock solid options who both offer some different things. Coffield is a quick, rebounding general defender who clubs also see playing in the midfield in the future and where he played some good footy this year. He uses the ball well and can set up the play, and he makes smart decisions. The Northern Knights captain averaged 21 touches at TAC Cup level this year and was selected in the under-18 All Australian team.
If not him? It wouldn't be a surprise to see the Saints jump at Aiden Bonar with one of their picks, and they have also put in time to check on Darcy Fogarty. One of them would bring some possible star factor to the Saints.
Sam Landsberger - Herald Sun
7. Hunter Clark
Safe-bet midfielder who is good on both feet. Crows hoping the strong tackler falls to them. Saints are huge fans of Stephenson and could still swoop if heart given the all clear.
8. Aiden Bonar
Two ACLs but Bonar would give the Saints bounce and leap they crave as a versatile midfielder. St Kilda has also done homework on Naughton.
Daniel Cherny - The Age
There was a stage early in the season it looked as though St Kilda's trade with Hawthorn last year could yield the Saints a pick right at the pointy end of the first round. True to form though, the Alastair Clarkson-coached Hawks didn't stay down for long, so St Kilda's draft hand – while very good – isn't as tantalising as it loomed. The Saints toyed with the idea of trading one of their early picks but there wasn't a compelling enough player available, so they have a bit of power here.
It's no secret that the Saints could do with a bit more class through the midfield to complement their serviceable blue-collar core. Nick Coffield has been firming to be taken with one of those picks. Primarily a rebounding defender, he has pushed into the midfield too, where his evasiveness and good ball use would likely suit the Saints no end.
There's a school of thought that St Kilda will roll the dice at pick eight on Aiden Bonar, who shapes as the most exciting utility in the draft, having come off two knee reconstructions. He played his junior football at Seaford, so at least before the Saints' move back to Moorabbin he will be very much at home. Hunter Clark is another they've been linked to, while the doubts about Jaidyn Stephenson could leave him within St Kilda's grasp.
Brett Anderson - Inside Football, SEN
7. St Kilda
Nicholas COFFIELD

The Northern skipper and St Kilda has been possibly the steadiest link over the past few weeks in what is an unpredictable draft. He has speed, agility, lovely foot skills and is a great decision maker. He could play in all three zones of the ground.
Who else? Aiden Bonar, Hunter Clark, Darcy Fogarty, Jaidyn Stephenson
8. St Kilda
Jaidyn STEPHENSON

With their second pick, the Saints have a dilemma. Do they trust their doctor's opinion on Stephenson's heart issues? They are one of the few clubs that attended his medical screen last week. If not, Clark and Bonar are right in the mix. They visited Fogarty and his family at his home in Lucindale recently too.
Who else? Aiden Bonar, Hunter Clark, Darcy Fogarty