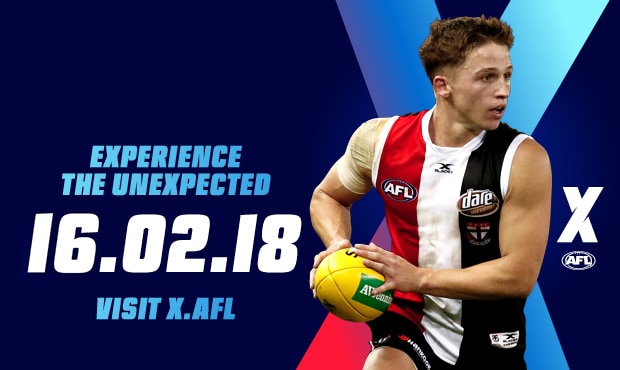 The first chance to see the Saints in action in 2018 is just three weeks away.

With a host of big names expected to take part, the Saints will compete in the second of three AFLX tournaments at Etihad Stadium on Friday February 16.

Click here to find out more about AFLX and to purchase tickets.

Entry is free for kids under 12, with Adults ($15), Concession ($10) and families ($30).

St Kilda will join five other teams competing at Etihad Stadium from 6.40pm on the Friday night, with the Saints, Melbourne, North Melbourne, Carlton, Hawthorn and Essendon split into two pools of three.

All teams will play two preliminary matches, with the winners of each pool advancing to the final.

Matches will consist of two 10-minute halves.

While St Kilda's squad is far from finalised, the club is expected to unleash some big names, combined with a few young stars.

St Kilda General Manager of Football Simon Lethlean said the players were excited by the opportunity to play AFLX.

"I think AFLX is going to be a fantastic new way to expose new fans to our game," he said.

"I know the playing group at St Kilda is really excited about the 16th of February at Etihad Stadium.

"We'll put our fittest and some of our best players out there and hope our fans get along to support them.

"There is one less pre-season match than last year and the high performance team will dictate which players have done enough of the work, or the right amount of load, to be selected.

"All those players that have reached that threshold in accordance with their plans for the pre-season will be available for selection.

"There will be a few players who are part our best 22 that won't be ready but those that are, are really excited by the chance to get out there."

Friday February 16
Gates open at 5:30pm AEDT
Etihad Stadium – Melbourne

POOL A: Carlton, Melbourne, North Melbourne
POOL B: Hawthorn, Essendon, St Kilda

The Saints will take on Essendon in game four and Hawthorn in game six.



What is AFLX?

AFLX is a new and different version of Australian Football and has been designed to take the traditional game from oval grounds to rectangular fields.

AFLX will still contain and showcase the unique and most thrilling aspects of Australian Football, with full tackling and the vast majority of the same rules.

But the game will be played in a shortened format, with seven players on the field and three on the interchange. It will include super goals and a free kick against will apply for the last player to touch the ball before it goes out of bounds.
Ten quick facts about AFLX
Played on a rectangular field (approx. 70m width x 110m length) with four posts at each end (as per a normal AFL field). Ground markings will showcase X as the centre square and 40m arcs.
Two field umpires, two boundary umpires and one goal umpire at each end of the ground.
Ten players per team, seven on field at all times and three on the interchange bench. No restrictions on player rotations.
10-minute quarters or halves depending on the tournament format.
Free kick against for last touch out of bounds.
Kick-ins from behind the goal line after all scores.
No marks paid for backwards kicks (except in forward 40m area).
Quarters commence with a 'ball up' in the centre and at least two players from each team starting inside the 40m arc.
Free shot from forward 40m arc – directly in front for deliberate rushed behinds.
10-point super goals when goals kicked on the full from outside the 40m arc.