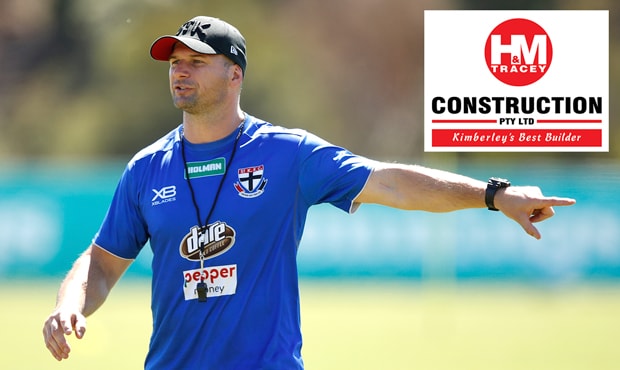 There's been a fair bit about JB's 54 touches, but it was the way he went about it that impressed us most.
Aaron Hamill
Sandringham Senior Coach and St Kilda Specialist Coach Aaron Hamill has his say on the Saints' best performers in the VFL.
READ: Billings responds
Jack Billings (3.0) 27 kicks, 27 handballs, seven marks, three tackles
There's been a fair bit about his 54 touches, but it was the way he went about it that impressed us most. JB had a game-high 13 contested possessions, and he led us in clearances with 8. You've got to put your head over it and get dirty to get those sort of inside numbers, and that's what he did. In his first contest in the first 30 seconds, he went back with the flight of the ball, so we knew the mindset that he was in. I was rapt with his attitude, which was first-class, and he got rewarded.
David Armitage 20 kicks, 21 handballs, five marks, six tackles
Armo's been elite inside for us, but he also looked a lot more dynamic on the outside. He was tough inside with seven tackles, but his ability to work back defensively and get to the next contest really helped us. He's a ruthless player and he'll certainly be in the mix come match committee discussion.
Nathan Freeman (0.2) 11 kicks, 17 handballs, three marks, four tackles
Freeza took another step forward. We know that he's such a resilient bloke that he's just going to get the job done inside. He didn't look out of place given what he was carrying injury-wise, so he'll keep putting himself up for selection by his actions. We think he's tracking nicely for us.
Josh Bruce (4.1) 10 kicks, three handballs, six marks, one tackle
Brucey's first quarter was probably as good as you'll see from a key forward, just from a work-rate and presence point of view. We liked what we saw in his 83 minutes. He certainly gave the opposition something to think about and he's elite with his contested game. He gave our smalls really good use, which has been an issue for us.
Billy Longer (1.0) Six kicks, 10 handballs, five marks, two tackles
Billy was a bit more dynamic around the ground, with three contested marks. He looked good in the air and hungry on the deck, and his centre bounce work was very good. Once again, Billy rolled up his sleeves and he's certainly got the hunger in his eyes to want to contribute at AFL level. After that performance, I don't think you can ignore the influence that he had on the game.

Billy Longer is jostling for the No. 1 ruck spot after a string of solid outings in the VFL.
Ray Connellan (3.2) 11 kicks, seven handballs, three marks, four tackles
Benny McGlynn's doing a terrific job with Ray in terms of positioning off stoppage and the mechanics of the game; he's teaching him to become that smart, clever forward. If he keeps improving and reviewing his game strongly on Monday wanting to get better, there's no reason why he can't have an influence in due course.
Rowan Marshall (0.3) 13 kicks, seven handballs, seven marks, two tackles
Rowan was very good with four contested marks. We think Rowan's going to be a really good player for us moving forward, whether that be in the ruck or as another key forward. He makes good decisions and he's got some really good presence in the air. He had a significant influence on the day.
Darragh Joyce 13 kicks, seven handballs, three marks, three tackles
We really like Darragh's defence. He's a tough bloke to play on, he's honest in the contest and he's driven and hungry to succeed. It's a good little recipe. He played on their most dangerous forward and kept him goalless. It just gives the match committee a little more flexibility in who can play those lock-down roles. It mightn't always be Jarryn Geary, so he's certainly going to be in the mix again.
Nathan Wright (2.1) 15 kicks, eight handballs, eight marks, four tackles
Barclay Miller 11 kicks, eight handballs, five marks, two tackles
Hugh Goddard Five kicks, 10 handballs, six marks, one tackle
Oscar Clavarino Three kicks, nine handballs, four marks
Doulton Langlands (0.1) Six kicks, six handballs, two marks, four tackles
Ben Paton Six kicks, five handballs, three tackles
Brandon White Two kicks, one handball, one mark, two tackles