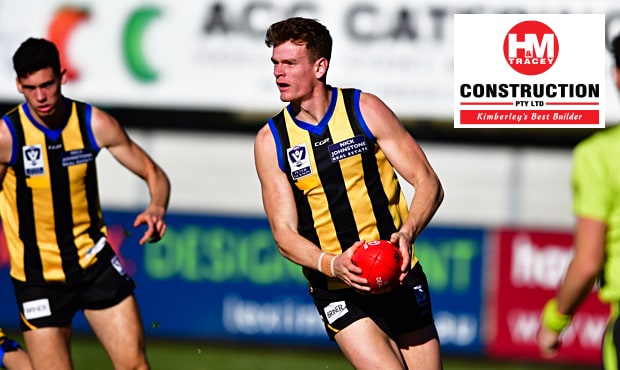 I don't think 'Richo' would have any hesitation in selecting him this week.
Aaron Hamill
Sandringham Senior Coach and St Kilda Specialist Coach Aaron Hamill has his say on the Saints' best performers in the VFL.
Darragh Joyce 10 kicks, 3 handballs, 1 mark, 6 tackles
Darragh played on an established AFL player in Stewart Crameri, who's a much bigger body and has been in the system for a long time, but Darragh really held his own. He's a bit of a fiery Irishman, but he's really good one-on-one, and he's been in great form since getting his call-up to the seniors. He'll get his chance, and I don't think 'Richo' would have any hesitation in selecting him this week.
Hugh Goddard 7 kicks, 7 handballs, 5 marks, 5 tackles
Hugh's going exceptionally well. He's turned his form around the last four weeks, and he's using his man as a really good starting point, so he can be trusted in contests. We're seeing a lot of growth in Hugh, and he's got a really good understanding of what he has to do on game-day and what he can control, and selection will take care of itself.
READ: Paton presses case
Brandon White 15 kicks, 2 handballs, 3 marks, 3 tackles
I'd think 'Whitey' would be discussed this week and going forward. We know how good he is by foot, he makes really good decisions with the ball, and if he keeps improving, there's no reason why 'Whitey' can't have a significant influence at this footy club for a long period of time.
Oscar Clavarino 6 kicks, 3 handballs, 2 marks
Oscar's always wanting to learn. He's working closely with Henry Playfair and Lindsay Gilbee on the nuances of the game and to get the shape that we want behind the ball. It's not easy for a first-year player, but we like what Oscar's doing in the air and we like how he defends. He's developing the right way and as we'd hoped.
Nick Coffield 9 kicks, 9 handballs, 6 marks, 3 tackles
Coff's defence between the arcs is going to be a really important thing for him to learn and grasp. We like how he's developing for us, and over time he may even play midfield, so there are really good signs for the club. He's going to be a really important cog moving forward, and if we can get him to defend the right way, he'll give the coach a number of options and play a pivotal part.

Nick Coffield will be an important cog for the Saints, according to Hamill.
Nathan Freeman 13 kicks, 10 handballs, 7 marks, 5 tackles
I don't think 'Freeza' is too far off. He's got a lot of confidence in his ability now, and more importantly, in his body. He's gone through a hell of a lot for a young man and we hope he gets his opportunity at some stage, but his defensive spread and work-rate is certainly improving, and there's lots of footy still to come.
Ben Paton (2.0) 11 kicks, 9 handballs, 3 marks, 14 tackles
I'd be surprised if we didn't see 'Pato' make his debut this year. He's developing really well as an inside midfielder and can go forward as well. He had 14 tackles, so he's a bull inside, he gets his hands dirty and he's not afraid to roll his sleeves up. Pato's been really focussing on his ability to work in between the arcs and get back and support his defence, and then use the ball on the way out and get to the next contest.
PHOTOS: VFL Round 15
Doulton Langlands 4 kicks, 9 handballs, 3 marks, 6 tackles
Doulton is playing wing for us in his first year, and he's starting to get some good positioning around stoppage and then working both ways. We're working on him being a two-way runner and being really explosive with his legs and taking the game on. He's another who we think is improving and going in the right direction.
Ray Connellan (1.0) 9 kicks, 1 handball, 2 marks, 2 tackles
Blake Acres 12 kicks, 12 handballs, 5 marks, 9 tackles
Listen to the H&M Tracey Emerging Stars Podcast below: