There's a centuries-old adage that only the good die young, and that couldn't ring truer for one of St Kilda's favourite sons, the late, great Trevor Barker.
This weekend marks the 19th Barker/Whitten Challenge Plate, an annual fixture played between the Saints and the Western Bulldogs in honour of the two club legends.
'Barks' was everything you could want in a footballer; courageous, high-flying, and the physical embodiment of St Kilda's motto: Strength through Loyalty.
His playing career coincided with one of the darkest periods for the football club, but his loyalty never waned.
The Saints faithful had little to cheer about in an era marred by seven wooden spoons in 11 years, but they still turned out in droves to watch one man.
Those lucky enough to witness the now St Kilda Hall of Fame Legend in action at Moorabbin would remember the scene well.
A heavy, wet footy punted forward by the opposition, fans jostling for a better view of the ensuing contest, then, seemingly out of nowhere, the No. 1 jumper would rise towards the heavens, flowing blonde locks in tow, and pluck it out of the sky.
Commentators would simultaneously bellow 'BARKER!', and the Animal Enclosure would erupt into an earth-shattering cacophony of cheers and applause.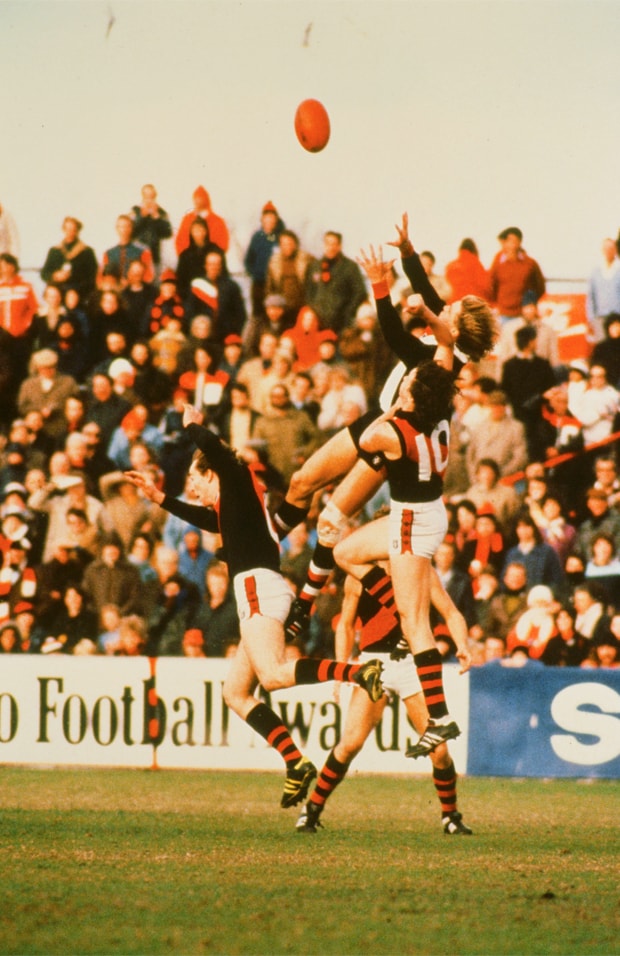 Trevor Barker made a name for himself with his unrivalled high-flying ability
Personal friend of Barker's and CEO of Challenge, David Rogers, spoke glowingly about his old mate.
"What a lot of people don't understand is that Trev was a superstar," he said.
"Of the 12 VFL teams, he was the superstar, and that crossed over a whole range of different areas; he was a good-lookin' fella, he had the blonde locks; he was an incredible player; and he was just extremely loyal."
While he was offered countless lucrative deals to play at rival clubs, where he would have likely achieved premiership glory, 'Barks' never entertained the idea of walking out on his beloved Saints.
"I think at the time, that was St Kilda. He epitomised everything that was the Saints," Rogers recalled.
"For Trev, it was a case of, 'I may not be winning everything, but this is who I am, and this is where I come from.'"
And it wasn't just his inspiring on-field skill and flair that enthralled fans everywhere.
"I don't think anything was ever too much trouble for Trev … he was a man of the people," Rogers said.
"If it was the old lady that was a great fan, he'd spend time with her, or if it was a young kid, he'd spend time with them … if he was asked to do anything, he'd do it."
Tragically, only seven years after hanging up the boots, Trevor Barker's life was cut short after a fierce battle with bowel cancer.
Barker's funeral remains one of the most significant days ever for the football club, and the solemn occasion holds a special place in St Kilda folklore.
"The scenes were amazing," Rogers explained.
"At the Moorabbin Town Hall, you had people openly weeping about this guy, which said a lot for who he was.
"People just came out of everywhere, it didn't matter what colours you wore at that point, this was just a ripping fella."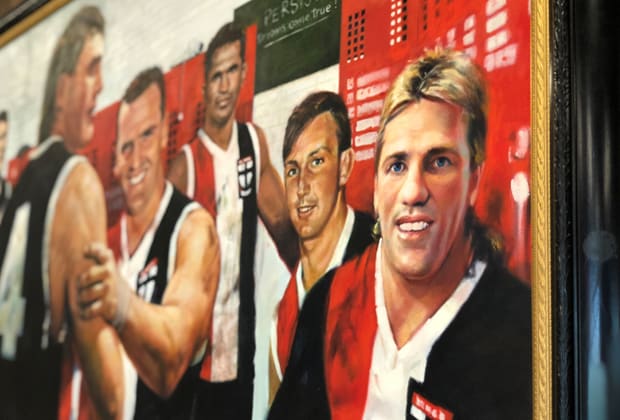 Trevor Barker in the St Kilda Team of the Century painting at RSEA Park
Trevor Barker's name lives on through St Kilda's Best and Fairest Award, as well as the home ground of his beloved Sandringham Zebras, Trevor Barker Beach Oval, where Barker was a much-loved two-time premiership coach.
"That must stand for something," said Rogers.
"Would Trevor Barker ever have thought that a guy brought up in Moorabbin would have an oval and the medal named after him just for being a footballer? Absolutely not.
"But I think that says a lot, because when you do name things after people, they're significant contributors to a whole range of things, which he was.
"I think he stands tall, still, against all the others. AFL players come and go, but the Barker name sits alongside the Whittens and the Barassis and so forth, even though he doesn't have any of those credentials that they all have from a football perspective."
The Barker/Whitten Challenge Plate raises awareness for Challenge, a foundation set up to support both children living with cancer and their families.
Donations
All donations received go towards providing support services for those in need, as well as funding the ongoing maintenance of the Torquay Retreat and Annual Sports Camp for children with life-threatening illnesses.
Please donate by cheque, made out to:
Trevor Barker Foundation
PO Box 528
Torquay, Victoria 3228
All donations over $2.00 are fully tax deductible.