ST KILDA has looked beyond the obvious in its quest to start moving up the ladder, sourcing "mind training" experts to work with its players ahead of the new season.
In a number of sports psychology sessions held over three days last week, the Saints were taught techniques that could help them "de-clutter" their minds on game day.
Coach Alan Richardson pushed the initiative and he is hopeful it will give his players an edge as they look to rebound from last year's wooden spoon season.
"I think footy clubs are really good at working on players' skill, endurance, and strength, but we certainly could get better at working on their minds," Richardson told AFL.com.au.
"Having players understand how their minds work, and how [they] work under pressure [is beneficial].
"There is science behind that, so to have the players educated on that and then come up with some strategies to make sure they are more consistent … we've invested fairly heavily in that space."
Become a Saints member TODAY! Click HERE or call 1300 467 246.
St Kilda football manager Jamie Cox sat in on a number of last week's sessions and said the engagement from players was positive.
The club, which preferred not to reveal who had been outsourced to do the training, plans to lock in a number of follow-up sessions later in the season.
"There's awareness from the players that this is not something that's going to turn them into geniuses, but it's something that can make a difference in their football," Cox told AFL.com.au.
"It's about giving the guys some techniques to de-clutter and make sure they're playing on instinct and not thinking about stuff on game-day that's not that important.
"All skill and skill development lives in the brain and you need your brain pretty clear to be able to execute on game-day.
"It's just another way for them to hopefully expand their package to make sure they're complete players."
RELATED: If you're good enough, you're old enough - Richardson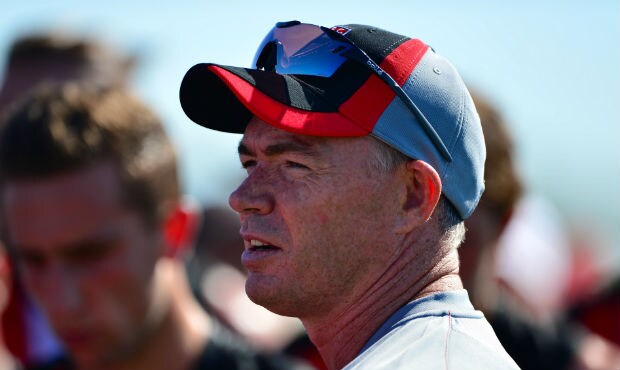 Alan Richardson at Saturday's intra club.
Professor of skill acquisition at Victoria University Damian Farrow, who has worked with AFL clubs and national sporting teams, said there were recent psychology trends being adopted in elite sport.
Mindfulness, which has roots in Buddhist meditation, is growing in popularity for athletes and involves accepting thoughts and not labelling them as positive or negative.
"You might be kicking for goal and be nervous, but that's normal and you accept that you're nervous," Farrow toldAFL.com.au.
"Through mindfulness training, you discard the thought as such and perform.
"In sports psychology circles it is definitely being used and gaining more traction."
MATCH REPORT: Young Saints shine in intra club
Farrow, who has managed the sports psychology program at the Australian Institute of Sport, said there was also a psychology element to the way athletes were being taught intricate modern game plans.
"A common aim of any coaching program is to go from the explicit control of your skill to a more 'let it flow' notion where it almost becomes instinctual," he said.
"When you're under pressure, anything that is instinctual is less likely to suffer from pressure. We call that an implicit learning approach."
While St Kilda has outsourced its recent training, some AFL clubs have in-house sports psychologists.
Not all are employed to provide a performance edge for their players, however, with some clubs using their expertise to help players who may have a clinical issue.
"Some clubs think it's a really vital component and use it proactively … but there would be a wide spread of what clubs are doing what," Farrow said.
"A proactive (performance) approach would be a valuable addition to coaching groups if clubs don't already have somebody playing that role.
"With the amount of pressure and scrutiny the players are put under, sports psychologists are well trained in being able to equip the players to handle those pressures."