EVERY kid who follows footy has a hero when he first takes an interest in the game.
But it is a rare honour to be able to have the honour of saying that your hero has become a friend five decades after you have cheered him on the footy field.
Neil Roberts was a hero to me and thousands of other youngsters following the red, white and black fortunes in the late 1950s and early 1960s. Mine was one of hundreds of Saints guernseys which proudly displayed the number 10 as we kicked footies around backyards and schoolgrounds and dreamed of emulating the St Kilda captain and centre half back.
For me that link was sealed on the night of the Saints' 1962 Annual Meeting, held a couple of months after Neil Roberts had retired. It was there that my Dad introduced me to Neil and told him that I was a fan.
Rather than fire off the obligatory autograph, Neil took time to write the message "All the best Russell and thanks for being such a great supporter. Your Pal Neil Roberts".
He had taken the time to give that bit extra. It was a trait that I would observe countless times in the ensuing half century.
That personalised message is something I treasure. In an autograph book that includes an eclectic mix ranging from Don Bradman and Richie Benaud through to the star of Bonanza - Lorne Greene, it remains my favourite to this day.
I was just eight years old when I watched Neil play his final game for the Saints alongside fellow backline stalwarts Eric Guy and Bud Annand. So I can't necessarily give a detailed football analysis of Neil's game in the three years I watched him while I was a primary school pupil. What I do remember is the long arms that plucked marks so often when opposing sides threatened to cross the half back line.
Become a member. Click HERE or call 1300 GO SAINTS.
Watching the brief TV footage that survives of his games, the judgment and marking ability still stand out. The kicking style wasn't classical by any means.
Marking was undoubtedly his greatest asset , yet he played his entire career with one thumb wrapped in electrical tape because he had injured it as a nine year old and the bones had never been set properly.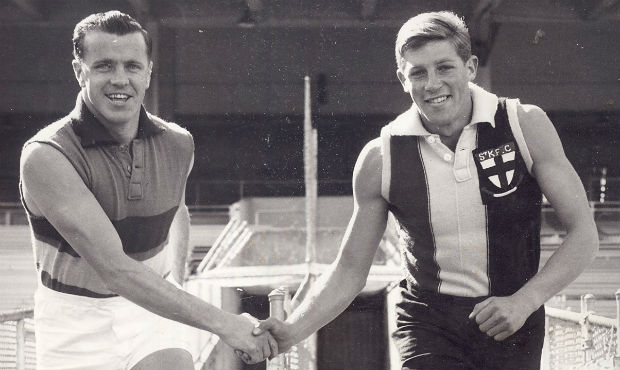 Roberts with Ted Whitten
The sandy hair and the tan befitted the hero image. And his appeal extended beyond starry eyed kids into other realms.
Several years back I arranged to get photographic prints from slides taken by Saints fan and talented photographer Peter Ralph. The slides were more than 30 years old but were as sharp as if they had been taken yesterday. When handing over the prints the young lady at the Kodak counter couldn't contain her interest. "Hmmm, he's nice" she purred before I told her the shots were actually taken three decades earlier.
Early in his career Neil Roberts had been groomed as a forward. He had no trouble marking the incoming ball, even when it was delivered in haphazard style by a struggling team, but his kicking for goal was unreliable. In amateur ranks as a teenager he had racked up prolific tallies for Melbourne High School Old Boys, once notching 15, 17 and 19 goals in three successive weeks. The kicking at VFL level was a problem and in later years during his physical education studies he found through testing that he was more suited to being a left foot kick! By then it was too late to change. Initially wearing the number 33 for the Saints he made the grade for seven senior games at League level late in 1952, but along with the 13 goals came countless behinds. The trend continued the following year but then in mid-1954 selector Alec Peak suggested that he be tried at centre half back.
It would prove to be the classic example of a failed forward finding his niche at the other end of the field. Roberts won the first of 11 state jumpers in 1955 and never looked back. That season also brought his first club best and fairest and a third placing in the Brownlow.
When 1957 Brownlow Medallist and newly appointed captain Brian Gleeson severely injured a knee before the 1958 season, Neil Roberts was thrust into the captaincy role. A natural leader, he would be appointed officially in 1959 when Gleeson could not overcome the knee injury and had to retire.
Roberts had thrived under the leadership responsibility and won the Brownlow Medal to cap off a stunning year.
The footy stardom, good looks and easy going charm would have made him a mint in today's game. But Roberts played the first five years of footy with St Kilda as an amateur because his summer passion was surf lifesaving and he needed to retain his amateur status.
In his day he was once described as "a fitness crank" and believes that the extra level of fitness was a crucial part of his game. One old Saints stalwart told him "You've got to be going in the last quarter when everyone else is buggered". It was a tenet that Roberts always adhered to.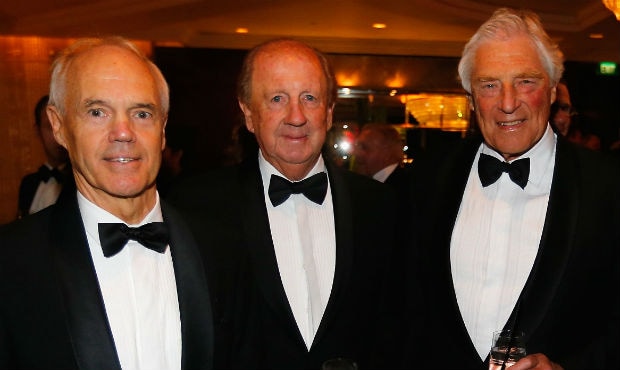 Ross Smith, Verdun Howell and Neil Roberts
He was an applicant for the coaching job while still playing in 1961. Allan Jeans got the nod and the pair was at the helm when the Saints made the final for the first time in 22 years.
Roberts and Jeans had good working relationship and there was no resentment from him over the fact that Jeans had leapfrogged him to get the coaching job.
But the pair were like chalk and cheese in every respect. Roberts was the devil may care extrovert and Jeans the quiet, serious boy from the country. I was fortunate to get to know both of them as marvellous people totally dedicated to the Saints cause. Neil felt the need in later times to pen his thoughts to Jeans as a way of extending the olive branch, but sadly Jeans passed away before the letter could be delivered.
There is much, much more to Neil Roberts than his football. He was a long time TV panellist, an accomplished painter and a leading educator. He later became the commander of Australia's base in Antarctica.
Through it all, his ability as a raconteur who could make people laugh with one of his thousands of jokes. That and his compassion towards his fellow man have run as constant threads across his life.
When he recently told me that many people had suggested he write his life story in a book I immediately replied that his is was a story well worth the telling.
He was and is a man who would always go the extra yard. I felt that there was a void when he retired and was none too sure about keeping the number 10 on my back when I saw an awkward kid wearing it in the 1963 practice matches the year after Neil's retirement. Carl Ditterich was different to Neil in every way, but from his first blockbusting game against Melbourne I never doubted that I had a new, long-term hero.
But Neil Roberts was always the first footy hero to me.
Russell Holmesby is a lifelong St Kilda member and the club's official historian.