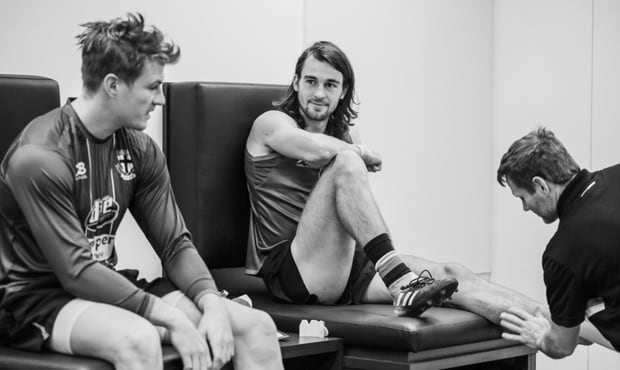 Daniel's probably improved as much as anyone else at our club.
Danny Sexton, Director of Coaching
Half-back Daniel McKenzie endured a tough start to his AFL career, but his emergence in the second half of 2018 has earned him a reputation as one of the Saints' most reliable hardmen in defence.
Taken at pick No. 22 in the 2014 National Draft, the promising Oakleigh Charger was originally selected for his elite aerobic capacity, endurance and speed through the midfield.
But McKenzie's biggest strength doesn't lie in his ball-winning ability; it's in his unrelenting defensive pressure, his willingness to assist his teammates and his ability to impact a game when it matters.
There was no clearer example of the 22-year-old's potential than when he almost single-handedly turned the Saints' fortunes in what was looming as one of the club's darkest days in 2018.
After a winless streak of 11 games, the Saints had headed north to Metricon Stadium to face the equally under-fire Gold Coast Suns in Round 13 after a week of football-wide media scrutiny.
And at three-quarter time, Alan Richardson's side found itself in an unprecedented situation: 31 points down to a team coming off back-to-back thrashings.
But with the jungle drums beating almost deafeningly at the final break, the Saints' saviour appeared in the most unlikely form: Daniel McKenzie.
After a solid first half, McKenzie hit fifth gear in the last, gathering eight telling disposals and forcing the Suns onto the back foot.
The 25-gamer grabbed his teammates by the scruff of the neck and drove them forward relentlessly, leading the charge in the Saints' desperate last-quarter effort.
With under four minutes on the clock, the left-footer threw the footy onto his boot from congestion and watched it float through for a goal, reducing the margin to just four points and setting the stage for Jade Gresham to seal an unlikely win.
In the aftermath of the emotional win, his coach didn't hesitate to single out the half-back's influence.
"There were a lot of guys, probably typified by Daniel McKenzie, that made sure they did something about it," Richardson said.
"He laid and stuck seven tackles for us up until half-time, but the way that he continued to push the ball forward, his goal and his contest work in the last quarter was just outstanding."
READ: McKenzie leads late surge
'D-Mac' continued to build his form after his career-best showing on the Gold Coast, putting in another promising defensive performance in the Saints' win over Melbourne a fortnight later.
Since his transition into the backline, McKenzie has been able to implement his elite running capacity to not only run off his man in offence, but assist his fellow defenders effectively in aerial contests as well.
Director of Coaching Danny Sexton said it's a difficult balance, but one that McKenzie's been able to get right this year, labelling him the "most improved" defender in the team.
"It took Daniel a while to break into the side, but he's become a very reliable defender," he said.
"His teammates and the coaching staff have got a lot of trust in Daniel, and that's allowed his self-belief to improve."
WATCH: D-Mac reflects on Gold Coast win
Sexton added that McKenzie's newfound confidence has arguably been the 22-year-old's biggest weapon this year.
"Now that he feels more comfortable at the level, he's become a really good player for us," he said.
"He defends really well one-on-one, he's got good speed, good power and he's very, very athletic. He's probably improved as much as anyone else at our club."
McKenzie heads into the off-season on a career-high streak of 13 consecutive games, and he'll look to consolidate his spot on the half-back line in 2019.