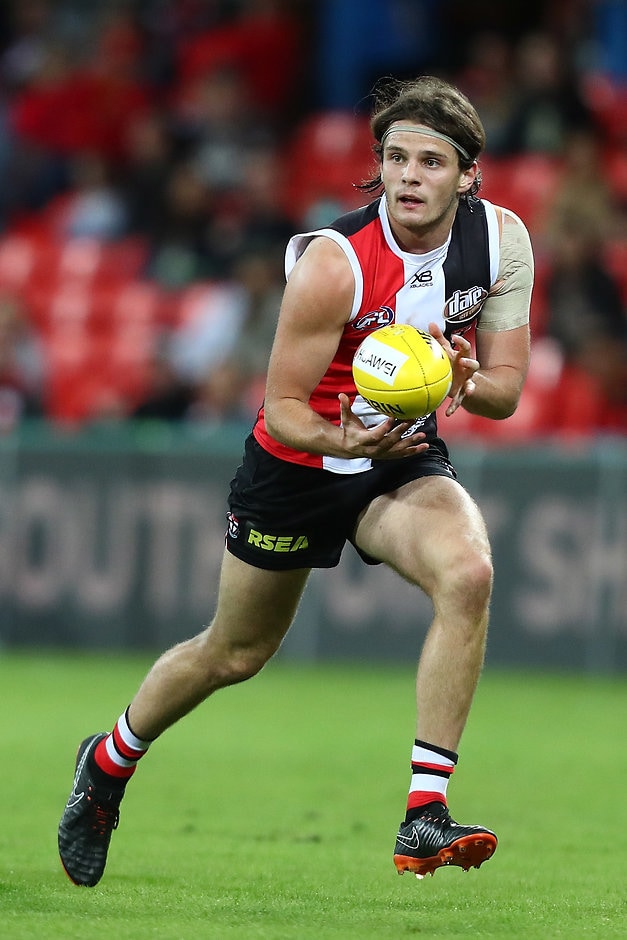 It's a new year, so everyone's got a new mindset. The standards are a lot higher and everybody's driving that – it's exciting.
Hunter Clark
Hunter Clark had big shoes to fill when he took on Leigh Montagna's prestigious number 11.
But after 15 games for St Kilda in his debut season, the headbanded hero has proven himself to be a reliable contributor, producing flashes of flair, brilliance and composure akin to his predecessor.
And just like Montagna, the 19-year-old wants to solidify himself as a mainstay throughout the middle of the ground.

ARE YOU WITH ST KILDA? BECOME A MEMBER AND MARCH IN WITH THE SAINTS IN 2019
Clark is one of many young players vying for a coveted spot in St Kilda's midfield, with the likes of Jade Gresham, Blake Acres and Jack Billings striving to play more game time through the centre.
Circumstance more than anything restricted the Dandenong Stingrays jet from spending more time in the midfield last season, yet his ability to adapt and overcome the challenges thrown his way proved invaluable.
"It can be annoying, you'll go into a game thinking you're going to play midfield and then there will be an injury in the first couple of minutes, so I might get swung to half-back or half-forward," Clark said.
"For my development though it's definitely been good, I had hardly played forward before my first season. I spent a fair bit of time up there and I think I improved, so it's definitely a positive thing."
In his spurts across half-forward, Clark finished with three goals for the season, but it was in the midfield where he found his calling.
Four matches with over 20 disposals highlighted his prolific skills at such a young age, with his string of 11 consecutive games accelerating his pathway into becoming a future cornerstone of the Saints' midfield.


Hunter Clark trains at RSEA Park

In refining his skills and improving his game during the pre-season, Clark has looked up to fellow teammate Jack Steele, whom the aspiring youngster holds in high regard.
"You could go through every player and there's bits and pieces of everyone you can take and learn off, but the way [Steele] plays, I really admire that," Clark said.
"In training – and same with Seb Ross – a lot of the time if we're on opposite teams I try to play against them just because of their hardness at the ball.
"They're able to spread really well, they're obviously really fit and they've got the inside and outside balance really good, so I've been trying to watch that and learn off them first-hand."
For Clark, the goal next year is simple.
"For me personally, I want to play more games and play in the midfield more than I did last season," Clark said.
"It's a new year, so everyone's got a new mindset. The standards are a lot higher and everybody's driving that – it's exciting."