The inaugural season of the Victorian Wheelchair Football League (VWFL) was a huge success for the Saints, who featured heavily at the league-wide Best and Fairest Night on Wednesday.
Each of the five teams that participated in the League – St Kilda, Richmond, Hawthorn, Collingwood and Essendon – were awarded a club Best and Fairest, and it was Patrick McKay who took out the award for the Saints.
One of St Kilda's most consistent performers, the dynamic centre provided his teammates first use of the ball at every opportunity, and his stints up forward showcased his dangerous ability with the ball.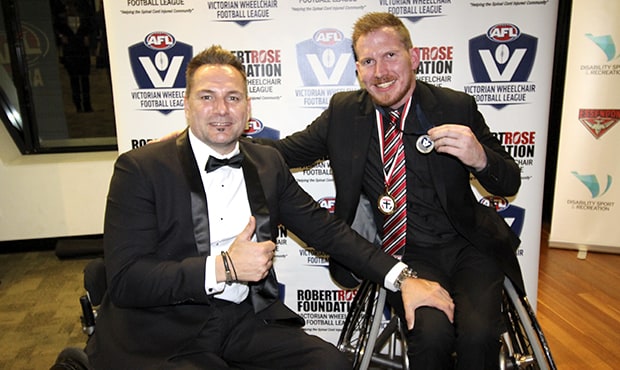 Saints captain Marcus Sander pictured with Patrick McKay
Further to his club award, McKay was also voted the best and fairest player across the entire league, claiming the inaugural VWFL Best and Fairest medal.
"I just want to thank my teammates," said the very humble McKay.
"It's been great fun … go Saints!"
The VWFL Team of the Year was also announced, and two Saints made the line-up.
Patrick McKay was named in the centre, while Saints skipper Marcus Sander was named on the interchange bench.
Team of the Year
Forwards; Riley Fitzgerald (RICH), Caleb Logan (ESS)
Centre; Patrick McKay (STK)
Defenders; Brendan Stroud - C (COLL), Yasmina McGlone (RICH)
Interchange; Richard Amon (COLL), Peter Ogunyemi (HAW) and Marcus Sander (STK)
The next award was for the team that best represented the AFL values – play as one team, play fair, play to win and play with passion.
These four values acted as the four pillars of the league when it was established, and every player in the league was given the opportunity to vote, with St Kilda announced as the winners.
The team demonstrated these values on and off the court with several Saints players volunteering their time to assist with Saints community programs in Special Development Schools and at SaintsPlay centres.
Captain Marcus Sander accepted the award on behalf of his teammates.
"This award wouldn't be possible without my teammates and the support that we've received from the St Kilda Football Club. We're very proud," he said.
After a very strong finish to the season in which they pushed hard for a Grand Final berth, the Saints will set their sights on a Premiership in the next instalment of the Victorian Wheelchair Football League.