7:25pm (local time), Saturday August 13th
Etihad Stadium, Melbourne
Gates open: 5:30pm
St Kilda Home Game
TV: SEVEN, FOX FOOTY (LIVE)
RADIO: Triple M, 3AW
Click here for full broadcast guide
LAST FIVE TIMES
R22, 2015, Sydney Swans 20.15 (135) d St Kilda 4.14 (38) at Etihad Stadium
R21, 2014, Sydney Swans 19.13 (127) d St Kilda 8.8 (56) at the SCG
R21, 2013, Sydney Swans 18.10 (118) d St Kilda 8.11 (59) at the SCG
R5, 2013, Sydney Swans 11.13 (79) d St Kilda 9.9 (63) at Westpac Stadium
R17, 2012, Sydney Swans 15.15 (105) d St Kilda 10.16 (76) at the SCG

Tickets are available for purchase at the ground, or can be pre-purchased through Ticketmaster here:
Adult General Admission tickets available from $25

Official Saints Locker merchandise at Etihad Stadium! Please see below where you can get all the latest looks!
Inside Gate 5
Outside Gate 5
Inside 7
Gate 3 Pop Up Outlet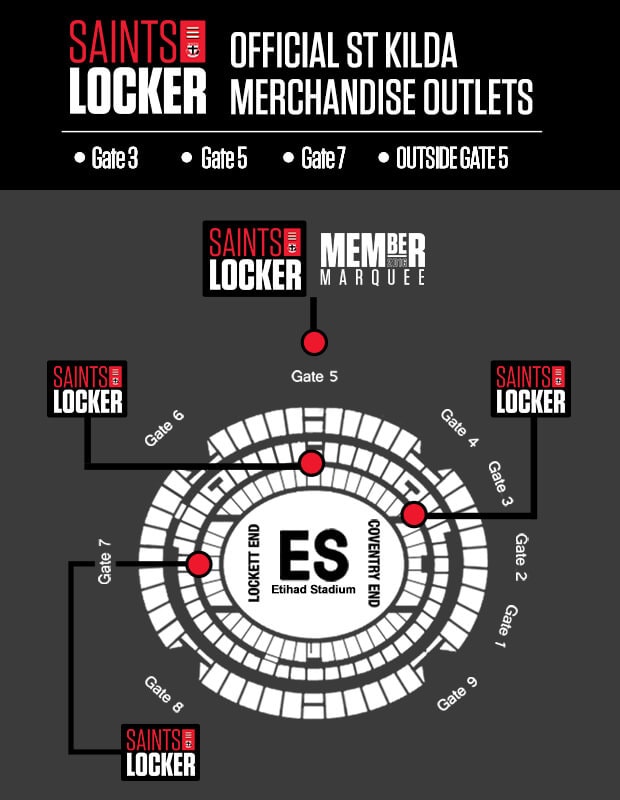 Ensure you get to the game early to check out our new exciting pre-game activities from 5:30pm all located at gate 5:
Pepper Money 'On the house promotion'
Keep warm at the pride game with a free blanket. We have 2,000 to give away – on the house from Pepper Money.
Find out more here.

Kinky Boots
Come and get your photo taken with the Kinky Boots statue as they prepare for the pre-game show.
#PRIDEGAME
Our PRIDE GAME letters will be located on concourse so make sure you come past and take a photo.
Also join us at our LGBTIQ Stalls located on levels 1 and 3, where you can get involved in a number of fun and important Pride activities.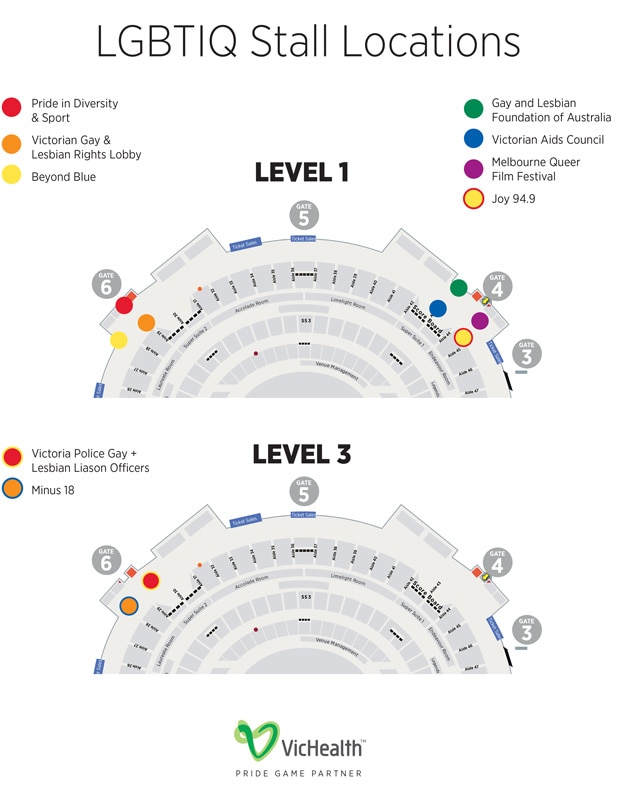 #PrideGame Welcoming Committee
Make a positive change by helping everyone feel safe and welcome at the footy, sign up for our Welcoming Committee.
Everyone who signs up to the SWC will:
Have their name shown on big screen at the #PrideGame
Have their name shown on the St Kilda website
Go into the running to win 1 of 20 scarves or beanies.

Saints Skate Park
Jammed packed with professional Skaters & Coaches waiting to share their knowledge with you.
Game Day Activations
Make sure you guys are looking out for our game day activations;
Look out for our KNOCK KNOCK chant after the coin toss
Watch one lucky fan race the Bayside Biker this Saturday on ground
Get ready for our half time Stare Cam! Who will it be
Dare Iced Coffee Quiz
Have a look on the neck tag for the Dare Iced Coffee Quiz on game day to get your face on the big screen!
Post a pic of yourself and include the answer to the special question, #darequiz and #BeStKilda to see yourself on the big screen.
VicHealth
St Kilda Football Club's partnership with VicHealth provides you with water fountains so you can fill up your drink bottle for FREE at 10 locations across all three levels at Etihad Stadium.
Click here for more information.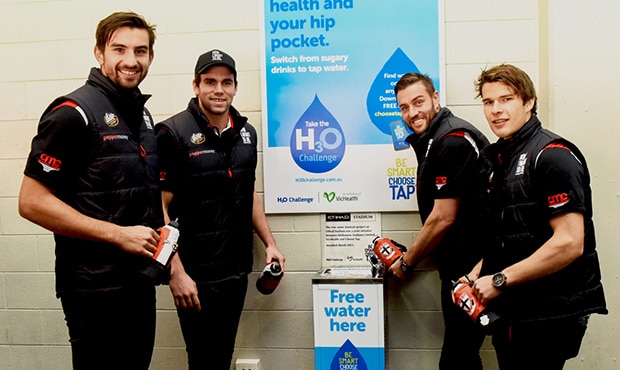 Saints Premier Lounge
Purchase tickets into the Saints Premier Lounge and enjoy premium seats, food and beverages. Positioned perfectly on centre wing you'll just love the Saints vibe as your sit back and enjoy the game.
Venue Info
Train
Southern Cross Station is located adjacent to Etihad Stadium. It is a short walk across the Bourke Street pedestrian footbridge.
Car
Game day parking at the Etihad Stadium undercover car park is available for $30.00. The car park can be accessed via Bourke Street. Please note Etihad Stadium Carpark has a maximum clearance of 2.10 Metres.

For any membership issues please see the Saints staff member located in the portable ticket booth located at Gate 5.
Inside the ground Premium & Ultimate Members can access;
Victory Room – Level 1 behind aisle 15
With Ultimate Level 2 members able to access the exclusive Saints Club;
Accolade Room – Level D behind aisle 30
Each game a select number of members will be chosen randomly to experience the Pepper Money VIP Seats! It could be you!!