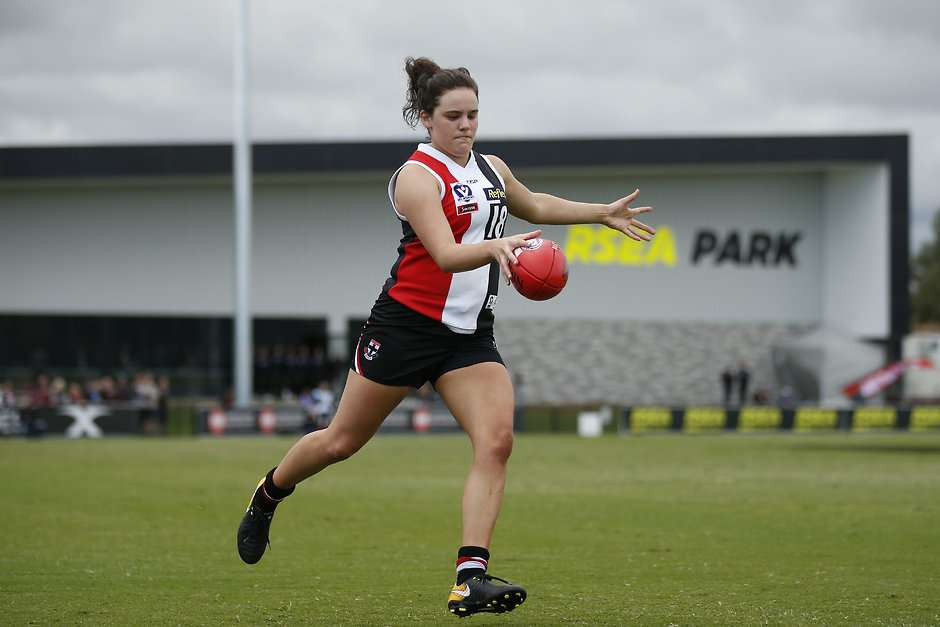 Saints was also a lot closer to home and the facilities are insane.
Olivia Vesely
An Instagram post by Melbourne co-captain Nathan Jones started Olivia Vesely's dream of playing football.
Although she had played a few games for her school and had a kick with the boys at break time, it wasn't until she saw the post by Jones that she thought she may have a crack.
"It was a talent search and it was on a 40 degree day and there was all this fitness testing," Vesely told saints.com.au.
"I didn't tell mum and dad about it, but the night before I said 'look I've signed up for this talent search I don't know if I should go or not it's going to be so hot and you have to do the beep test and everything.
"My parents were like just go along you won't know anyone but it doesn't matter. So I went along and I quite enjoyed it."
She must have had something special because at the talent search there was former Carlton AFLW coach Damien Keeping watching on.
From there she made it to the state under-18 trials where she progressed to play for the Sandringham TAC cup side despite only playing half a game with them.
However, there is one moment in the state team that she holds dear to her heart.
"My fifth proper game was at the MCG, which is pretty insane," she said.
I was very nervous to be honest, but I didn't do much because we won like 100-0 and I was in the backline."
She then got more involved in the TAC cup system and played local footy for the Glen Iris Gladiators under-18s, where she got picked up by Carlton and played for their VFLW side last year.
Vesely admits that the move to the Southern Saints had been on her mind for quite some time.
"Peta (Searle) called me up at the end of Sandringham which was three years ago, but Carlton was close to university so I went there," she said.
"I then realised that there will be more opportunities here and Peta is such an incredible coach so I thought I'll just try my luck and get involved here.
"Saints was also a lot closer to home and the facilities are insane."
It was the perfect start for her and the Southern Saints as they defeated Collingwood 5.12 (42)-1.2 (8) at RSEA Park on the weekend, and it's fair to say she is enjoying being part of the red, white and black family.
"It's been super fun and it's been really enjoyable," she said.
There is a really good culture as the guys I found get around the girls which is massive thing."
"I have learnt so much already."