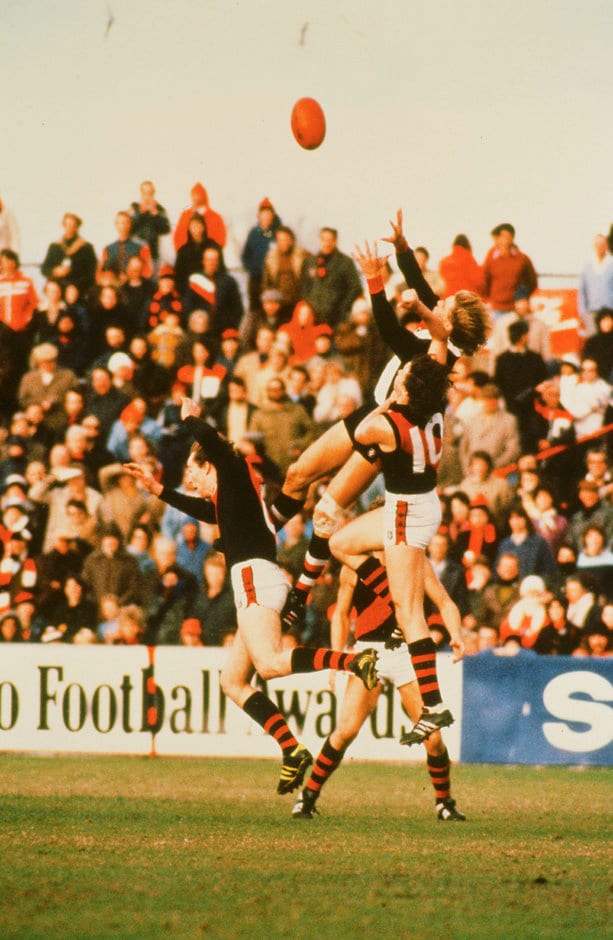 Looking around the AFL Hall of Fame Dinner, I couldn't help thinking this is the sort of night Barks would have loved.
Packed with sports people who appreciated the biggest things about our game and its history.
Trevor Barker loved sports people and sporting folklore.
I wasn't the only one who would get a phone call out of the blue along the lines of "You reckon you know your sport, who are the 10 left handers who have opened the batting for Australia in the last 30 years?"
I would respond with the names of five or six cricketers and then be scratching my head for the remainder. When you asked Barks he would tease "I'm not going to tell you now, I'll ring you later!"
And with that we would be left with the nagging question buzzing away in the brain for the rest of the day.
I knew Trevor during his early seasons with the Saints, but really became friends with him in the last few years of his playing career when he was managing the King Club in Sandringham and I was writing sport for the local Leader newspapers.
He had a good eye for a story and would let me know when there was a promising sports star training at the club or an established identity was visiting the King Club.
It worked out well for both of us as it gave me some great stories and gave Barks publicity for the King Club.
We all know about Barks the footballer with his spectacular marking, superb ground and desperate tackling, but there was more to Barks than that.
When he started at St Kilda in 1975 he played alongside the likes of Carl Ditterich, Cowboy Neale, Barry Breen and Ross Smith.
Of those great Saints, Smith had begun with the club in 1961. By the time Trevor played his 231st and last game he numbered Tony Lockett, Nathan Burke, Stewart Loewe, Robert Harvey and Nicky Winmar among his contemporaries.
Out of that elite group, Harves played until 2008, so the Barker links spanned 47 years, or three generations of Saints.
His greatest disappointment was that he never played in a final for the Saints and it is true that the only memorabilia on the walls at his home were pictures of the two Sandringham teams he coached to premierships in the VFA.
I always felt he resented the fact that the broader football public thought of him only as the blond party boy. That image sold him short. Those of us who knew him well would rail at the cheap verbal shots from opposition barrackers.
There was no "pretty boy" look about him when I visited him at home after he had been accidentally kicked in the head by Footscray's John Georgiades.
Within the club, his fellow players recall how he was always the first to welcome them to St Kilda, and would invite them to his home for dinner with he and Melinda.
It meant a lot and on the training track they would see the constant example of his work ethic and dedication that were at the heart of his approach to the game.
Robert Harvey was one shining example of someone who saw how high Barks set the bar and Harvey's approach would in turn extend in later times to Lenny Hayes who arrived at the club three years after Trevor's death, and absorbed the philosophies and standards of Harves.
The Barker-Harvey-Hayes line has been passed down to the present day list.
There is no doubt he would have made a great coach of the Saints had he lived beyond the age of 39.
At Sandringham he trained the team hard and anyone who came to the club thinking the fun-loving Barker would be a an easy going coach was in for a rude awakening .
At the same time he had a terrific relationship with every one of his players. One of his key Sandringham forwards , George Gorozidis found out about the wrath of Barker on a Saturday afternoon at East Brighton.
George was recovering from an ankle injury and was meant to be on his crutches. At half time of the local game he tossed the crutches aside and joined in a kick to kick session with some mates.
Unbeknown to George, Trevor was in the crowd, and when he yelled "George!!" they reckon Gorozidis, crook ankle and all , jumped three metres in the air.
Trevor coached Sandringham to the 1992 and 1994 flags then came home to St Kilda as coach of the reserves for 1995.
With the Saints' senior team struggling, coach Stan Alves was under increasing pressure from the media and the fans.
It was awkward for both men that Barker was seen as an obvious and immediate alternative.
At three quarter time of a pre-season practice match at Collingwood, Alves and Barker were walking to the bench from the three quarter time huddle when a fan leaned over the fence and bellowed: "Never mind Barks, it won't be long!" Trevor told me later that he did not know where to look.
He loved entertaining people at his house, be it over dinner or at one of his legendary Cup Day parties.
In fact the only time I saw a brief frown on the Barker countenance was when my toddler daughter ate too much chocolate cake and vomited on his white shag pile carpet.
The next day I offered to pay for the carpet cleaners, but he just laughed it off.
To all and sundry he was a welcoming person. One summer morning he rang me at work and asked whether I had much on at work that day because he had been given some tickets in a corporate box at the Sheffield Shield game at the MCG that afternoon.
He said if there were any other cricket fans in the office they could come along too. One young journo was only too happy to take up the offer and was amazed to find that the famous Trevor Barker was such a down-to-earth bloke .
Trevor loved coaching and even in the days before he died he was sitting up in bed making notes about the forthcoming game.
He never told people about the extent of his illness and staff at the private hospital where he was being treated were sworn to secrecy.
As visits were restricted to family members only, he advised me to lie and say I was a cousin so I could get in the door.
He had helped me with background for the book when my wife and I were guests for a very long dinner that finished with Barks and I going through an old scrapbook and giving insights to days gone by.
As the night went on and the wines went down, the anecdotes became funnier and a bit more blurred.
At the time leading up to Trevor's death, my mother-in-law was gravely ill in Canberra and the family was shuttling back and forwards to see her. I remember Barks saying "The poor lady, send her my regards". They would both pass away within a month - just five days apart.
He had left a message on my phone at one point telling me that he was at his father Jack's house looking through some old newspaper cuttings from his dad's days with Cheltenham Football Club. "You'd love these" he said in a voice that indicated his energy and strength was ebbing away.
The last time I saw him was at half-time of a match at Carlton. He looked very frail and earlier that day he had coached the Saints reserves side for what proved to be the last time.
Trevor Barker's inclusion to the AFL Hall of Fame has been a long time coming , and I suspect part of the reason is that he didn't have a finals record. But it wasn't fault that he never played a final and he gave every ounce of effort try and get the Saints there.
In 50 years of watching st Kilda, I believe Barker and Nicky Winmar were technically the best tacklers I have seen in the red, white and black colours.
Nicky is one of countless players who has great memories of Trevor Barker.
"Before I came to the club (from WA) I knew about his screamers and the way he played," said Winmar.
"He was the only St Kilda player I looked at in those days. He welcomed me with open arms and was a great man. It's sad what happened.
"I miss him, still.
"(Like him) I worked on my tackling and obviously Trevor was a great tackler as well, I always tried to tackle and work the footy loose and have the strength to get up and grab the ball."
Trevor Barker would have won more than two best and fairests if not for injuries, and the fact he played in roles that required someone of a bigger physique. Even in the twilight of his career he had to match up at full-back on Brian Taylor who outweighed him by at least 20 kgs.
But he took it on because he loved footy and his club. He loved its history and its people. And we loved him.