Seasoned duo Jack Steven and Dan Hannebery made a successful return to help St Kilda pip Fremantle, with Saints interim coach Brett Ratten heralding the win as "great" for the club.
Steven, in his first AFL game since round six after taking a break to focus on his mental health, gathered 22 possessions and kicked three goals, including a clutch snap late in the last quarter to drag the Saints back to within three points of the Dockers at Marvel Stadium on Sunday.
FRANTIC FINISH Relive the last two minutes
Hannebery, in his third game for the club and his first since round 15 after managing injury issues, had 23 touches and kicked two first-quarter goals to set the scene for the Saints, who claimed a third win in four games under Ratten after Josh Bruce nailed the match-winning goal in the last minute.
WATCH Dan Hannebery in the rooms
"There was a lot of errors but then to persist and those blokes (Steven and Hannebery) have an influence on the game, that's just great for our footy club," Ratten told reporters post-match.
"To see Jack with a big smile, three goals.
"Also I thought 'Hanners' in the first half was very influential with some of his run and his ball use to just allow us to control the footy.
"He's been a very good player for a very long time and he had a patch where he was injured, and sometimes you can't control that, and to get him back and healthy, hopefully we just finish the year nice and strong with him and Jack and that would be fantastic.
"It was a real step forward for those two men."
SHOWREEL Comeback Saints Steven, Hannebery make an impact
The Saints are now 9-11, the same as Fremantle, which until this round had been a serious contender for a finals berth, prompting many St Kilda fans to ponder what might have been if the pair had played more. However, Ratten suggested that in some ways it had been a blessing in disguise.
"It might have (helped), but then on the flipside we might not have found Rowan Marshall, Cal Wilkie, Josh Battle going back to play in defence. That's what we might have missed out (on)," he said.
"It would have been great to have Hanners and Jack playing but we've found out about some players and that will help our list and our team going forward. Through adversity we find out about a few."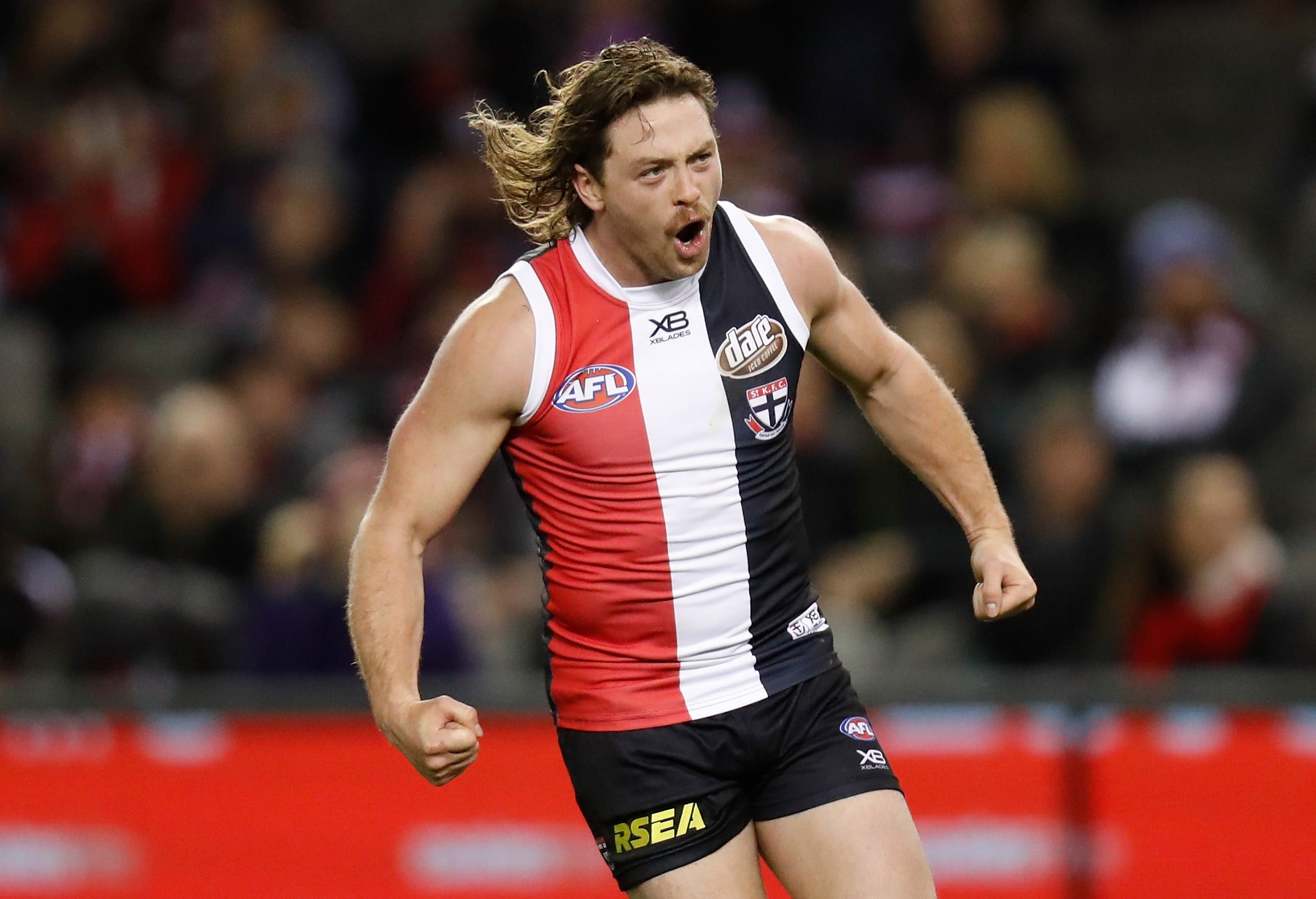 Ratten and the Saints were relieved that ruckman Marshall avoided a serious left knee injury late in the first quarter. He returned to the fray for the opening bounce of the second quarter and played on without further incident.
"It looked like Row had done an ACL (anterior cruciate ligament) maybe. He had a hyperextension and then it just recovered. So he was fine, thank goodness. He's had an outstanding season," Ratten said.
However, young Saints defender Nick Coffield is only a "slim" chance to play in the last two rounds after suffering a dislocated right shoulder.
"It's pretty disappointing in a way because he's (making) real inroads with his games and how he's progressed his career in a forward momentum – it's been very impressive," Ratten said.
"He's a tall defender that can mark the ball (and) counter-attack well. He just started to get some continuity in the playing in the seniors and self-belief."
Nick Coffield's injury was a sour note on a sweet Saints win. Picture: AFL Photos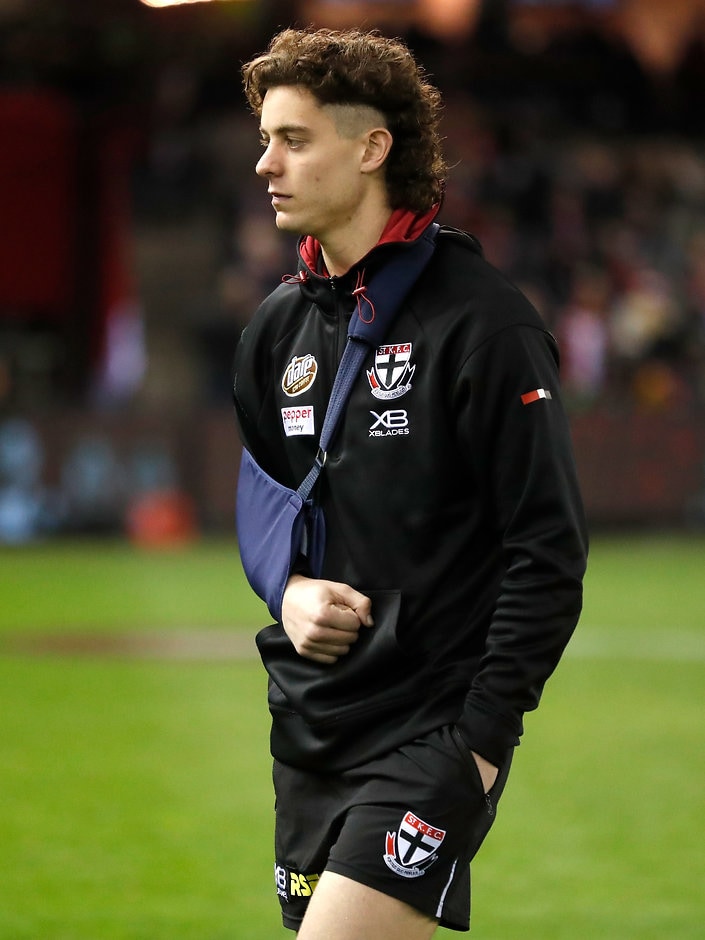 Ratten also revealed he would meet with the club's coaching selection sub-committee over several sittings as he presses his case to replace the departed Alan Richardson on a fulltime basis.
"Because I've got the duties of coaching the team it's been staggered over a few days so it works for me. I want to concentrate on Carlton this week, it's a big challenge, they've played some good footy, so I'd rather let it play its course," he said.
"We've got a few meetings. It's not just, 'This is it – a two-hour meeting' – it's going to be over a few sittings."