May 17 is a day of enormous significance for so many.

On this day in 1990, just 28 years ago, the General Assembly of the World Health Organisation removed homosexuality from their list of mental disorders.

Throughout history, homosexuals have been subjected to discrimination, vilification and violence, and the International Day Against Homophobia, Biphobia, Intersexism and Transphobia (IDAHOBIT) has been established on this day to raise awareness of the struggles the LGBTIQ community still faces today.

Watch Emily Rowe's Pride story

The statistics are alarming.

Compared to the general population, gay, lesbian, bisexual and transgender people are nearly six times more likely to experience depression.

And young people aged 16 to 27 are five times more likely to attempt suicide than their non-LGBTIQ counterparts.

The comparative rates of suicide ideation, self-harm, anxiety and other mental disorders are equally disturbing and disproportionate to the general population.

Watch Mikey Cole's Pride story

This weekend, St Kilda will continue their commitment to ensuring football plays a role in helping shape a more inclusive society when the Southern Saints run out in a new "Pride" strip.

Arranged by star player Rhiannon Watt and donated by her employer KPMG, St Kilda's new women's team will follow in the footsteps of their male counterparts in promoting Pride.

VFLW: Round 2 Match Report

Gun midfielder Ali Drennan is looking forward to running out in the new guernsey and supporting her teammates.

"There's a lot of girls in our team who this means a lot to, you know, that they're recognised as equals," Drennan told saints.com.au.

"You're playing footy with these girls, and of course you'd bleed for them on the footy field, but you care about their personal lives as well … that they're treated equally by people wherever they are."

Coming off the back of a 35-disposal, best-on-ground performance in the Saints' historic first win, the ex-College basketballer said treating people with respect no matter what their circumstance was incredibly important to her.

"That was always a big thing for me, playing over in America too, just really caring for my teammates, because then you start to think differently. It's good to open your mind a bit," she said.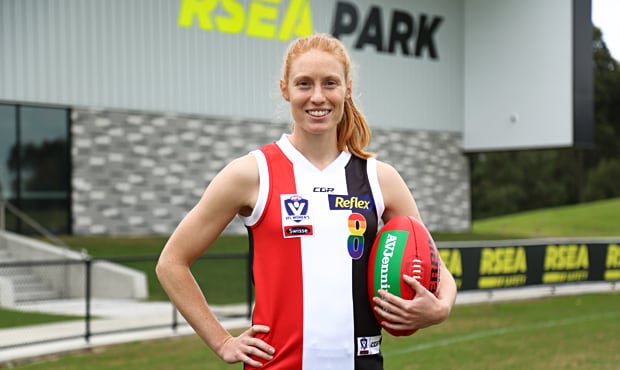 Southern Saint Ali Drennan looks forward to running out in the new Pride guernsey.

For St Kilda's General Manager of Community, Lisa Laing, the appalling nature of these statistics has been a big driver for her long history of involvement in equality movements.

"When you understand the statistics around homophobia in sport, and the fewer numbers of people who are participating or even coming to watch because they don't feel safe, I think as an AFL club we've got a real reason to step up and help that," Laing told saints.com.au.

"My work in Pride has just really come about by wanting everyone to feel included, and I think I've always just had that as part of my nature."

VFLW: Round 2 Highlights

Laing also credits the efforts of St Kilda CEO Matt Finnis in getting the Saints' annual Pride Match against the Swans off the ground.

"When Matt joined, we really championed this from an AFL perspective. He was a leader in having the Saints step in to support Pride from the beginning," she said.

"Having AFL players, who are well recognised, wearing Pride colours and publicly supporting days like IDAHOBIT sends a really positive message to the LGBTIQ and broader football community.
"The colours are just a great symbol for the LGBTIQ community to know that we're standing with them and would like them to be part of our game."
- Lisa Laing
It's Laing's hope that the need for a Pride Match to raise awareness and drive acceptance for the LGBTIQ community will be diminished in years to come.

"In 10 years' time, you absolutely hope that you don't have to have a Pride Match," she said.

"You hope that your audience is more representative of the community, and that you have players that feel safe to be playing at their club at all levels, whether that be community football or AFL football."

The Southern Saints will look to build on their first win of the season when they host the Casey Demons at Skybus Stadium at 3:30pm on Saturday 19 May.