ST KILDA's partnership with New Zealand continues this week, when the Kiwis take on China in its second game of the International Cup at Linen House Centre on Wednesday.
The game bares extra significance to the Saints, with international scholarship holder Joe Baker-Thomas one of the key players for the Hawks.
For all the International Cup news, click HERE.
Baker-Thomas, who is from Porirua in the Wellington region, was signed by St Kilda in April 2013 as a 16-year-old.
Now 18, Baker-Thomas booted two goals in New Zealand's big win over Sweden on Sunday, and will take the field for his home nation again on Wednesday.
At 193cm, he has spent the 2014 season playing for the Sandringham Dragons in the TAC Cup and the Zebras development team – impressing as a key defender and a lead-up forward.
But before he became a full-time footballer this year, Baker-Thomas undertook a regimented training regime with Shannon Wall back home.
Wall, a New-Zealand-based development coach, grew up in Tasmania but has spent the last decade living with his family in Wellington.
Throughout last year and over the Christmas period, Wall met with Baker-Thomas twice a week at a local field in a bid to 'fast-track' the talented but raw teenager's progression.
"Chris Pelchen approached me to work with Joe in a one-on-one capacity and teach him the game," Wall told SAINTS.com.au earlier this week.
"The idea was to teach him the kicking fundamentals and a bit of game sense."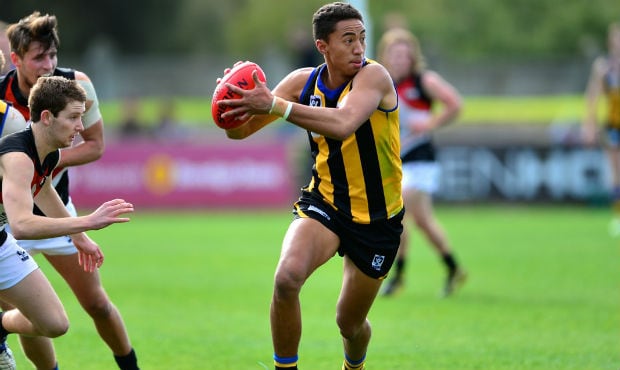 Baker-Thomas has showed some promising signs for the Sandringham Zebras development team. (Photo: Dave Savell)
Each session was meticulously planned and organised by development coach Paul Hudson to advance Baker-Thomas' skills and knowledge of the game, and even when it was raining the session was completed indoors watching footage on a computer screen and learning via observation.

Hudson's job was to tell Wall what areas Baker-Thomas needed to work on, and Wall's job was to implement this training schedule in a practical sense.

"We started off with a tennis ball and then worked our way up to a bigger ball," Wall said.

"We would use 15 balls and just work on the technique with his preferred and non-preferred foot, and the same with handballing."

But the relationship between Wall and Baker-Thomas became more than just a typical coach to player partnership, with the 36-year-old also helping the youngster with his mental preparation, diet and fitness.

"I looked after his eating habits, made sure he was going to the gym and getting to his physio appointments," Wall said.

"I guess you could say he is like my little brother, although he is a lot taller than me!"

The Saints have played two overseas matches now, against the Brisbane Lions this year and the Sydney Swans in 2013. Both games were played at Westpac Stadium in Wellington on Anzac Day, and already Wall can envisage an influx of talented young Kiwi footballers embarking on AFL careers over the next 10-20 years following St Kilda's bold move across the Tasman.

"I see the enjoyment on their faces when they play. It's something different and they all love to run, kick and tackle. It's a game that has all of that and more," he said.

"Where as in rugby, if you are not in a kicking position, then you don't get to kick the ball."