Max King and Oscar Clavarino will make their long-awaited returns to football in this Sunday's VFL clash against Collingwood.
The Saints' two future bookends will line up for Sandringham after extended periods on the sidelines due to injury.
It will be over a year since King last took to the field, after the leading forward tore his ACL while playing for Haileybury College in April last season.
KING IN WAITING: Max King's patient road to recovery
But the injury did little to allay St Kilda's faith in the prospective powerhouse.
King was snared with pick No. 4 in the 2018 National Draft, having already commenced his rehabilitation program at Linton St.

Since resuming full contact training several weeks ago, the new No. 12 has shown several promising signs, with his agility, aerial ability and kicking penetration unhampered by the injury.
General Manager of Football Simon Lethlean spoke highly of the young Saint's professionalism following lengthy rehabilitation sessions away from the main training group.
"He's worked hard to get himself ready on schedule, and credit to our medical staff who've worked really closely with him for a fair while now," Lethlean told SEN Breakfast.
He's a confident kid, he's a great-looking athlete, he moves across the ground brilliantly, so he's got lots of special attributes."
"As with all six-foot-ten young fellas, he'll take a bit of time to get going, but we like what we see (in him) as a person and an athlete.
"We think he's going to have a 10+ year career here with a big impact, and that starts at a much lower level this week as we get him going."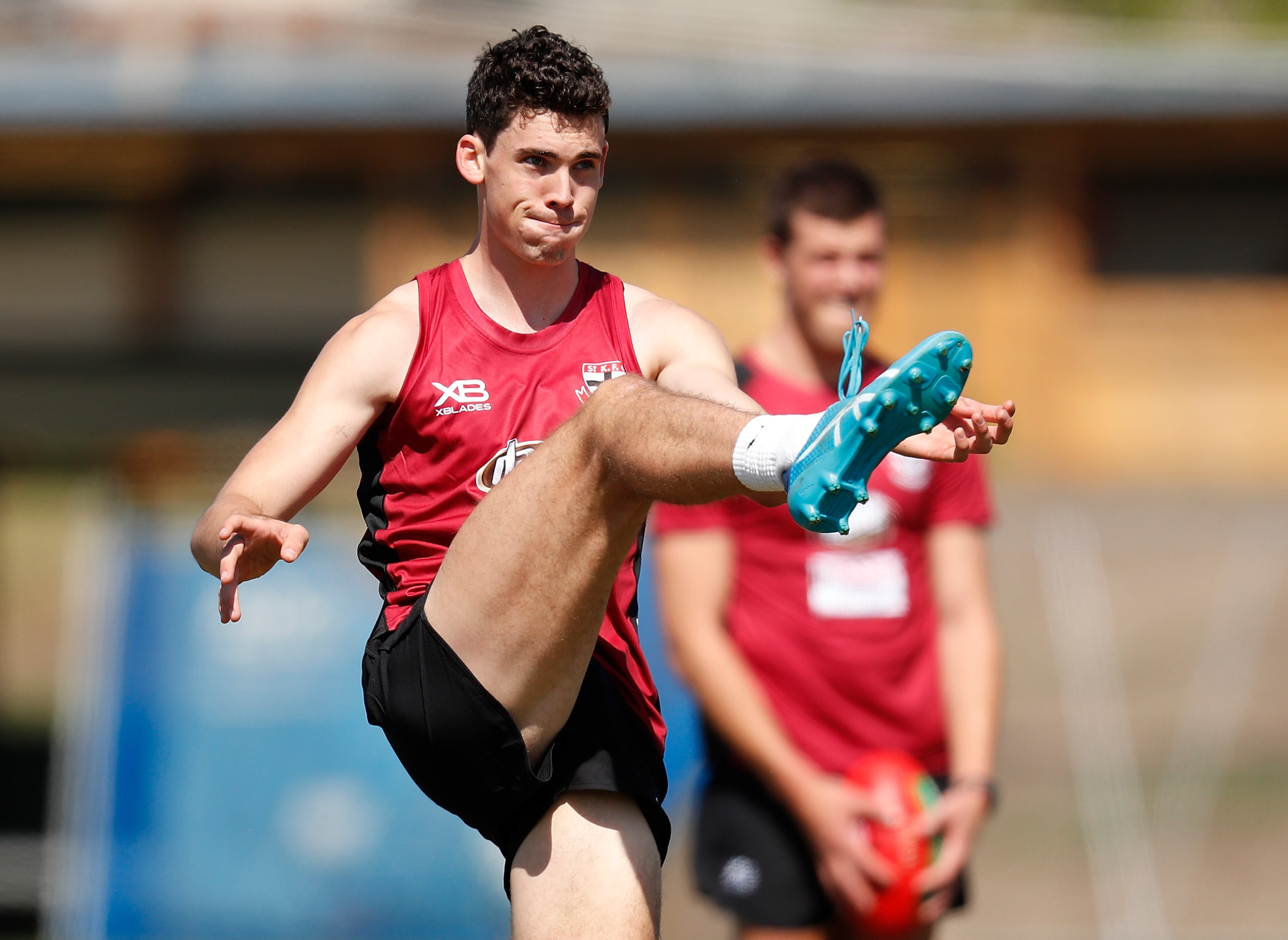 Clavarino, meanwhile, will return after sustaining a high ankle syndesmosis strain late in St Kilda's intra-club match in February.
His strong pre-season focus on increasing size and stamina paid dividends for the rebounding defender, before his chance at a senior call-up was cruelly cut short.
But Clavarino's comeback this weekend shapes as the perfect opportunity to showcase the benefits of an excellent pre-season.
BIG GOALS: Oscar Clavarino eyes huge 2019
The second-year defender will reunite with mentor Sam Gilbert, the ex-St Kilda veteran formative in shaping his output and honing his defensive attributes.
For King and Clavarino, a return to footy can't come soon enough.
And while the two 19-year-olds are yet to make their senior debuts, Sunday's VFL clash could offer a snapshot of what's to come for Saints fans in the near future.
Sandringham's clash against Collingwood will kick off at Victoria Park this Sunday at 2:00pm.