Georgia Walker was the Southern Saints' first ever captain, a promising AFLW draft prospect, a budding football coach and a 19-year-old with the world in front of her.
But now, a new title has been added to that list: retiree.
Just weeks after St Kilda's Koby Stevens announced his retirement from the game due to concerns with ongoing concussion symptoms, the inaugural captain of St Kilda's first ever affiliate women's football team has sadly followed suit.
READ: Southern Saints name inaugural skipper
Walker grew up in Rye on the Mornington Peninsula, and her participation in a local AFL Auskick clinic fostered a deep love of our game.
She remembers playing school footy with the boys, as there was no girls' team, and then playing in the under-10s in the local league in Rye as one of only two girls in the Peninsula-based league.
Walker's football has taken her from Rye to the Dandenong Stingrays, Vic Country to Collingwood and finally the Southern Saints, encompassing an 11-year playing career that saw her become one of the most promising young talents in the country.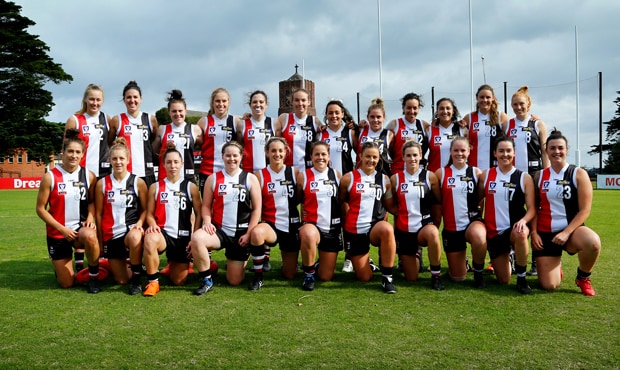 Georgia Walker (No. 31, front, centre) with the Southern Saints before their first game
But the unseen menace that is concussion meant her dreams were cruelly cut short.
"It started in about March at the start of this year," Walker explained.
"I just copped a knock at training, a shoulder to the eye, and I was out for about two months.
"I've had history with ongoing concussions, so I had a month of rehab with neuro specialists and neuro rehab physios, and then I got cleared for Round 1, and was getting better physically and mentally."
Walker's recovery allowed her to lead her Southern Saints out for their first ever game for premiership points, as well as their historic first win one week later.
WATCH: History in the making
Fast-forward to Round 9, and Peta Searle's plucky Southern Saints had won four out of the last five matches, led aptly by Walker and a host of other emerging stars, but their trip to Casey Fields would prove catastrophic for the skipper.
"I had a knock just before half-time and came off, and I don't remember what happened," Walker said.
"I felt really dizzy and nauseous, had all the symptoms, but I don't remember getting hit in the head – no-one saw me getting hit in the head, and you couldn't see in the vision either that I got hit in the head.
"It was the ninth concussion in about six or seven years that I'd had, so I've had a few.
"As a result, speaking to doctors and family and friends, I've just had to pull the pin, which is unfortunate being so young – it's something you don't want to have to hear, when I'm so close to getting to the big league and suddenly having to stop, it was a really hard thing to take."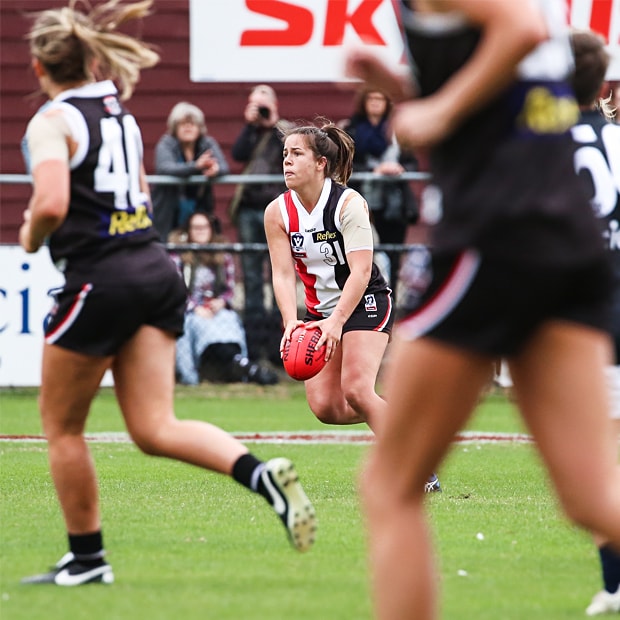 Walker in action for the Southern Saints in Round 1 against the Blues
Although her playing career has now come to a close, Walker remains heavily involved at the Saints, working as a receptionist at St Kilda's Seaford base four days a week and as a defensive line coach with the Southern Saints.
But her continued involvement with her old side doesn't mean her circumstances are any easier to take.
"It's probably just the little things that I've noticed the most," Walker said.
"When I come here to see the girls, it's pretty hard, because I'm not allowed to train in case I get concussed again.
"So all because of an injury I can't really see, I can't grow what I've helped to build and create over the last 14 months, and even on gamedays, when I'm not a part of that, it really hurts."
Walker will forever hold a special place in St Kilda's history as the first ever captain of an affiliate women's football side, but she summed up her heartbreaking situation perfectly in a single sentence:
"You know, a 19-year-old shouldn't have to retire."