Born April 10, 1953
77 games, 17 goals
180cm
78.5kg

Billy Mildenhall was a dogged back pocket who played 77 games for St Kilda from 1974-82.

His best years were in 1976-77, when he played 40 out of a possible 44 games for the club as a reliable defender.

However, he is better known as the most capped and decorated basketball referee Australia has ever had.

Mildenhall began refereeing in 1979 and officiated in the 1992 Barcelona Olympics and the 2000 Sydney Olympics.
Now an AFL interchange steward, Mildenhall is also the secretary of the St Kilda past players association.

How did you get to St Kilda in the first place?
Well I barracked for St Kilda since my Mum first took me to a game when I was two years old. So I have followed St Kilda Football Club all my life and I even went to St Kilda Park Primary School which is opposite the old Fitzroy Street ground.

So I used to go to training every Tuesday and Thursday night and kick the ball back over the fence whenever they kicked it over. It was just my ultimate dream to play footy for the Saints and in those days we were able to do so.

I played at St Kilda City – where Peter Summers comes from. I went from there to the Under 19s and progressed from the 19s to the seniors.
I still pay my membership every year and get my reserved seat. I don't get to as many games as I probably would like to, but I still follow them. My family are all keen Saints supporters too.
I understand Mick Malthouse and you were competing for the same spot in the team?
Mick and I were best mates. We grew up playing together and I used to take him to training because I'd drive through the city and pick him up. We became really close friends but in essence we were vying for very similar positions.
We both played sort of back pocket, half-back-flank and occasionally in the midfield and we played for a couple of seasons together like that in the same team. Then out of the blue Richmond approached St Kilda and asked for one of us. So St Kilda said at the time 'well, you can have Malthouse but we want to keep Mildenhall.'
There goes the story!
I really admire Mick because he made a conscious effort to become a student of the game. He really made an effort to make it and be successful, and I admire him massively for this. Obviously the proof is in the pudding.
WHERE ARE THEY NOW? Gary Colling
What are your fondest memories of playing at the Saints?
Playing my first game was an incredible experience and something I will never ever forget. I played in an era where we weren't that successful, but we had some incredibly successful players.
We had incredibly talented individuals who were some of the best in the competition. To play with them was just an experience in itself.
Who were your most difficult opponents?
The hardest player to play on was a guy called Garry Wilson who played at Fitzroy.
I was at playing at Waverley one day and I picked him up in the back pocket and he'd just come down from the centre bounce. I thought to myself "I have him covered here – I'm OK." I was even cheating a bit because I was grabbing his jumper. The ball was being kicked down and he was just reading it so well at the time.
He was running flat out and I couldn't keep up with him so I kept holding the jumper. He scooped the ball up off the pack, broke clear, and kicked the goal. It was just the most incredible bit of play. I just said "I can't beat this player, I can't possibly beat him."
Playing on Leigh Matthews was always pretty eventful too. He was just so strong and so powerful. I was probably a nobody so he wasn't too bothered by me, but he was still intimidating just because he was so strong.
WHERE ARE THEY NOW? Lindsay Fox
What have you done since you retired from footy?
When I was playing footy I started refereeing in the NBL. It was 1979 and I finished playing footy in 1982 so there was a period of time when I was doing both.
Back in late 1980 I left teaching and took up a job at Basketball Australia as the referee manager. I did that for about 15 years and then they wanted me to move to Sydney on a full-time basis.
Up until then I always worked on the arrangement that I would stay in Melbourne even though the offices were in Sydney. I just said 'look no, I don't want to move to Sydney,' So I took on the job at Basketball Victoria doing the same role but just on a state basis and not a national basis.
In between all of that, my refereeing was just part-time really. I mean my job and refereeing obviously went hand in glove.
So I was refereeing in the NBL from when it started in 1979 up until two seasons ago.
I'm also the interchange steward so that's one game per week pretty much. I sit there and monitor the interchange for the two teams.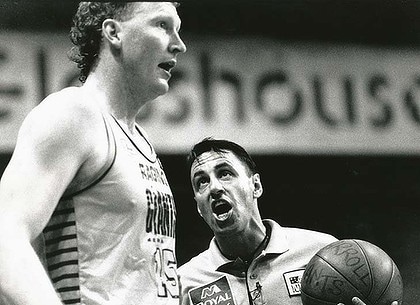 MILDENHALL THE BASKETBALL REFEREE. (Photo: Fairfax Media)
Tell us about your Olympic experience?
I went to two Olympics, one in Barcelona in 1992 and then in Sydney in 2000. I also went to five World Championships and now I'm currently on the Technical Commission which has meant I've been to another two World Championships as a referee supervisor. I also went to the London Olympics as the referee supervisor.
WHERE ARE THEY NOW? Stewart Loewe
Can you compare today's AFL with the footy that you played?
Sitting on the boundary as an interchange steward has really made me appreciate the way the game is played now. For one, the athleticism is amazing and how young they are is also incredible. Secondly, I just can't believe how spent they are. They just run themselves into the ground and come off to the bench and recover and go out and do it all again.
It just blows me away.
The skill level and the running ability of the players is just phenomenal, and that's combined. Their ability to be able to run at full pace and still be able to handle the ball so well just blows me away. They are incredibly skilful.
There was a guy who I always admired called Russell Greene that would be good in today's game. We used to call him 'Village Greene' and he was always an unbelievably talented player who had great endurance and natural running ability that would be perfect in today's game.
He delivered the ball really well and had such good skills. He'd fit into the modern era seamlessly I think.
But I mean, when I played you had to pace yourself for the entire game because if you came off you were either injured or done for the day.Nowadays they go flat out for a few minutes and get a little break and then go again.
How would you have gone in today's game?
I tell my kids I reckon I'd do OK because I wasn't a real in and under sort of player, I was more of receiver. There are positions for receivers in today's game, so I reckon I would have been OK if I had played now.