Review week is here and our forwards are the first to go under the microscope.
On paper, St Kilda's forward group showed there was still work do be done, but there were promising signs as the evolving offensive takes shape ahead of 2020.
From Tim Membrey's accuracy, to Matty Parker's flair and Nicholas Hind's electric pace, take a look back on the year that was.
Josh Bruce
Career
Games: 113
Goals: 171
2019
Games: 22
Goals: 36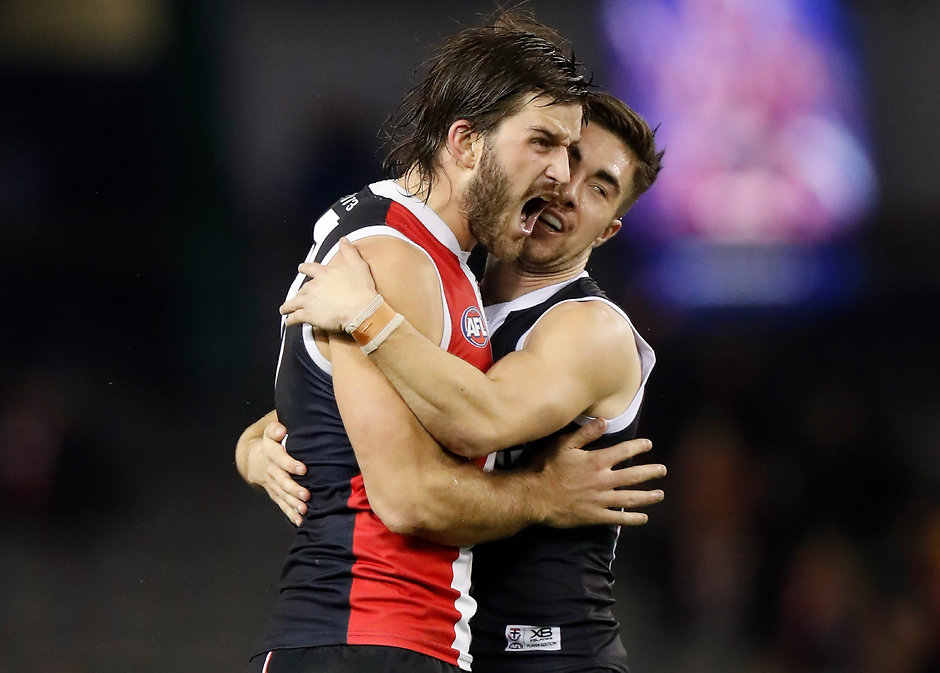 After a horrific 2018 campaign riddled with season-ending injuries, Josh Bruce returned with a solid season to his name.
The refreshed forward slotted 36 goals across 22 games while also showcasing his contested marking skills – a statistic which he topped his side for (43).
Bruce slotted multiple goals on 10 occasions throughout the season, with five of those resulting in three majors or more.
"BAROOOOOOOSE HIT THE ROOF!"

Josh Bruce has been nominated for Mark of the Year.

Vote for him → https://t.co/MsM3TBYypG pic.twitter.com/iV5CWpjqKa

— St Kilda FC (@stkildafc) April 1, 2019
BEST GAME:
The No. 27 was firing on all cylinders against North Melbourne in Round 16, putting through six of the Saints' 11 goals to go alongside his 17 disposals and seven contested marks.

Tim Membrey
Career
Games: 92
Goals: 169
2019
Games: 22
Goals: 44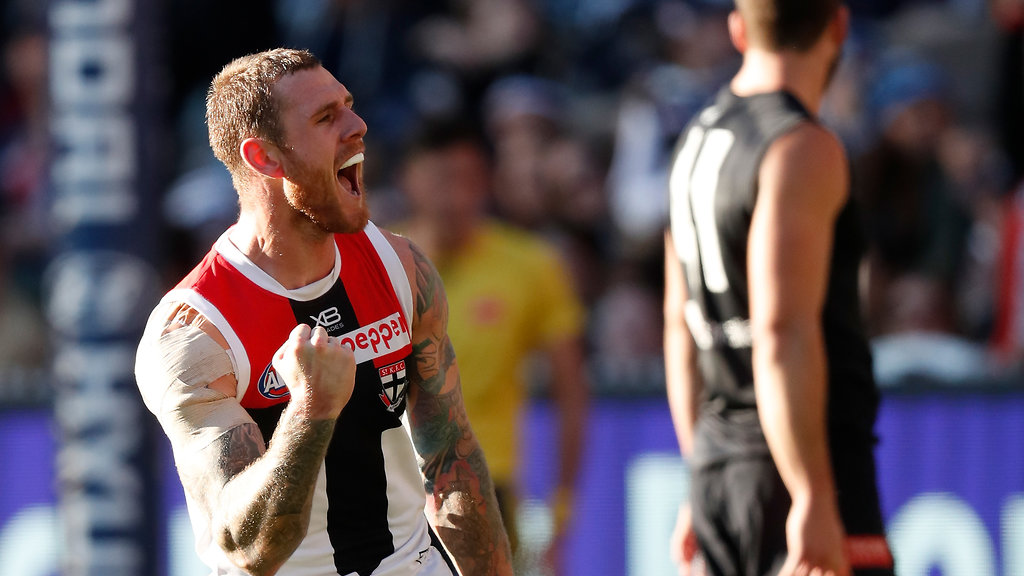 Even with the added responsibility as part of the leadership group, Tim Membrey stood tall.
The incredibly accurate forward topped St Kilda's goalkicking tally for the third time, piecing together an equal career-best 44 majors for 2019.
Strong overhead and skilful on his right-boot, Membrey is poised to continue his consistent form heading into the new season.
Straight through the big sticks #AFLBluesSaints pic.twitter.com/E1uIeq3Opl

— St Kilda FC (@stkildafc) August 17, 2019
BEST GAME:
'Skunk' starred against the Demons in Round 5, amassing 12 disposals, eight marks (four contested) and four goals to steer the Saints to their fourth win from five games.
Dean Kent
Career
Games: 76
Goals: 75
2019
Games: 13
Goals: 12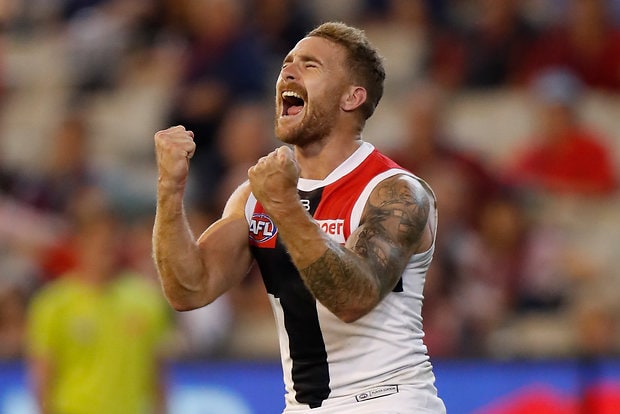 It was a solid first year in the red, white and black for Dean Kent before a quad tear cut his season short.
Prior to his injury, the 25-year-old led the Saints for goal assists (13) and had slotted 12 of his own from 13 outings.
Powerful at ground level and boasting a sturdy set of wheels to complement it, Kent will have his eyes set on piecing together a full season in his new colours.
Kent burns off Harmes... the Saints are on fire at the MCG!#AFLDeesSaints pic.twitter.com/f8cYVDhA1I

— AFL (@AFL) April 20, 2019
BEST GAME:
It was the perfect outing against Kent's old mob, with the ex-Demon racking up 20 disposals, seven marks and three goals in Round 5.
Jack Lonie
Career
Games: 63
Goals: 57
2019
Games: 13
Goals: 13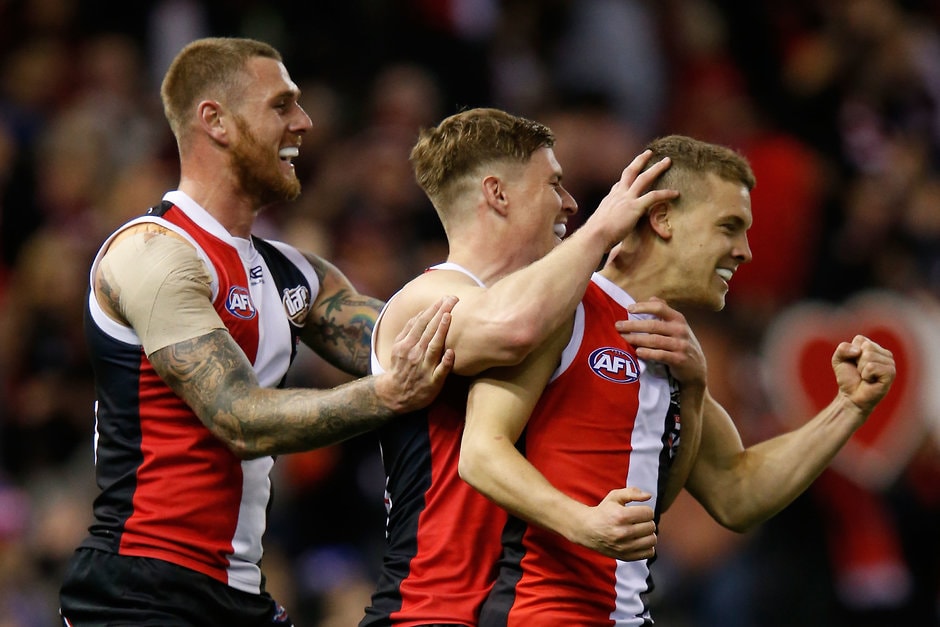 Jack Lonie started 2019 like a house on fire through his harrowing presence, but was forced to the sidelines after injuring his knee against Adelaide.
The lively forward returned in Round 17, bringing his tally up to 13 goals for the year.
While small in stature, Lonie packed a terrific punch at ground level, constantly putting his opponents under the pump and doing the little things to put the Saints on the scoreboard.
A monster tackle from Jack Lonie and Dean Kent finishes the job pic.twitter.com/ZgXy6Av71P

— St Kilda FC (@stkildafc) April 1, 2019
BEST GAME:
After a quiet return game against the Cats, Lonie came out all guns blazing against the Western Bulldogs with four goals – three which were kicked in the first term – to hand the Saints and Brett Ratten a memorable win.
Ben Long
Career
Games: 30
Goals: 21
2019
Games: 16
Goals: 14
Season 2019 saw career-high numbers for Ben Long, who overcame his injury issues to take the next step into becoming a potent weapon of St Kilda's attack.
The 22-year-old bagged 14 goals for the year in impressive style, doing it from long-range, on the run or on the tightest of angles.
Long was also experimented off the half-back line at times, using his dash and thumping boot to carry the Saints into attack.
Should the No. 21 make his presence felt more consistently, the Saints' small forward fleet will begin to look particularly dangerous.
BEN LONG!

5 in a row for the Saints! #AFLDeesSaints pic.twitter.com/uYUuAwYb6h

— AFL (@AFL) April 20, 2019
BEST GAME:
Two crucial goals against the Hawks gifted the red, white and black the Blue Ribbon Cup, with the five-point triumph among the best performances of Long's short career.
Matty Parker
Career
Games: 17
Goals: 16
2019
Games: 17
Goals: 16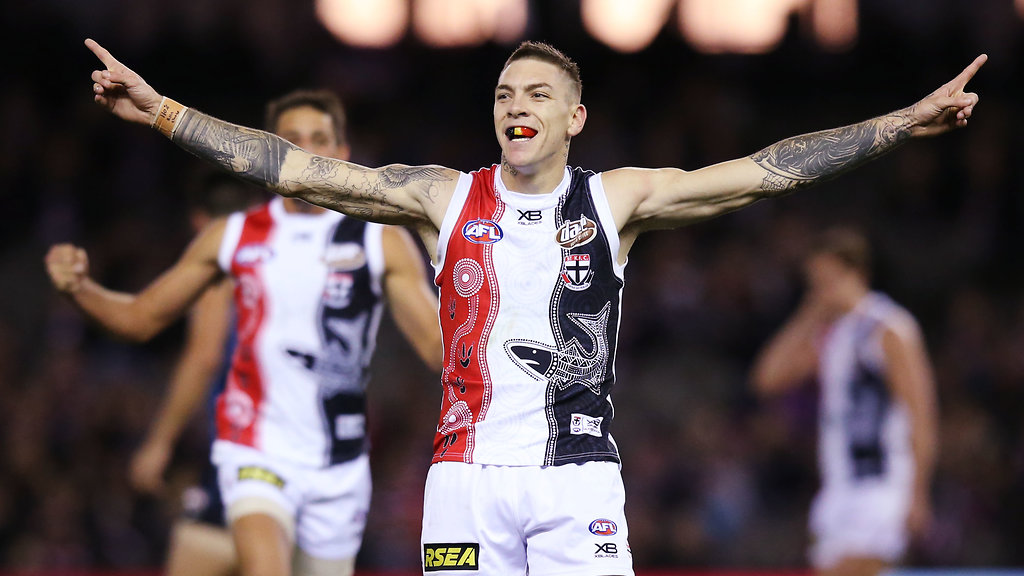 It's hard to believe Matty Parker was overlooked at several National Drafts given his flair, pressure and excitement.
The ready-made Saint exploded onto the scene in Round 1, before playing a further 16 games in his debut season.
With a penchant for theatrics, a finely-tuned sense for goal and an unrelenting attack on the footy, another full pre-season will have Parker on the up for 2020.
How good was this?!

Matty Parker has been nominated for Mark of the Year.

Vote for him → https://t.co/S8rBJ665vP pic.twitter.com/OvyMJ1xwR1

— St Kilda FC (@stkildafc) April 29, 2019
BEST GAME:
A Mark of the Year contender, a Goal of the Year contender, three goals and 21 pressure acts stamped Matty Parker as a livewire of the competition in Round 6 against the Crows.
An incredible display after just six games of senior footy.
Nicholas Hind
Career
Games: 11
Goals: 11
2019
Games: 11
Goals: 11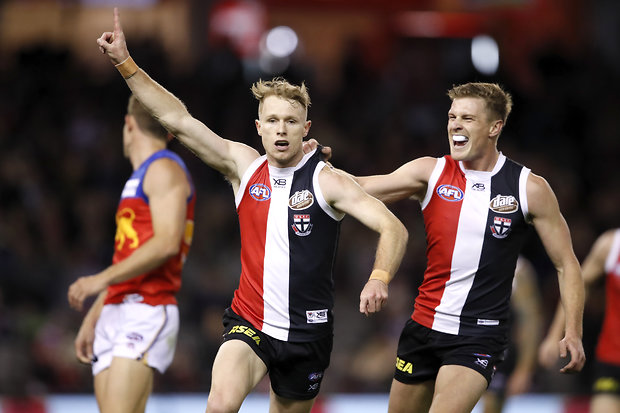 Nicholas Hind sped into the senior side in Round 13 and never looked back.
The Clunes native averaged a goal per game and frequently displayed his blistering speed, lethal sidestep and evasive skills in every outing.
Incredibly versatile and able to play all over the ground, another pre-season under his belt will see Hind hit the ground running in 2020.
The Rabbit is on the hop today! #AFLBluesSaints pic.twitter.com/dv8IDhu8Ir

— St Kilda FC (@stkildafc) August 17, 2019
BEST GAME:
Hind sparked the Saints into gear against the Blues in Round 22, ending his afternoon with 13 disposals and two impressive goals to put the Saints within reach of their opposition.
Robbie Young
Career
Games: 3
Goals: 2
2019
Games: 3
Goals: 2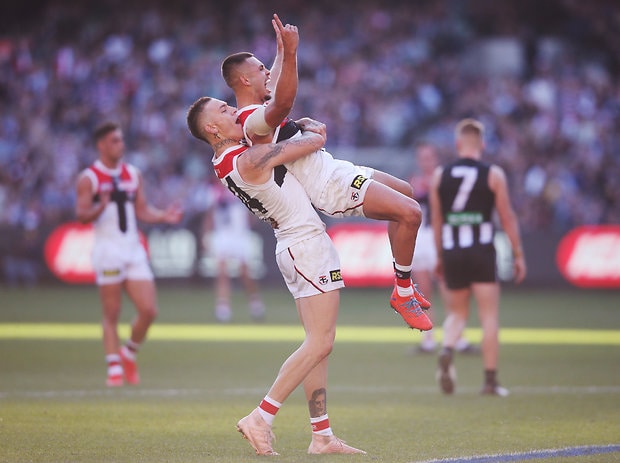 From the moment the Sherrin sailed through for his first goal, Saints fans knew Robbie Young was one to keep an eye on in the years to come.
Cut from the same cloth as Matty Parker, the SANFL-recruit defined his game through his manic pressure, tackling and hunt at ground-level.
Despite notching up just the three games, an increased tank and more time pinch-hitting through the midfield could see Young have a solid impact in 2020.
Just look at how much this means to Robbie Young. pic.twitter.com/1S51dNpBYv

— St Kilda FC (@stkildafc) May 18, 2019
BEST GAME:
Two electric goals against the Magpies in Round 9 put 'Lightning' in the spotlight, with his energetic celebrations whipping the St Kilda faithful into a frenzy.