Born October 5, 1972
252 games, 50 goals
182cm
82kgs
A running defender who always gave his all, Justin Peckett won the under 19 best and fairest in 1990 but was delisted prior to the 1991 draft. He contemplated a football career in Perth and East Fremantle even teed up a job for him, but the Saints came back and selected him with pick No.49.

In 1992 Peckett played just five minutes in his solitary senior game, but ran second in the reserves best and fairest. Twice over the next five years he came second in the St Kilda's best and fairest award, including the Grand Final season of 1997.

Peckett was expected to retire at the end of 2004 after being dropped early in the season, but he came back and played an important role in the Saints finals campaign and continued on until the end of 2006, notching up his 250th game against Fremantle in Round 20.

Like any career, Peckett's footballing journey had its peaks and troughs, but throughout his 15 years in the red, white and black he was rarely beaten in a one-on-one contest and demonstrated a level of calmness on the field that made him a highly regarded player and leader.
What does St Kilda Football Club mean to you?
I am who I am because of my connection to this football club. I grew up in Frankston as a massive Saints supporter, my entire family are Saints members and I was often at Moorabbin watching them play.
I went on to play under 19s here and then senior footy. All up I probably spent 17 or 18 years at the club and left at the age of 33. It's formed a huge part of who I am as a person and the club means the world to me. Wanting them to do well is one of those things – like all St Kilda supporters – it can drive you insane a little bit but there is no other choice, it's who I am.
My kids have grown up in the same environment. They talk about St Kilda and follow St Kilda. My daughter who is four always comes up during the day and says 'Dad, I barrack for St Kilda.'
How did you arrive at the Saints?
I was playing for a local club called Karingal in the under 17s and Johnny Beveridge gave me a phone call and said can I come and train one night per week with the under 19s. As a Saints supporter I just jumped at it and basically just asked if I could train every night they trained. They said yes, so I did! I got a game in my first week and that was halfway through the season, and then I played the remainder of the year there.
That was 1989 and I was at the club until the end of 2006. But it was all Johhny Beveridge and it's great to see him still involved.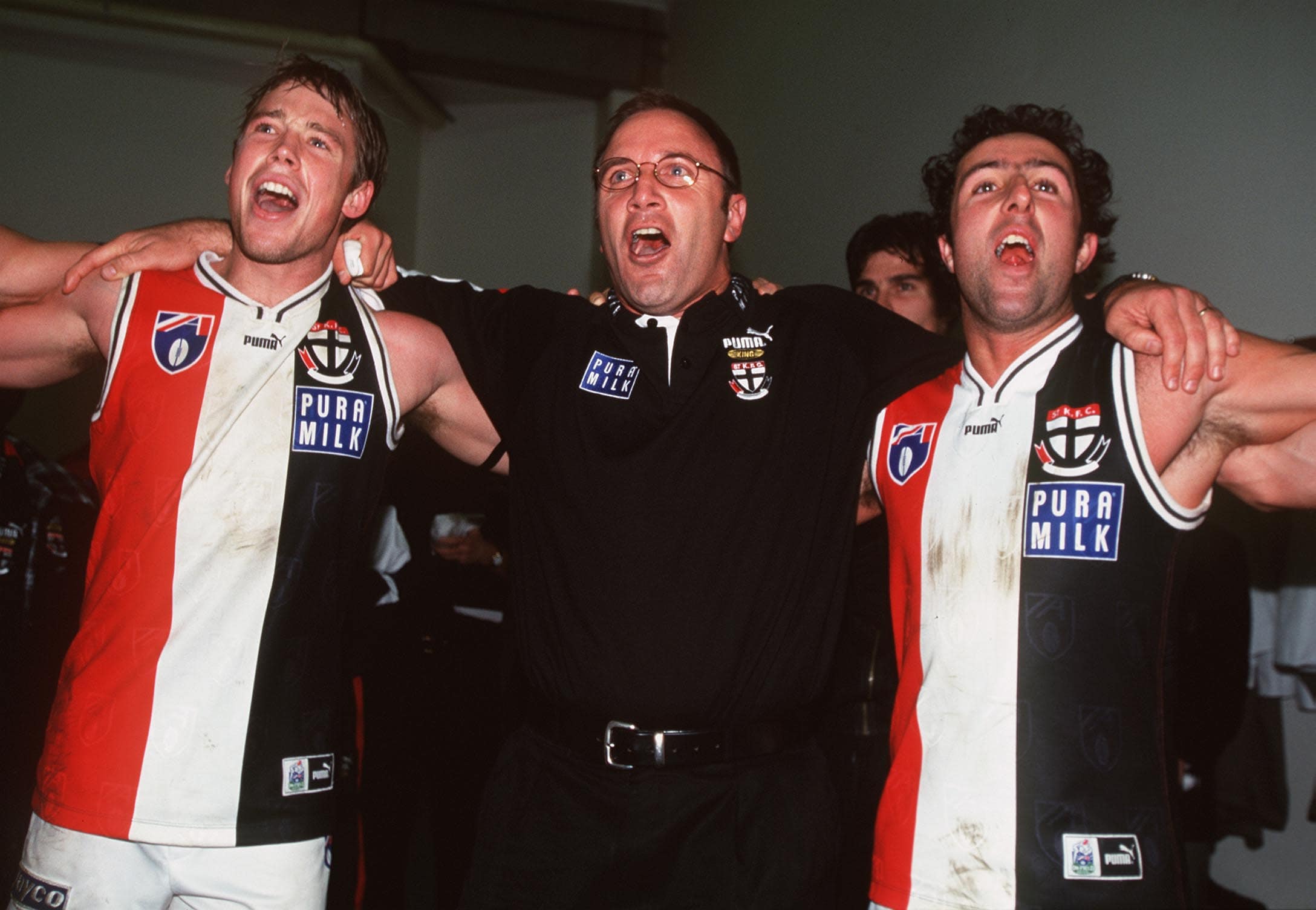 What were your fondest memories of playing at the club?
The good games and the wins and some of the big games I played in. Walking in the door each day and seeing a group of blokes that you know are trying to achieve the same things as you. But definitely playing in a Grand Final and a winning preliminary final was a great feeling. They are the things that stick at as my fondest memories – and the odd footy trip!
Which teammates did you enjoy playing with the most?
In the earlier days guys like David Grant, Dean Anderson and Tim Pekin really helped me transition into senior footy. Then later on it was guys like Burkey, Harvs, Andrew Thompson and Loewy that were all fantastic players.
Towards the end of my career guys like Stephen Milne and Lenny Hayes were just great to watch and play alongside.
Who were the best players you played with?
Harvs and Plugger without a doubt. But there are so many great players that have played for this club and I was fortunate enough to play in an era when these guys and Nicky Winmar were all at their best.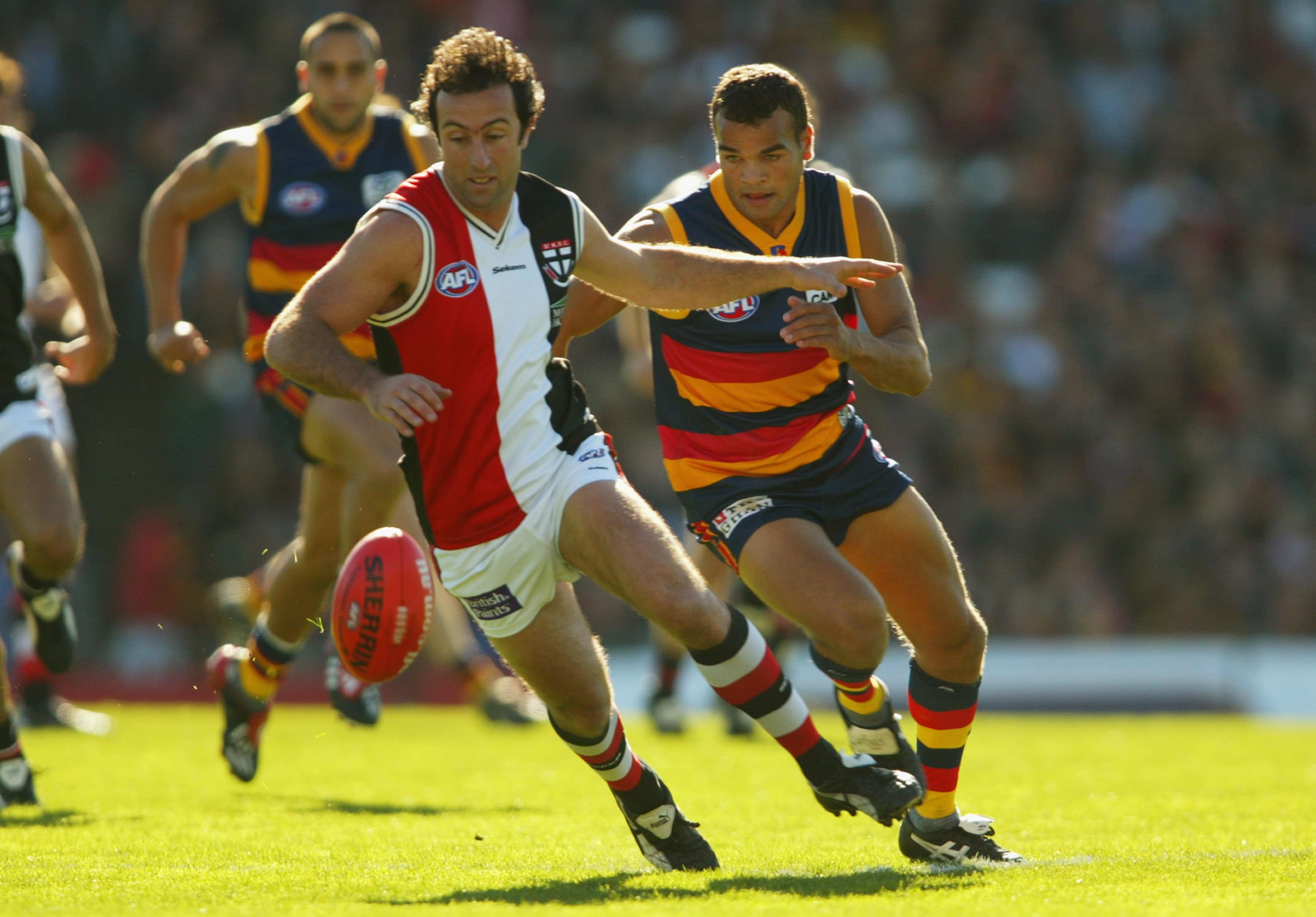 How did you handle retirement?
I was ready for retirement. I was 33 or 34 and was married with kids. I'd always worked part-time so I just transitioned into a full-time role. I ended up playing footy and coaching at Karingal for six or seven years. I was probably ready to go when I did. I was pretty settled at home and had something to go to work-wise. I have seven kids so they demand that you occupy them and entertain them, so I've found the transition pretty good. But at the same time I still miss playing on the MCG or Etihad and I wish I was out there.
How are you involved in footy now?
This is the first year I haven't played any footy. I played up until the end of 2013, I coached junior footy which I really enjoyed. I did that for the last four or five years. I've got a role at St Kilda Football Club. I am a partner at Leading Teams so I'm here running a leadership program which I'm really enjoying.
That's probably the extent of my footy involvement at the moment. There is a bit of watching, a bit of coaching, and that's about it.
RELATED: Leading teams with Justin Peckett