STEWART  Loewe was selected on the half-forward-flank in St Kilda's team of the century and played 321 games for the club in a career that spanned 16 seasons in the red, white and black.
Recruited from Mt Eliza having slipped through Hawthorn's net in the 1980s, Loewe progressed from the Saints under 19s to the seniors at a rapid rate, and booted a goal with his first kick in league football.
Loewe became St Kilda's focal point at centre-half-forward for more than a decade, finishing his career with 594 goals. He also co-captained the club for three seasons with Nathan Burke.
Renowned for his huge hands and prodigious contested marking skills, Loewe also spent time in the ruck towards the end of his career, and was named in the All-Australian team in three consecutive seasons from 1990-1992.
Loewe remains one of the all-time greats of St Kilda Football Club, not just for his playing ability, but for his passion and commitment to the club he called home from 1986 until his retirement at the end of 2002.

A broad question to start, but what does St Kilda Football Club mean to you?
Ah mate, it means a hell of a lot. It was eighteen years of my life. I came down as a 17-year-old and left as a 34-year-old with lots of great memories and lots of fantastic friends, and it was where I went from being a pimply faced teenage kid to an adult. It taught me lots of life skills so it means a hell of a lot to me.

Tell us how you became a Saint in the first place?
JB (long-time recruiter John Beveridge) picked me up. I was signed up to Hawthorn as a 16-year-old and they dropped me off the list and JB and Ian Drake basically made the phone call one afternoon and came down and signed me up. I was just rapt.
RELATED: Loewe pays tribute to retirees 
Talk to us about your first couple of training sessions at the club - what were your feelings and do you remember it vividly?
I remember my first pre-season session down at Dendy Park, I rocked up with a pair of basketball boots so that's how naïve I was at the time. I did a four kilometre time trial in a pair of white Converse basketball boots so it was a little bit of a culture shock; certainly different to what we were even doing four or five years later, but yes, it's just completely different I suppose nowadays.  
Basically, you were a young kid in a man's sport. There was the Under 19s then there were the reserves which was predominantly made up of the 30-year-old blokes who were coming to the end of their career and then the senior team. So it was very much a place to be seen and not heard.
Talk us through the lead up to your debut and also your debut itself.
It was the day before my 18th birthday and Frank Coghlan and myself got the nod to play, it was against the Sydney Swans at Moorabbin. It was the wettest winter I think that I had ever experienced, there was not a blade of grass on Moorabbin and they kept on telling me that they were watering it but I think the whole system had shut down, it was just a quagmire.
I was very nervous. I managed to grab hold of an early sort of chest mark about 15 metres out from goal, went back and just managed to make the distance to kick a goal with my first actual kick which was pretty special.
Who were the best players you played with?
Tony Lockett - just his presence and seeing what he did on the forward line and what he did to opposition players. His skill and his application was amazing - when he was 'on' he was just unstoppable. Harves was amazing, you know he didn't kick that many goals but he gave me at least half of them. Danny Frawley's leadership, [Nathan] Burke - his tenacity – they were just awesome.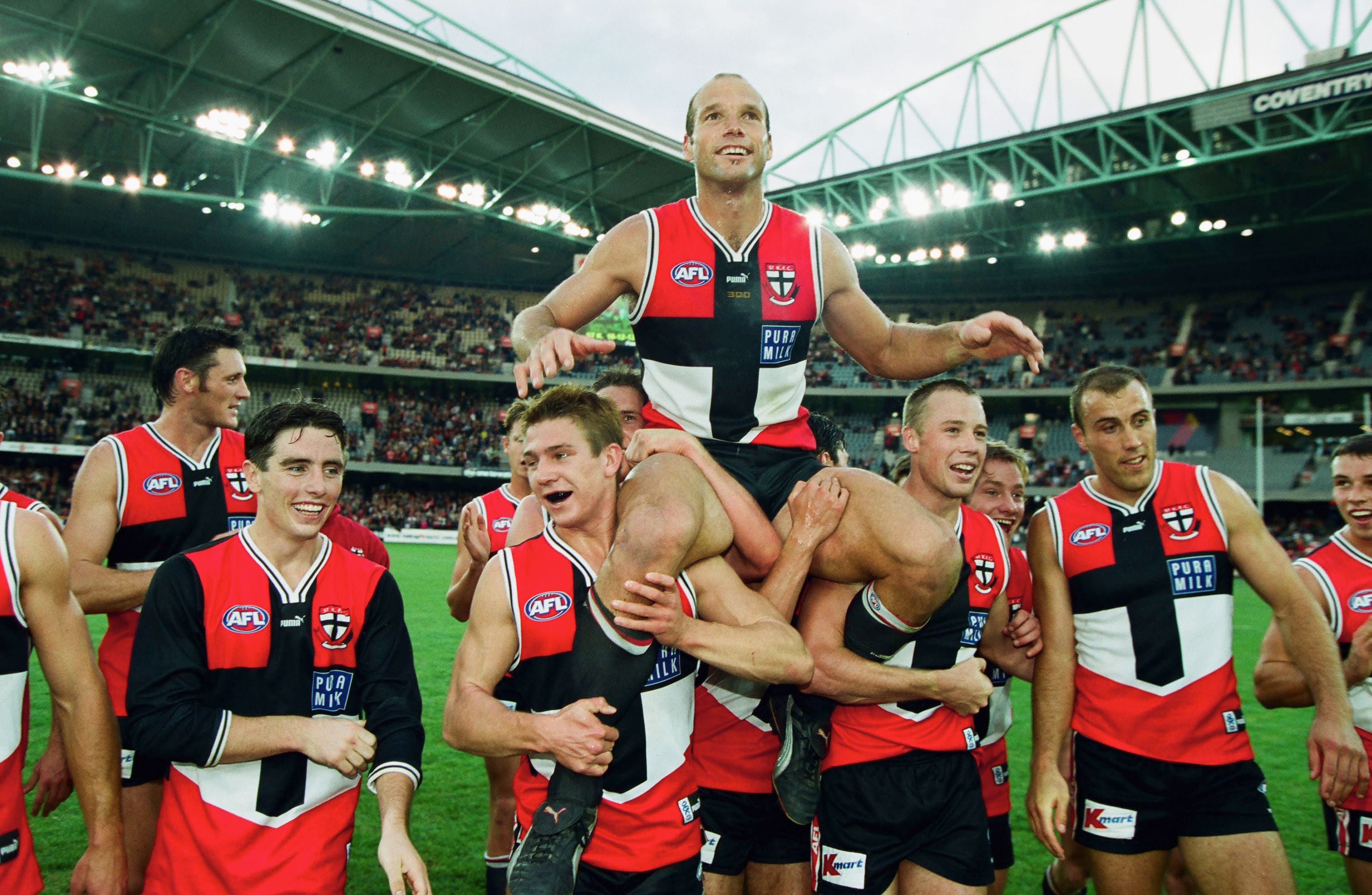 Talk to us about Tony Lockett – at training and around the club, what did you learn from him as a footballer and also as a person?
He wasn't a recluse but when you got to know him he was fantastic.  He shunned the media, he shunned the spotlight and certainly was never going to be outspoken in meetings and that type of stuff.  He was great on the footy field and in the forward line we were able to work really well together.  He just taught me that when you crossed the white line it was game on, it was absolutely game on.

What have you done since you retired?
I was fortunate to set myself up within the building industry when I was coming to the end of my career and it's something I have loved.
I'm just building and enjoying life.  I have a young family and young Sam is a 14 year old coming through the ranks and little Oliver who is just coming up to 12 months so life is really good

Are you still involved with footy at all, at a junior level or a senior level?
I help out with my son's side, with Sam's side, and I am a senior coach down at Old Haileybury and have been involved at Haileybury School for a decade since I left footy.
I had the pleasure to coach Lewis Pierce who is now on our list and obviously Tommy Lynch who came through and is now at Adelaide - Tommy Scully (GWS) and Nathan Freeman (Collingwood) too.
So I really enjoyed that role and now following on from the school, working with the Old Boys team where I played a handful of seasons after I finished. Now I'm coaching them so I certainly in a tiny way understand all the heartaches and I suppose hard times that my previous coaches went through.