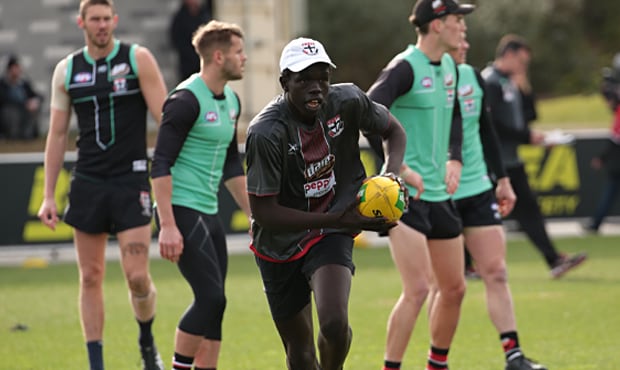 At the start it was a bit nerve-wracking ... realising you know that they're the same guys as on TV.
Bigoa "Biggy" Nyuon
He's a big kid with a big dream, and on Monday, Bigoa "Biggy" Nyuon got a little closer to reaching it.
A product of the Saints' Next Generation Academy (NGA), Biggy's potential to make it to the big-time as an AFL footballer is plain for all to see.
He cuts a towering figure with an athletic physique, and his physical attributes comprise what could one day be an impressive arsenal for the budding footballer, who plies his trade as both a ruckman and forward.
"Biggy's down here today as one of our elite talent group Next Generation Academy players," NGA Manager Jack Henty told saints.com.au.
"He's just getting some experience at the club, doing the warm-up with the players, doing some craft work with some of the coaches and doing a cool-down with the players. He'll have lunch with the playing group as well."
READ: Saints Next Generation Academy
Born in Sudan, Biggy came to Australia with his family in search of a new life when he was just two years old, living for periods in Narre Warren and Ballarat before settling in the Bayside region.
His footballing journey commenced with the Hallam Hawks, where he played under-12s as a 10-year-old before moving through the ranks with stints at Narre North, Rowville, and currently the Dandenong Stingrays.
"Biggy's bottom-age TAC Cup this year, so it'll be his draft year next year, so if he's tracking well, via the draft rules about Next Generation Academy nominees, we'll have the option to take him," Henty said.
"Today is all about getting him to feel comfortable around the St Kilda Football Club and the group as well.
"We're hoping he picks up some things from our coaches that will help him moving forward with his football in the TAC Cup."

St Kilda Director of Coaching & Development Danny Sexton works with Biggy on some bodywork.
Speaking to club media after lunch, Biggy couldn't have been more thrilled with the experience, which has only spurred him on further to pursue his dream of making it the AFL.
"Yeah it was just unreal getting out there with the boys," he said.
"At the start it was a bit nerve-wracking, doing the warm-up with all of them and realising you know that they're the same guys as on TV, but it was good fun to get out there.
"It really kicks in once you come through the doors. It's all business on this side, but it was just good to get around the boys."
READ: AMC launch indigenous scholarship
Biggy joined the Next Generation Academy in 2017, and his experience at RSEA Park on Monday is part of an initiative to regularly expose elite talent players to life at the club.