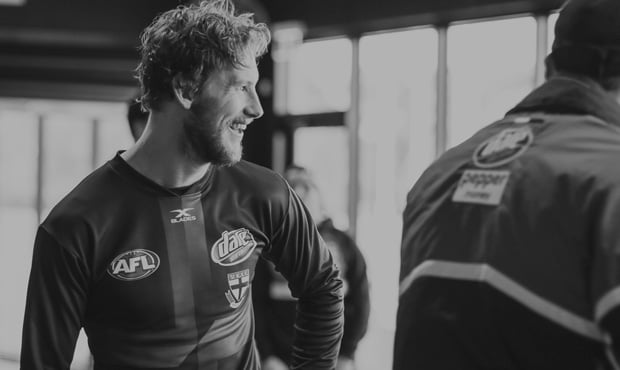 I forget about footy for a couple of weeks, which is nice, and then freshen up and just get ready for pre-season.
Jimmy Webster
It was a clear directive but quietly muttered under his breath.
Entering the studio, his shoulders slightly hunched and his scruffy hair hurriedly pushed to one side, Jimmy Webster quipped, "Just don't make me look stupid".
The emerging St Kilda star doesn't immediately strike you as the typical AFL footballer.
Sporting a club hoody and a rough-looking beard, he takes his seat on the stool beside me and reiterates his earlier instruction: "You're not gonna make me look stupid, are ya?"
There's a genuineness to him that's often missed in the hyper-masculine, hyper-competitive world that is the AFL, and it's arguably the country boy from the Tasmanian highlands' biggest strength.
I'd been on Jimmy's back for about a month, but desperate to cling onto the low media profile he's managed to curate, he'd avoided an interview until now.
The silky left-footed half-back has enjoyed a stellar individual season in 2018, developing somewhat of a cult following among the red, white and black faithful.
READ: Webster rises to the challenge
But despite his emergence, football is just one of many facets that make up Jimmy Webster.
The 25-year old is a proud Tasmanian, a gifted hunter and fisherman, a talented cook, a hard-working farmhand, a loyal mate, a loving brother to five siblings, and a part-time comedian.
Almost every player on St Kilda's list has been on the receiving end of one of his famous pranks.
But beneath the jovial façade lies a rich tapestry of stories and sub-plots that have helped shape this Saint, and I wanted to delve deeper than Jimmy felt comfortable, even if that meant revisiting some of his darkest moments.
Jimmy was in the locker rooms as an emergency player before St Kilda faced Collingwood in May of 2013 when he heard the news.
"The boys had run out, and Cameron Shenton came over and said, 'I'm not really too sure how bad the house is, but the house has caught fire'," Jimmy recalls.

The Webster family home, reduced to a burnt-out shell after the devastating fire.
His family home of 19 years in Mangalore was on fire, to what extent it was still unclear, but even in his family's toughest tribulation, Jimmy chose to see the lighter side of life.
"When I rang my sister, she said that the house had caught fire, and me being the idiot I am, I said 'Oh, hopefully me trophies don't get goin', it'll burn three weeks!'
"But yeah, I didn't really …"
At this point in the conversation, he shifts uncomfortably in his seat, and it's the first time I've seen his gaze deepen and his smile fade.
"I just thought the toaster might have caught fire or something like that, nothing too major … but yeah, I called Dad, and Dad was in the ambulance … it was pretty full on."
WATCH: Saints rally around Webster
One week later, after spending time with family in Tasmania, Jimmy was running out onto Etihad Stadium for his AFL debut as his family watched on from the stands.
"It was pretty scary, going from one extreme to the other," he says.
"Mum and Dad were there, which was probably a good thing because it took their mind off all the stuff that had happened back in Tassie. I think Dad got a bit of time on air, so I think he was pretty happy with that!"

Webster is congratulated by teammates after his debut.
Like many who've experienced trauma of some sort, Jimmy doesn't take anything too seriously anymore.
He's the elected man in charge of fines at the football club, a role he revels in.
"Basically, we go in and pretty much take the piss out of each other," he laughs.
"It can be pretty brutal, some of the stuff we say, but it's all for a bit of a laugh.
"It's just as simple as Skunk (Tim Membrey) for kicking 1.82 this year … Skunk for missing the goal in the goalsquare down in Tassie 'cos the wind picked up, that sort of stuff."
WATCH: Jimmy & Timmy tour RSEA Park
The word "larrikin" springs to mind after even a five-minute conversation with Jimmy, but there was another word at the forefront of my mind after our chat: loyalty.
Every off-season, Jimmy flies back to Tasmania to help an old mate with a few weeks' work on his farm pro bono.
"He lets me stay on the farm, so it's sort of a way that I give back to him, and it's something I love doing," he explains.
"Around September/October is when they lamb-mark, so we basically put a ring on the tail of the lamb and mark their ear and put in all the vaccinations."
This annual ritual is as much about Jimmy giving his time to help his mate as it is about escaping; getting back to what he knows.
"I forget about footy for a couple of weeks, which is nice, and then freshen up and just get ready for pre-season."
Jimmy's no-fuss approach to life translates directly into his football as well, and he's the latest in a long list of larrikins to have graced the locker room at Moorabbin.
Like Stephen Milne, Steven Baker and many others before them, Jimmy uses his humour as a form of release valve for the extreme pressures that the locker room often entraps.
On the field, though, Jimmy is noticeably quiet, almost shy, relying on his actions to speak for him.
And it's this soft-spoken nature that has endeared him most to Saints fans; peppered with flashes of brilliance and acts of gut-wrenching courage, he is the ultimate quiet achiever.
This is Jimmy. Heart-on-sleeve, down-to-earth, laidback Tasmanian. In another vernacular, a bloody good bloke.
Listen to the full podcast below: